Apple is Losing Its Mind and Its Cases Against Linux
Dr. Roy Schestowitz

2011-12-02 00:50:55 UTC
Modified: 2011-12-02 00:50:55 UTC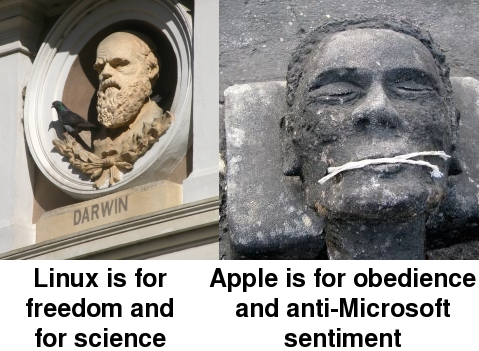 Summary: Apple -- the best money can buy?
APPLE was hoping to magically embargo its competition (Linux-based) in one fell swoop. Apple followers who think with their ego and not with their mind might think this is just, but it is a total abuse of everything we know about due process and adherence to law. According to reports, Apple is still trying hard to ban, ban, ban. Apple is a disgraceful company, a sore loser. To quote:
Apple is now seeking yet another ban on Samsung's modified Galaxy Tablet in Germany. The iPad maker earlier succeeded in getting a ban on Samsung's Galaxy tab in Germany in a 'moronic' ruling by the Düsseldorf court.
Meanwhile in Australia, Apple
loses the case
, which might make one wonder if Apple fraudulently files a lawsuit to just take the competition off the shelves (like false DMCA claims). Apple targets trolls-friendly courts and
presents fake evidence
. For that too Apple should probably have legal action (maybe antitrust) invoked. Apple is just out of control. Here is one report about Apple's case falling apart:
Chalk one up for Samsung in the great patent rumble of 2011; the company has had Apple's sales ban on the Samsung Galaxy Tab 10.1 overturned in Australia.

Federal Court Justice Lindsay Foster has reversed the sales ban, as was predicted late last week, although it's still in place until Friday this week.
There are
British
reports on this
and they put things in context:
Samsung has been handed a rare win in its patent battle with Apple, with Australia's Federal Court deciding to overturn the injunction that prevents it from selling its Galaxy 10.1 tablet in Australia. Originally, a single judge of the court, Justice Annabelle Bennett, had granted Apple's request for an injunction against the sale of the fondleslab, triggering a complaint from Samsung that it would miss the opportunity for Christmas sales of the product.

However, in a full bench sitting, Justices Dowser, Foster and Yates have decided the device can hit the stores after all – although it's not known to The Register how long Samsung will need to get shipments into the country and in front of punters. The only hint is earlier evidence that devices could land here within seven days.

Apple and Samsung are involved in an increasingly-bitter – and spreading – battle over fondleslab patents, with each accusing the other of patent violations. Apple says the Galaxy 10.1 is a slavish copy of the iPad, while Samsung is focussing on the internals, dragging in patents covering wireless technologies that are part of the 3G standard.
It is Apple that started this. It showed its inability to catch up with Android/Linux.
Take a look at Apple land for a day. The battery issues are
widely reported even in Apple forums
and
phones go on fire
. It's defective, overpriced junk with an Apple logo on it. Quality control is MIA. To quote:
Where there's smoke, there's…if not exactly fire, how about a glowing red iPhone on an airplane? No really, someone's iPhone apparently turned the color of molten rock (aka "lava") and began venting "dense smoke" on an Australian regional airline last week, prompting a flight attendant to break out the cabin's fire extinguisher.
Apple -- the best money can buy?
⬆