Microsoft-led Nokia Once Again Attacks Android/Linux With Patents, This Time Directly
Dr. Roy Schestowitz

2013-03-08 15:41:17 UTC
Modified: 2013-03-08 15:41:59 UTC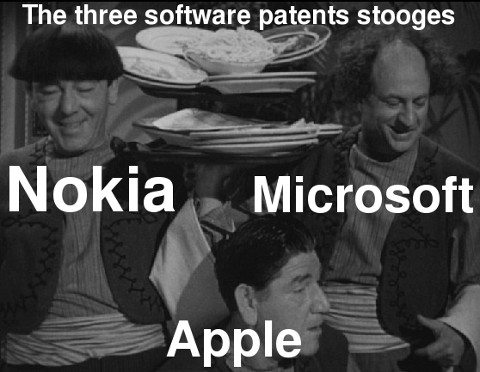 Summary: Now that Microsoft controls Nokia and its patents portfolio there is more direct hostility towards Android, this time with action rather than just words and directly rather than through Microsoft/Nokia-armed trolls like MOSAID
Apple recently suffered a bit of a blow in the anti-Android litigation war, which a US judge too is eager to put constraints on. Android is growing very rapidly even in China; a vast place like Africa, where Nokia has long enjoyed some low-end devices domination, is now being penetrated by Android. Samsung Rex series is poised to take on Nokia in low-end segments according to this recent report, so we are hardly surprised to see Nokia joining Apple in the war against Samsung. Here is one article about it and another about Nokia, now led by one of Gates' cronies (Gates is disappointed by Microsoft's "mistake" and lack of innovation in mobile) making not a rational decision but an idealogical one, made by a mole who surrounded himself with more moles after he had infiltrated the company. Having, together with Microsoft's involvement, armed patent trolls like MOSAID (we should boycott Nokia for this), Nokia is now showing yet more malice. To quote: "Nokia and Apple are competitors when it comes to moving hardware off the shelves, and the two companies even opposed each other in a patent trial in 2009 (ending in Apple settling with Nokia for an undisclosed sum). But Nokia has been vocal about supporting its patent rights recently, even discussing its decision to sell some of its intellectual property to patent-holding company Mosaid at the Federal Trade Commission in December."
Here is
an earlier report about it
:
Apple vs. Samsung initially ended with a billion-dollar verdict in favor of Apple, but there have been plenty of wrinkles since. This week brought about another, as Nokia filed an amicus brief on behalf of Apple, Inc. in the US Court of Appeals for the Federal Circuit. In the brief filed Monday, Nokia asked the court to permit permanent injunctions on the sale of Samsung phones that were found to infringe Apple's patents.

Post-trial proceedings haven't been as kind to Apple after the company was awarded $1.05 billion in damages in August. US District Judge Lucy Koh nearly halved those damages in a ruling on Friday, and in December she denied Apple a permanent injunction against Samsung which would have barred the sale of Samsung phones found to be infringing.
We have long argued that Nokia, Apple, and Microsoft are very much aligned against Android. They engage in patent-stacking. According to
this new report
, Microsoft seems to have pretty much taken over the whole of Nokia already:
Nokia announced that it expects to receive more in support payments from Microsoft this year than it pays the software company for licensing its Windows Phone operating system. Nokia provided more details on the terms of the long-term cooperation in its SEC filing on 2012 results. The Finnish company said the support payments, which amounted to USD 250 million per quarter last year, will "slightly exceed" the minimum software royalties it pays Microsoft in 2013.
The matter of fact is, Microsoft pretty much abducted Nokia without ever paying for a takeover. And there has been massive regulatory failure to spot and counter that. What we have now is a patent cartel determined to destroy Android. Everyone should be concerned about it because everyone loses from it, except perhaps managers of the cartel.
⬆