Microsoft-Bribed Ben Edelman Behind Latest Smear Against Android/Linux
Dr. Roy Schestowitz

2014-02-15 10:28:24 UTC
Modified: 2014-02-15 10:29:30 UTC
Funded by Microsoft, but the press doesn't know it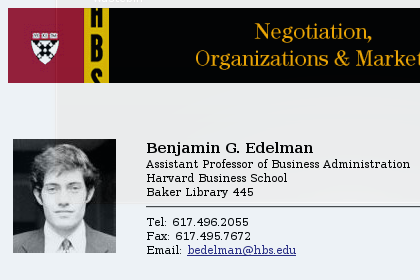 Summary: Response to some of the latest claims about AOSP -- claims that indirectly come from Microsoft, the biggest foe of Android
Ben Edelman is a sellout masquerading as an academic. He worked for Microsoft by covertly spreading FUD against Android in 2011 and he is doing is again. Microsoft has a tradition of passing 'dirt' for people to publish and make its rivals (ODF, IBM, Google, GNU, Linux etc.) look bad. It comes from Microsoft's PR agencies.
When we saw the latest smear against Android [1,2] (similar to Steve Jobs' facts-free smear against Android) we thought it was
Microsoft Florian
behind it. This time, however, it was a different paid lobbying doing the work [3] (there is a group of people
Microsoft regularly
pays for this FUD service, some of whom
are lawyers
that
try to hide the payments from Microsoft
).
The latest smear against Android (it's untrue by the way, for reasons we covered before) was further promoted and spread by pro-Microsoft circles like
tech tabloid ZDNet
(
CBS
). Chase all these reports back to the source (which Android/AOSP does have by the way) and you will find Microsoft. It's a shame that all these gullible journalists fail to disclose the Microsoft tie to these claims. They just don't seem to know who Ben Edelman really is. This is why Microsoft keeps shuffling lobbyists; it's harder to track this way.
There is a new press release titled "Android Open Source Project (AOSP) ROM Builder Now Available on AWS Marketplace," [4] demonstrating perhaps that the myth of limitation is just a make-belief agenda that Microsoft has been pushing for years.
⬆
Related/contextual items from the news
: