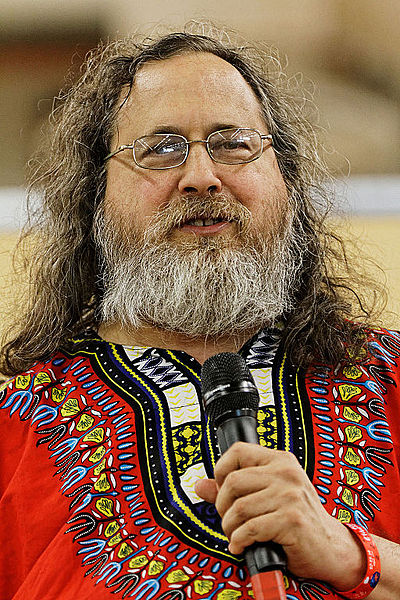 Source: Conference by Richard Stallman, "Free Software: Human Rights in Your Computer" (2014)
Summary: Media mistreatment of the very roots of Free/Open Source software (FOSS), which is now approaching 35 years in age and increasingly thriving
I
N recent weeks we have found several 'news' articles that gave us cause for concern. Some were shared with Richard Stallman, a regular reader of
Techrights
, for his views to be expressed and portions of the correspondence can be found here (cautiously redacted to reduce potential animosity/tensions).
It is not unusual, especially
these days
(age of openwashing), to see the label "Open Source" misused. Not too long ago we identified some
very gross distortion of the term "open source" to essentially openwash Facebook's surveillance ambitions, focusing on poor people
. Facebook traffic has sunk pretty badly over the past year (based on Alexa it's a massive drop), so Facebook is trying really hard to frame/paint itself as "ethical", even when it tries to expand its surveillance to people too poor to get connected to the Internet. This isn't altruism, it's opportunism and malice. It's definitely not "open source" and the dot org suffix (Internet.org) is clearly inappropriate, not just misleading. "Facebook mistreats its users," Stallman explained. "Facebook is not your friend, it is a surveillance engine."
There was also an effort to delete GNU from history -- an effort that has gone rather aggressive. Stallman was in the process of speaking to editors who jad allowed this to happen (dumb lawyers called GNU and Stallman's text "Open source Manifesto" in the article
"Open source Manifesto turns 30"
). Stallman asked me to show him the original publication site and tell him how to write to them. It wasn't too clear whether to write to the editor/site or the author/law firm. The former can issue some fixes/corrections, we tend to think, superseding what was contributed by lawyers. The article comes from a formal publication which often publishes patent lawyers' pro-software patents columns (we have seen over 100 of them over the years). The target audience is lawyers. The latest is no exception to the rule. It is an article by Leech Tishman Fuscaldo & Lampl LLC and the Web site is
London-based
, with Andrew Teague as the Associate Publisher, Mark Lamb as the Publishing Director, and Chris Riley handling subscriptions. When it was first published Stallman was eager to contact "Either one, or both! [editor and writer] But the sooner the better." No correction has yet been published. It's nowhere to be found.
GNU and Free software are 30+ years old. A lot of people contribute to the misconception that it all started when Torvalds released Linux or when the term "Open Source" (not open source intelligence) was coined by the likes of O'Reilly. Watch the "Open Source" O'Reilly nonsense
starting the clock more than 10 years later than GNU
: "Twenty years ago, open source was a cause. Ten years ago, it was the underdog. Today, it sits upon the Iron Throne ruling all it surveys. Software engineers now use open source frameworks, languages, and tools in almost all projects."
Rachel Roumeliotis is advertising OSCON 2015 (OS stands for "Open Source"), but she should know about GNU and its age. These people conveniently start the clock when O'Reilly and his henchmen got involved. They want all the credit and they want people not to speak about freedom. Eben Moglen already ranted about this, right on stage in an OSCON event nearly a decade ago.
"This shows how "open source" misses the point," Stallman wrote to us. "If the frameworks, languages and tools they use are free software, that is good for their freedom. But if what they develop with those is nonfree software, it doesn't respect our freedom.
"So open source "won" by ducking the important battle."
Well, the "we already won" attitude (or notion) helps a defeatist's approach; why fight for more freedom if "we won"? That's what those people (even developers) who open a MacBook or some 'i' device want to happen; some would further insist that Apple and Microsoft are now "open source" players, so "game over"...
We have noticed that Microsoft is now googlebombing with "Windows open source", promoting the ludicrous notion that it's now "open" (or gratis), or that it will be so one day. It started about a month ago, maybe two; dozens of articles have served this PR strategy. we wrote some rebuttals and will write another one this weekend. There is a gross distortion of what actually happened and what is happening.
"Stallman was unhappy about the increasing prevalence of proprietary software," said the aforementioned article From Lexology, "software protected by copyright law and usually licensed on a commercial basis by its owners."
Yes, but Free software too is protected by copyright law, it's just twisted into copyleft. "Source code is sometimes licensed under GNU GPL terms," says the article, "a form of "copyleft" rather than copyright."
OK, so surely they know what Free software is and where it comes from. Why proceed with statements like: "The "open source" movement emerged in GNU's wake. As with GNU, users of open source code can look at the source code and modify it. However, unlike with GNU, they are not required to share their developments with the world at large."
"We have noticed many articles throughout this past year or so -- including some from Linux Foundation staff -- that basically start history in 1991 as if GNU/Linux came out of a vacuum or from Torvalds' bedroom."Actually, unless they are using something like the BSD licence, they usually must. Then there are issues like SaaS, which are addressed by the AGPLv3, among other licences. But either way, Free software remains Free software, there is no justification for renaming it "Open Source" and calling the GNU Manifesto "Open source Manifesto". It's insulting to those who started the whole thing and wish to receive fair coverage or attribution, at the very least.

The Lexology sites presents some other issues, mostly to do with access, not just paywalls. Stallman asked: "Can you email me the full text of that article? I tried to fetch the page and what I got did not include the text."

Stallman said he "wrote to them", but more than a month later the article remains uncorrected, not updated, etc.

Another big load of revisionism (changing history) uses the "Open Source" label to delete GNU from history. Published last month, the article titled "At Birth, Open Source Was About Saving Money, Not Sharing Code" focuses on Torvalds (see feature image) and frames the movement as one that is centered around money. Stallman asked: "Is that someone opinionated who won't listen to me?"

It is of course worthless asking for a correction when you know in advance none would be made. It later turned out to be part of a broader series of articles, some of which did cover GNU. I personally read several hundreds of items from the author and he's more into 'practical' benefits, so I don't think it would be worth arguing over. Some people just aren't fond of freedom in the context of computing.

We have noticed many articles throughout this past year or so -- including some from Linux Foundation staff -- that basically start history in 1991 as if GNU/Linux came out of a vacuum or from Torvalds' bedroom. Quite frankly, we think it's an insult to history. We deem it negligent at best. Of course it leads people to deducing that the success of the system in its entirety is owing to the great "Linux values", not GNU philosophy.

In summary, in our threads of communication with Stallman we were able to reaffirm that there were factual issues in the "Open Source Manifesto" article (it speaks about the GNU Manifesto) and despite Stallman's request for correction, nothing has been done by the publishers. It's like people just don't wish to speak favourably about freedom in computing. Mac Asay, a Mormon (i.e. more superstition a religion than most other religions), compares Free software people to dangerous religions -- a typical smear directed at a largely secular Free software community. Perhaps there are just those who are impossible to please because they are inherently opposed to control over one's machine and would rather buy digital prisons from Apple than work a little harder to gain control or acquire freedom-respecting tools. ⬆