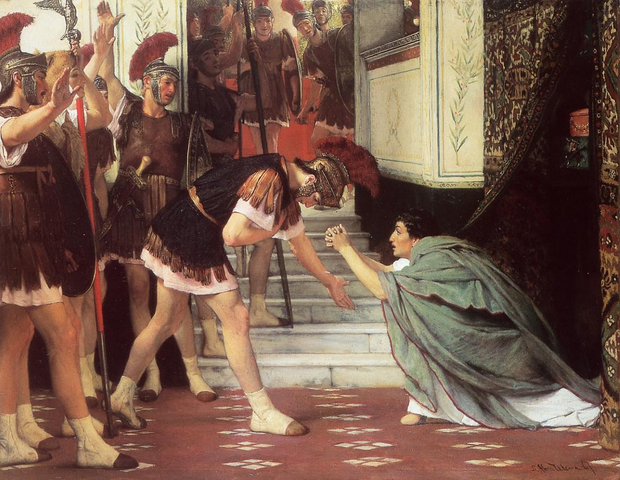 Summary: Misplaced priorities at the EPO and more evidence either of more exits (resignations) or an expansion to further empower tyranny, not patent examination
SEVERAL sources have independently told us about EPO brain drain. People hand in their resignations in relatively high numbers. The President's Praetorian Guard, nonetheless, isn't being shrunk. The EPO's Napoleonic 'president' (fancy job title, more so than in the USPTO) already surrounds himself with bodyguards, some say he wants to have a limousine (we haven't been able to verify this claim), and even if all talented examiners were to leave the EPO, lavish lifestyle and obscene expenditure for the almighty 'president' mustn't and wouldn't be compromised.
"They ought to say something about the high suicide levels, the abuse of staff, and violations of European law, human rights, privacy etc."According to this new job ad (location being Munich and The Hague), there are many vacancies expected, perhaps because many people are leaving. "In 2016," says this ad, "the European Patent Office plans to recruit more than 200 engineers and scientists to work as patent examiners. Are you interested in joining an international team at the forefront of technology?"

They ought to say something about the high suicide levels, the abuse of staff, and violations of European law, human rights, privacy etc. They should inform applicants also about the 'gestapo' (as staff calls it) [1, 2, 3, 4, 5, 6, 7]. As this new comment in IP Kat put it yesterday:


The problem at the EPO is the general lack of respect for it employees contrary to the managments [sic] professions to the contrary.

At a meeting of the president with a group of employees, he was questioned on the wisdom of introducing the fully electronic file and paperless office. First of all there are frequent disruptions in the working of the EPOs computer systems at present. This hinders examiners in the processing of files. At present an examiner can pick up on another file, and continue the other file later. With a paperless office the examiner would be fully dependent on the computer systems working. If these were to fail then the examiner would be hindered from working. This would impede production (which would result is a negative personal report) unless the examiner would work overtime to make up for the lost time. Secondly the ergonomics guidelines state that an employee should not work more that 6 hours on a PC (a tool was introduced by the EPO to advise examiners to stop after 6 hours) or risk health issues. Introducing the fully electronic file would mean examiners will be expected to work on a PC for on average 8 hours per day (considering examiners have a fixed 40 hour week). To this Mr Batistelli replied that new computer screens (which do not yet exist) would solve the problem (this would maybe solve eye problems but not RSI risks). He then continued that he would be happy if examiners would really work 8 hours per days. Thank you Mr. Batistelli! So much for respect for employees.

Furthemore [sic], the Head of the Investigation Unit, during a meeting where the workings of this Unit were introduced, was questioned. First of all he was asked whether it was true that an employee being investigated was not allowed legal council. He stated that this was correct. He was then asked if the information would be used in disciplinary proceedings. To this he stated that it was merely to see if a disciplinary proceedings should be conducted, suggesting that the information would not be used. It was then stated that if the information obtained during the investigation were to be used would this information not be illegally obtained evidence because of the lack of legal representation. To this he replied in an agressive [sic] manner that if the employees of the EPO didn€´t like it the [sic] could leave, at which [point] a large group left the room. This felt a lot like intimidation. Where do you go to request an investigation of the head of the investigation unit for intimidation? So much for respect.

To then expect EPO employees to treat the management [sic]with respect is maybe a little too much, although it would have maybe been better not to stoop down to come closer to the low level management exemplifies.
The EPO is now hiring even
more people for its 'gestapo'
. That is perhaps the EPO's 'growth area' right now. More of the above.
Someone has notified us of a curious new vacancy at the EPO -- a vacancy which suggests that either Battistelli lost his assistant or is looking to recruit more. Here are the details from the EPO's site (screenshots shown below to reduce the chances of tracking by the EPO's 'gestapo').
Below is an opening for a personal assistant to Monsieur le Président (http://www.epo.org/about-us/jobs/vacancies/other/int-ext-5918.html):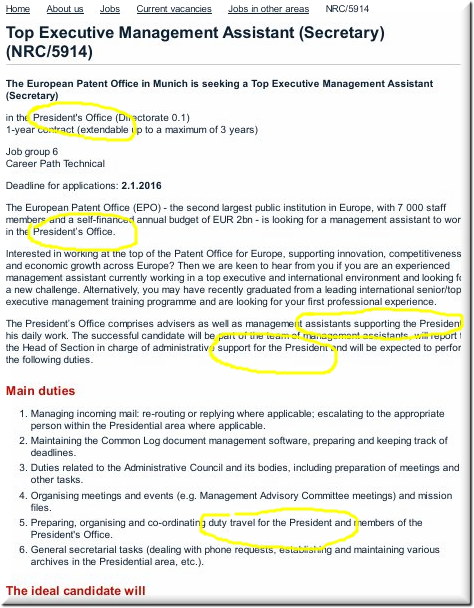 Just as a bit of complementary reference material from the public EPO site: Two separate openings for an investigator are advertised, one in the Hague and the other in Munich (http://www.epo.org/about-us/jobs/vacancies/other.html)
But both entries point to the same URL ( http://www.epo.org/about-us/jobs/vacancies/other/int-ext-5918.html)
This is probably the reason why the Central Staff Committee document states that it isn't clear how many two investigators are sought. Here is the ad for the 'gestapo' career: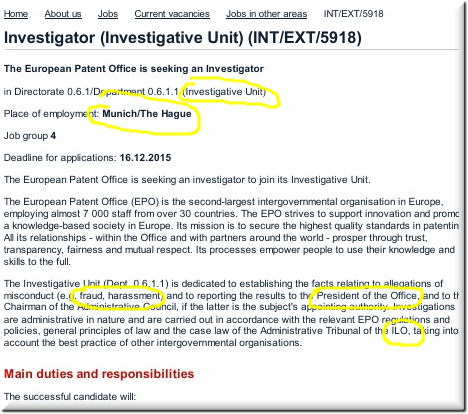 These are, for now, the only jobs publicly advertised in "other" (not in outside Web sites but by the EPO itself):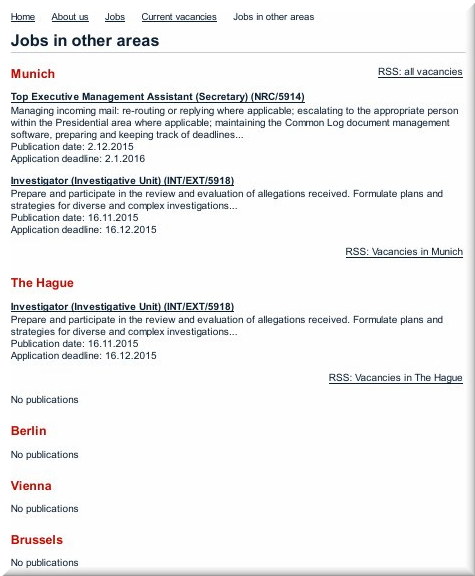 Patent examiners? Not in this section, but either way, this isn't really the focus of the EPO. Not interested. The EPO isn't about patent examination anymore. It is rubber-stamping at a higher PACE [pun intended]
for large corporations
because they bring more income.
⬆
"History, in general, only informs us what bad government is."
--Thomas Jefferson