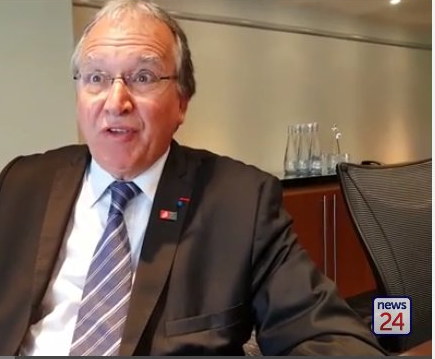 Summary: Taking note of what the EPO's President (for now) said about his salary and a lack of bonus
THE EPO is nearly in a state of total meltdown because Team Battistelli is still running it (effectively in control by force and intimidation). We heard from many sources about Battistelli's salary and we are close to getting an accurate picture (accurate enough for publication). Battistelli wants people to believe that he nonchalantly revealed his salary to the media the other day. Not a smart move. Will it quickly be amended to support/match 'the facts'? We are too familiar with such tactics.
"Misunderstandings have very short legs," someone said the other day, adding:
In this light, the reader will draw his own conclusion on the coincidence of the following statements made in "the Register" two days after the meeting:

"The EPO extends and olive branch to furious trade unions" "Determined efforts underway to defuse ticking time bomb" "The negotiation of the new MoUs has led to a "very positive atmosphere" in recent days, the organization said." "The EPO assured us that the president intends to stay on until his term ends in 2018."

Personally, I believe that at least the last point is very true.... Interestingly enough, after the Union denied the above, the Register investigated and published a clarification:

"the EPO got back in contact with us to point out that there had been a "misunderstanding" during our conversation over SUEPO's willingness to sign the document. A similar misunderstanding also seemingly occurred when we reported that the revised version of the "request" to EPO management would remove direct criticism of Battistelli."

Despite the impeccable British understatement, it looks like the journalist may not to be entirely amused of the series of "misunderstandings" from the side of the EPO PR-campaign.
Petra Kramer (PK) has given us a translation from Dutch of a very recent article. In it we see lots of statement from Battistelli, including evidence that he is delusional or in total denial about his failings (or reality itself). This has highlights in yellow below:
"I make 300,000 euros per year"



Interview with Benoît Battistelli, EPO President Battistelli of the European Patent Office responds to the noise. "My relationships are excellent."

Eppo König

March 4, 2016

Are the reports [true] that he is willing to resign for a severance payment of 18 million euros, ten years salary?

"Completely unfounded," said the Frenchman Benoît Battistelli (65) Thursday in Brussels. And then the President of the European Patent Office publicly discloses his salary - which was not a public figure thus far. "I earn 300,000 euros per year. And not a single euro bonus." [Show us your contract ~PK]

The patent office which is building a new prestigious office in Rijswijk consists of two realities.

On the one hand there are the beautiful annual reports Battistelli, president since 2010 and reappointed until 2018, presented to the press on Thursday. The Office (7000 employees) accepts patent applications, grants patents for 40 Member States in and around Europe and protects the products of companies and inventors. While the number of patent applications increased 5 percent last year, unit shipments (patent examinations etc.) increased by 14 percent. Thanks to the reforms undertaken by Battistelli said the bureau. Investment in IT, an internal reorganization for efficiency and bonuses for performance rather than seniority have paid off they claim.

On the other hand there are complaints about the high workload of employees and an authoritarian regime. Last week a document leaked in which Battistelli's supervisors, the management board [B28], the Member States advocate an external investigation into punitive measures against leaders of trade union SUEPO of which two members were fired. The patent office this week recognized a small union (FFPE-EPO) for the first time, but SUEPO has refused to sign in protest.

After the Netherlands and other Member States insisted, an independent study will be made into the working conditions at the patent office this spring. This includes to the reward system, strike rules, social democracy, the position of trade unions, State Secretary Martijn van Dam said (Economic Affairs, Labour).

Coming Friday Battistelli will have a conversation with State Secretary Van Dam, he said somewhat irritated during the press conference. "I have a lot of questions for him," he says of Van Dam. "Especially if he realizes that the Netherlands benefits from the patent office. We invest 250 million euros in a new building. We put 1 billion euros to the Dutch economy. So I'm going to ask him whether he is aware of these elements. But I will be happy to fully inform him about the situation at the patent office."

You sound a little agitated. Do you find it unjust or unfair that the government wants to do research?

"No, I just think: The Netherlands is a very important country for us. We invest heavily in the Netherlands. So when I see that there might be some misunderstanding, it is important to speak to each other personally. I will give him [Van Dam, ed.] Ask what his preoccupations with the patent office and I will answer him.

"I have not reduced the number of employees, salaries are not reduced, the working conditions have not worsened. What I have done is to better organize our methods to increase our productivity."

"These reforms were accepted unanimously by our management board. I remember that the Dutch delegate was very active to promote these reforms."

The management board has proposed an external investigation into punitive measures against union leaders. Are you willing to do so?

"For our disciplinary measures certain rules apply. We have a disciplinary committee, a management review, the opportunity to appeal to the International Labour Organisation. I do not see how you can change those rules. The provisional resolution has been revoked as far I know. Such research is legally impossible. I have indicated that I am open to revise the rules. One of the elements that is apparently important to some, is external intervention in penalties. Why not? I'm open to it. When we introduced it, it can can be done. But before that time, this is not possible." [See the logical fallacy here? The rules cannot be changed but once they have, it's a give. ~PK]

What is your current relationship with the management board? In the leaked document it states that "no meaningful dialogue" with you could be held on the penalties.

"Again, you referred to a document that has been withdrawn and therefore does not exist. My relationships are excellent. I've known these people for years. I have constant interaction with them. In five years, I have done over 200 proposals to the management board. Only one got rejected." [RSS: recall Benoît Battistelli gloating/boasting along the lines of "an earthquake would be needed for the Administrative Council not to support my major proposals"]

This week you have entered into an agreement with a small union. A small step forward, but not a solution for your conflict with SUEPO representing half the staff.

"You should not judge the patent office with Dutch eyes. We are not Dutch, German or French. We are European, with different cultures and traditions. (...) We will continue the dialogue and the recognition of unions that accept our legal framework. I sincerely hope that SUEPO realize that their "empty seat" is not in the advantage of employees or of the patent office."

_______________________ [PK: Human-corrected machine translation of: http://www.nrc.nl/next/2016/03/04/ik-verdien-300000-euro-per-jaar-1594385 Can't access the page? Empty your cookie folder.]
Well, he'll regret saying this about his salary (the headline of the above article). Based on the
latest article
from
IP Watch
, he also tried to spin a much higher salary as the amount he 'generously' gives to staff. Total fiction. He views himself as some kind of benevolent dictator, even with a pile of depressed (if not dead) employees under his wing.
"If anything it will decimate his severance package,"
PK told me
. "Which is great." We hear it's getting only worse over time, however, as he angers the Council, reducing his chances of getting lots of millions in 'compensation' (maybe there's the
Bygmalion affair
to fall back onto). Those who believe that Battistelli can hide his salary for 5 years (despite
repeated
requests for disclosure) and then finally, under little actual pressure, give it away to the media are in for a surprise.
⬆