The EPO knows very well what it's doing right now...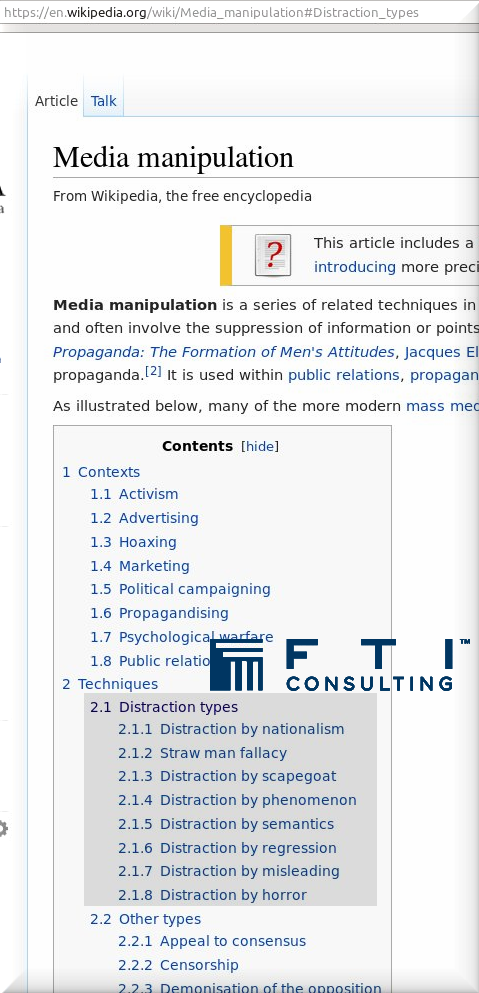 Media manipulation: Distraction types
Summary: What's happening inside the EPO these days and what meaningless rubbish the management of the EPO would rather have the media obsessed with
THE EPO's decision to retaliate against former staff has met/invited a lot of resistance from the staff union, SUEPO. It's only to be expected because the EPO not only stretches the law but most probably breaks it (not that it cares about having to refuse to obey court orders).
The EPO cannot justify its sheer abuses. It just keeps
the latest PR/charm offensive
going
until the end of this month
(to distract the media, which resorts to writing puff pieces like
this new one
). More
publicity stunts from the EPO could be found today
(shameless self-promotion from this scandalous institution). Not enough people are voting, so
the EPO asks people to vote every day for well over a month
. It sometimes even 'spams' [
1
,
2
]. It's rather pathetic and oftentimes painful to watch. As one might expect, there is also
another kind of UPC lobbying from the EPO right now
, promoting
class war on behalf of large corporations (not even European corporations)
.
There's a common saying, check what things are designed to
distract from
. Well, earlier today
SUEPO issued a short statement under the headline "Letter dated 27 April 2016 from FICSA to FFPE regarding signature of Memorandum of Understanding on 2 March"
. The enclosed document is
this PDF
and the short summary said: "On 27 April 2016, the Federation of International Civil Servants' Association (FICSA) sent a letter to the Federation de la Fonction Pbulique Européenne (FFPE) regarding the Memorandum of Understanding (MoU) signed on 2 March 2016 between the EPO and the FFPE-EPO..."
As a recap regarding FFPE-EPO consider the following older articles:
FICSA is not a newcomer to this. It already complained about the EPO's management [
1
,
2
] and now it has this to say to Battistelli's allegedly 'yellow' union: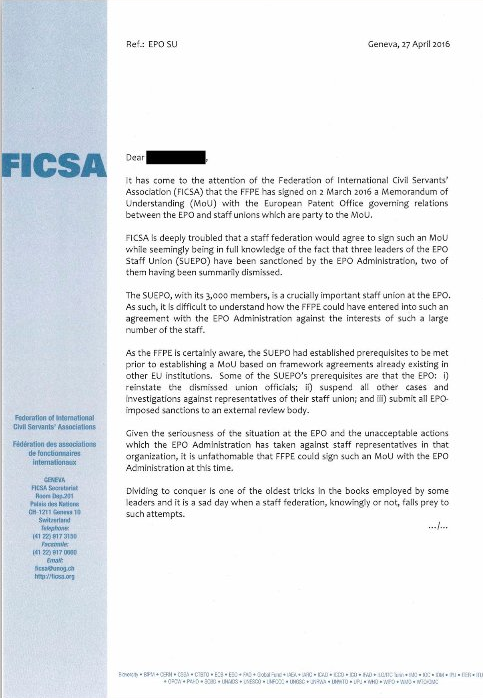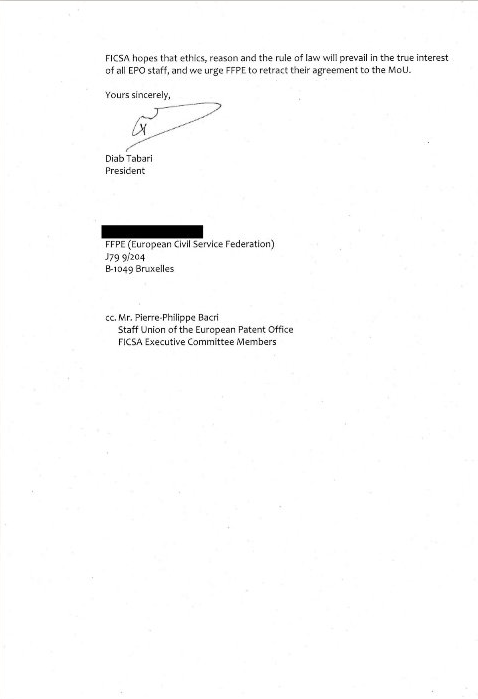 If someone can extract the text from the PDF and send it to us (or post it below in the comments), that might help.
⬆