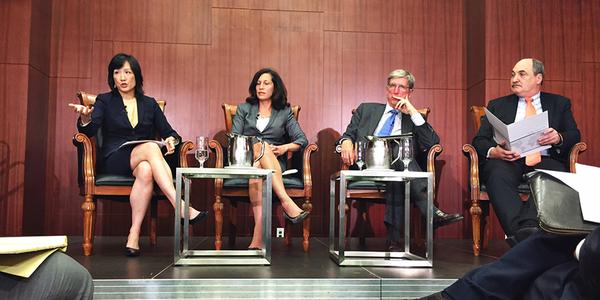 Summary: Texas and its epidemic of patent trolls (owing to trolls-friendly courts) may be enjoying its last months of exploitation and the patent law firms that are based there might soon need to relocate
THE USPTO is moving in the opposite direction of the EPO (which pursues the UPC). Tomorrow we'll publish a lengthy and detailed post about the FTC study, but today -- in preparation for that -- we shall remark on another aspect.
A recent article by Annalee Newitz spoke about Lee Cheng, who made a name for himself by fighting patent trolls to death and even compelling them to pay Newegg's legal fees after the trolls had lost (a lengthy and expensive process). Newegg
was praised here in the past for this (one example among half a dozen from last year
) and ""Patents are bullshit," says Newegg legal chief" is the
headline of this new article
. To quote from it:
Lee Cheng is one of the few attorneys to fight back against patent trolls and prevail. And at the latest Ars Live event, we talked to him about his most famous case, how people can fight patent trolls today, and what the future of patent abuse will look like in coming decades. His answers, as expected, were incredibly candid and hilarious.

In 2007, a patent troll known as Soverain had already gotten millions of dollars out of The Gap and Amazon for their online shopping cart patent when they hit Newegg with a suit. Cheng's colleagues in the legal community said you'd better just pay up—this patent is legit. Cheng didn't see it that way. Newegg had just reached a billion in sales, and he thought this piece of litigation would be the first of many lawsuits brought by companies that wanted a piece of Newegg's success. And sure enough, soon after the shopping cart claim, Newegg was hit with patent claims on several aspects of online search. Cheng decided he wasn't going to lie down and take it. He thought he could win on appeal if he could just make it through the courts in the Eastern District of Texas, where 40 percent of patent infringement claims are brought.
Remember that Newegg got dragged down to Texas, and notably the Eastern District of Texas, which is
probably
the
world's most notorious
(globally). It actually advertises its bias that favours litigants with abstract patents. That's why many companies and trolls file their patent cases in there. On the fifth of October
we saw United for Patent Reform stating
that "85% of the 33 patent lawsuits filed today were filed by patent trolls. It's time for Congress to take action to #fixpatents!"
How many of these were filed in Texas?
Patent Progress
wrote
that "The Eastern District of Texas Is Still Home for Patent Trolls" (also under the #fixpatents hashtag) and pointed to
this new article
from Mr. Levy (
cross-posted at the Huffington Post
). To quote some bits:
The year is mostly over, so I thought I would take a look and see what's going on in the Eastern District of Texas. The Eastern District of Texas still has more patent cases filed there than any other district at 1,224. Some 794 (that's about 8% of all patent cases) of those cases were assigned to Judge Rodney Gilstrap, in the Marshall Division — almost 10 times more than any judge outside the Eastern District. That's more than twice as many as the entire District of Delaware (311 cases), even though most big companies are incorporated in Delaware.

In fact, Judge Gilstrap, a judge in a small town in Texas, is handling about as many patent cases as Delaware, California, Illinois, and New Jersey combined.

Marshall, Texas has a population of about 25,000 people. It has no major research facilities, no major industries, and has not produced any major innovations that I can identify. And yet it hosts more patent litigation than any other place in the country, by an order of magnitude.

I'm sure Marshall is a charming town with nice people, but there's simply no reason for so much patent litigation to go through there. We might as well have patent litigation go through Bangor, Maine, where I went to high school. The town is about the same size, but it has better food and it's near the coast. Bangor also has a modern airport and a life-size statue of Paul Bunyan.

Seriously, it's obvious that something is wrong here, even if you don't know the details. Patent trolls wouldn't be flocking to a small town with no airport unless they had good reason.

And they do have good reason.
Levy is right to single out or point out
Mr. Gilstrap for reasons that we covered here before
. In another new article,
this one from Patently-O
, they alluded to the VENUE Act [
1
,
2
] by suggesting change to patent venue and naming the VENUE Act explicitly:
Earlier this year, we presented some initial results of our study of what might happen if patent venue reform took place. Since then, Senator Flake (R-Az) introduced the VENUE Act of 2016, and last month, petitioners, led by a group including James Dabney and John Duffy, filed a petition for writ of certiori in the TC Heartland case in the Supreme Court. Amicus briefs are due October 17, 2016 and Kraft's brief is due on November 16, 2016.

To support these deliberations, we examined the history of the patent venue law and presented some statistics about plaintiff venue preferences for the Eastern District (for even more statistics on this point see the new paper by Brian Love and James Yoon). Additionally, we empirically modeled both reforms by randomly selecting 939 cases from 2015, and making our best guess as to where cases would have been filed under the proposed rules, assuming they would have been filed at all. Since 2015, the overall number of patent cases has declined, about 20% YTD based on data from Lex Machina (4,216 cases by this time last year vs. 3,369 today). The Eastern District of Texas has made a number of changes and its share is also down from 44% in 2015, to 35% 2016 YTD (30% in 1Q, 36% in 2Q, and 38% in 3Q); the next closest district (Delaware) has seen about 9% of filings, based on data from Lex Machina.
After the FTC study that we shall mention separately it seems more likely that the VENUE Act will become a reality, or folded into an existing/prospective patent reform bill.
Speaking of patent trolls, even universities are feeding them now. Here is MIP
sort of supporting the practice
, as if weaponising universities that are funded by the public and turn into trolls that tax the same public is a good thing. No wonder MIP did this, with firms like McKool Smith as 'company'; To quote: "The increase in university patent lawsuits in recent years and strategies for winning cases were among the issues discussed by presenters in the webcast "University Patent Licensing and Enforcement", hosted by Managing IP in association with McKool Smith on September 26."
These are euphemisms for what often boils down to trolling, if not direct then indirect, e.g. by passing patents to trolls like
Intellectual Ventures
-- now at the epicentre of the collapse of software patents in the United States (more on that in an imminent long post as well).
If the VENUE Act passes, or even gets incorporated into a future patent reform bill, then Texas can say goodbye to a lot of its parasitic business.
⬆