Make Watchtroll great again?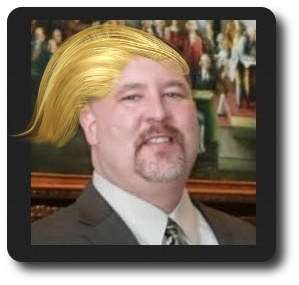 Summary: Progress is being made to the point where the father of patent trolling and his firm are both gone; The 'Watchtroll clan' and other circles that are sympathetic to patent trolls continue to attack the system which attempts to stop the trolls (in order to make litigation great again, and make lawyers richer)


LAST night I was approached by journalists and interviewed for an hour over the telephone because of attacks on my free speech (details in [1, 2]) and in the process it turned out that one of them, Mr. Mullin, wrote that Ray Niro's troll firm is finally as dead as him. For the uninitiated, Niro was the father of patent trolling and he was connected to the world's biggest troll, Intellectual Ventures. Here is what Mullin wrote a few days ago:
The Chicago law firm that became synonymous with "patent troll"-type litigation is shutting down, following the death of founding partner Raymond Niro.

The remaining partners of the Niro Law Firm are shuttering the firm, according to a report in Crain's Chicago Business. A core group, including Niro's son Dean Niro, will launch a new firm called Vitale Vickrey Niro & Gasey.
These are inconvenient truths (e.g. to IAM), so we're not exactly surprised that nobody but Mullin properly covered this major news (as far as we can tell). The market for patent trolling in the US is nosediving, yet yesterday all that IAM was able to say is:
"growing confidence in the US patent market"
(right there in the headline!).
"What about the collapse of patent trolls? Has IAM been paid enough by patent trolls to refrain from reporting that?"Really? So taking 12 staff on board (maybe after bankruptcy/liquidation) is "sign of growing confidence in the US patent market"? That is hilarious a misinterpretation, maybe misreporting too. To quote: "Last week it was announced that investment bank Houlihan Lokey had acquired Black Stone IP in another sign that financial giants are taking a closer look at the patent space. The deal will see Black Stone's US-based staff of 12 join Houlihan, including CEO Elvir Causevic and managing director Edmund Fish who will co-head the group at their new home. A Bosnian-based operation is not part of the deal, but will retain connections with Houlihan."

What about the collapse of patent trolls? Has IAM been paid enough by patent trolls to refrain from reporting that?

In other news, the Director of the USPTO will reportedly remain Michelle Lee, but Watchtroll and similar bullies are attacking the Trump administration or trying to shame it into canning her. Neal Solomon, for example, writing in Watchtroll yesterday, chose a very dramatic headline: "The Disintegration of the American Patent System"

Wow. So fixing the system is "Disintegration"?

This is, by our count, the third (if not fourth [1, 2, 3]) attack in a week by Watchtroll against the patent system and Lee in particular, personally. So much for diplomacy and professionalism... they already attack her for her past employment at Google. What next? Attack her for her Asian heritage, claiming it introduces some sort of conflict or corruption? They already use the word "swamp" too, thereby flirting with the racist Alt-Right crowd.

According to this letter shown by Patently-O yesterday, there are even more attacks on Lee, courtesy of the patent microcosm. It calls Lee a "swamp". How impolite. Prof. Dennis Crouch wrote: "If I were a patentee, I would certainly have great concern that the next director may be far worse."

More from his post:


With conflicting media reports and no statement from the USPTO or Department of Commerce, we are left guessing as to whether Michelle Lee continues-on as USPTO Director and Undersecretary of Commerce for Intellectual Property. The Commerce Department leadership has been substantially filled – but the IP position remains blank. My request for clarification from the office have also been denied. I have also submitted a FOIA request, but that process tends to be slow. We will likely have to wait for the Confirmation of Wilbur Ross as Commerce Secretary before stakeholders are informed of the state-of-affairs.
We certainly hope that Lee's tenure will be confirmed some time soon and that aggressive lobbying by the patent microcosm will backfire badly. We need trolls like Niro to go away (he himself, along with his firm, are already dead) and denying software patents will certainly contribute to that.
⬆