Not only classic patent trolls are collapsing/folding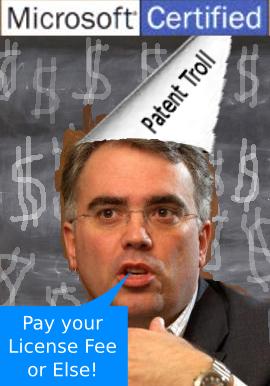 Picture contributed by a reader in 2008
Summary: The fantasy which is building a company on a foundation of patent revenue (like a patent troll) is quickly going away, as even some of the most notorious patent aggressors (companies that are failing in the real market and thus turn to patents) begrudgingly and inevitably find out
THE patent microcosm (people whose profession is just patents, not science and/or technology) is on the retreat. It is retreating from many fronts and it is sometimes willing to publicly acknowledge this. Sometimes it just resorts to insulting the Director of the USPTO, Michelle Lee ([1, 2, 3, 4] (as if she is in some ways comparable to the crooked EPO management).
The patent microcosm will lose a lot of people. The reason for their anger is the demise of their profession, or the bursting of the patent bubble. Below we present some of the latest examples.
Creative
Reading IAM (with a sceptic's hat on) can be handy because looking past the spin and the damage control, it is clear that the patent microcosm suffers brain drain that goes all the way up to the top. After Creative had become a patent troll, as
we explained here last year
, its legal head finally -- one might say
belatedly
--
jumps ship
(ignore IAM's lipstick on this pig). We suppose that the litigation strategy didn't work out as expected. To quote, "Anan Sivananthan has stepped down as associate vice president and head of legal after spending 17 years with the company in order to join the Singapore IP practice of Bird & Bird."
So no more patent trolling for him?
Microsoft
Recently, as we covered here as recently as last month as a matter of fact,
Psyhogeos left Microsoft
, only months after
Horacio Gutierrez had left
. The significance of this is very high; it shows Microsoft's trolling operations failing. Microsoft's patent blackmail, using software patents as a weapon of choice, is not yielding any major gains and rumours in recent press reports say that there are more layoffs imminent (the company's own troll entity's chief left recently, possibly with more departures to come). It means that attacking Android OEMs with patents -- something that Creative too has been doing -- is a losing strategy. Here is
the latest
about the demise of Microsoft's trolling operation:
There was more evidence last week of ongoing challenges for patent licensing when two giants of the tech world published their latest quarterly results.

[...]

Patent licensing, though, did not fare so well, as the software giant saw a 25% decline in revenues due to a drop in licensed units and licence revenue per unit.

As we have seen in other recent quarters, Microsoft's royalty stream is slowing thanks to falling smartphone sales and decreases in the average price of a device. The Redmond-based tech company doesn't split out the numbers for it IP business, so we don't know exactly how much it brings in, but it is understood to have been as high as between $2 billion and $3 billion.

In other words, licensing is important for Microsoft (especially with regards to overall profitability), but it is not as a critical determinant of the company's fortunes as it can be for others. Plus, as we have seen under new CEO Satya Nadella, the Windows giant has changed tack as its looks to forge new and develop existing business relationships, of which licensing agreements can be a useful part.
Microsoft is basically just a giant patent troll, especially in the area of mobile devices.
RPX Headless
Another patent troll, one that Microsoft is a member of (see background in
our wiki
),
is imploding
. "IAM understands that RPX co-founder John Amster has stood down as CEO of the defensive patent aggregator," it said the other day.
Great news again.
But wait, there's
more
...
LinkedIn
IAM, which adopts propaganda terms like 'efficient infringement' (to describe innocence from patent infringement),
writes about Microsoft's LinkedIn
and its love of patents (the above mentions the takeover of LinkedIn as well). Is LinkedIn about to become a patent troll like the company that's buying it for spying purposes? Will Microsoft shake down Twitter using patents in the same way IBM did? Maybe it's premature to predict this, but either way, here is IAM's editor about
"Trump, IBM, LinkedIn"
, accompanied with the propaganda terms:
While many in the US IP community hope that the arrival of President Trump will herald a new era in which patents become the valuable, enforceable assets they once were - and so-called 'efficient infringement' is consigned to history - hope is all they have at the moment.
Trump's patent policy (or lack thereof at this stage) will be the subject of a later post.
Fitbit Falls on Its Patent Sword
There is yet another new example of patent abusers losing big. Not too long ago
we wrote about
Fitbit chickening out of a patent war which it
itself
had started. It turns out now, based on a
quick/concise tweet from Tim Bradshaw
, that "Fitbit fell 16% today after slashing its outlook & cutting jobs. At $1.3bn it's now worth less than GoPro ($1.5bn)" (links to an article behind paywall).
Well, remember that Fitbit was the company that attacked its rival with patents and then ran away from the battle that it had created, saying that its
RIVAL
was financially weak! So perhaps it was just a projection tactic. It turns out that it's Fitbit that's utterly weak (financially). Here is a
new report about it
which is not behind paywall:
Fitbit Inc. will eliminate about 110 jobs, or 6 percent of its workforce, and said fourth-quarter results won't meet analysts' estimates amid declining demand for its fitness trackers.

Fitbit expects to report that it sold 6.5 million devices in the quarter ended Dec. 31 2016, with revenue of $572 million to $580 million, the company said in a statement Monday. Analysts were expecting $736.4 million, on average. Fitbit forecasts revenue in 2017 of $1.5 billion to $1.7 billion. Analysts had estimated $2.38 billion. Official results are due to be released Feb. 22.
Fitbit wanted to live by the (patent) sword and it fell on its sword. It didn't help Fitbit when it attacked competitors using patents. It just made the company look foolish and now it is suffering. Money went to lawyers rather than salaries or R&D.
⬆