In the name of 'security' (not of staff), so-called 'reforms' are passed without proper scrutiny but growing complicity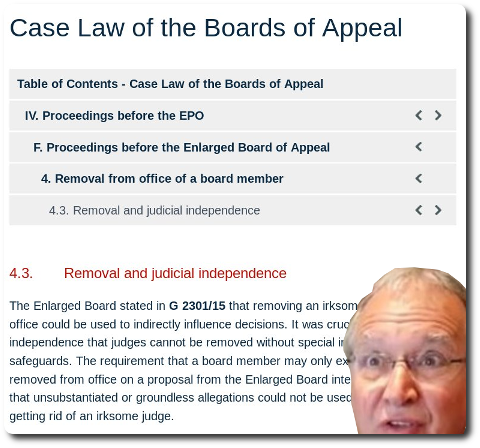 Summary: The whole mechanism of justice at the EPO (notably separation of powers) is more or less defunct after Battistelli asserted God-like powers not just over the Office but the entire Organisation, including the above-mentioned Boards of Appeal
YESTERDAY culminated in this article about the Boards of Appeal (BoA) openly complaining about Battistelli. They don't feel like they have independence anymore and it impacts their decisions. In the EPO's propaganda mill, as of today, the Enlarged Board of Appeal's recent ruling is explained/analysed by Carpmaels & Ransford LLP, but one has to wonder -- as we have for at least a couple of years -- to what extent the reign of terror (by Battistelli) played a role in these decisions.
"Dutch media said that Battistelli's regime had become comparable to terror from Battistelli himself, not against him."Jakob Pade Frederiksen of MIP (which hasn't covered EPO matters for a while, perhaps for fear of backlack) explains just how insane and terrifying Battistelli has made the EPO. In the post titled "Update on BoA and security" one sarcastically wonders if he alludes to growing need for protection from Battistelli (e.g. protecting BoA from Battistelli's retaliations) or something else. To quote: "Turning to the physical safety of the EPO's staff and visitors, a variety of enhanced security measures have been implemented recently. The bags of visitors, including patent attorneys, are now being routinely inspected at the entrances of the EPO's buildings, and the EPO has put in place a procedure for inspecting documents and other items sent by ordinary mail. The EPO may return suspicious items to the sender, or it may hand it over to national authorities for destruction."

Maybe it's all just intended to guard Battistelli's alleged bicycles, which are alleged to have been tampered with. Dutch media said that Battistelli's regime had become comparable to terror from Battistelli himself, not against him. Considering the growing number of suicides, the death toll at the EPO is usually the fault of Battistelli's abusive management. In addition, many people are leaving, often by their own choosing. For EPO brain drain in numbers, see the latest comment in IP Kat's latest (3-4 months old) article about the EPO conflict. It says:




About retirements and brain drain - the social reports 2013-2015 provide some data: 2012 retirements 095 resignations 15 ends of service total 153 2013 retirements 108 resignations 17 ends of service total 191 average retirement age 63.1 2014 retirements 143 resignations 16 ends of service total 183 average retirement age 62.7 2015 retirements 216 resignations 23 ends of service total 269 average retirement age 61.1 Average age upon retirement dropped by 2 years in 2015 compared to the two preceding years. The data for 2016 has not been published yet.
The EPO is in a very bad shape. Justice lost legitimacy not just in internal tribunals but also external ones and judges that are supposed to be entirely separate from the Office also complain about loss of independence. This week, as in most weeks, the EPO
says
(in the cited page, not anchored here in the interests of privacy) that "transparency in all our operations" is a priority, yet they are very secretive for a public institution and
transparency is what Techrights does FOR the EPO
. Very few people knew about what had been going on inside the EPO until last year or the year before that (2015). Accordingly, fewer politicians bothered bringing up the subject and publicly intervening. Gag orders are very common a routine at the EPO; they also
used a sort of gag order to hide their threats against yours truly
.
"Justice lost legitimacy not just in internal tribunals but also external ones and judges that are supposed to be entirely separate from the Office also complain about loss of independence."The EPO has just posted something about tenders etc. It did it again today (second time in a few days, citing a Microsoft site where they supposedly claim to be all "open" about procurement practices that the EPO is notorious for). As we hinted yesterday, we are currently investigating a potentially criminal element inside the EPO but are still verifying information. As a side note, since we've brought up Microsoft and procurement, mind this tweet (same pattern that has repeated almost every week lately) and remember that online filing is not as simple as using a browser. Proprietary software is required and it helps to be a Microsoft customer. Watch Microsoft Windows 'ads' in the background of this photo uploaded by the EPO yesterday. No EPO event would be complete without the patent thugs and bullies, or those who rig procurement processes with bribery (we covered examples in the past).

Justice and EPO don't blend; with abuses and immunity the EPO has in fact become antithetical to the concept of justice. ⬆