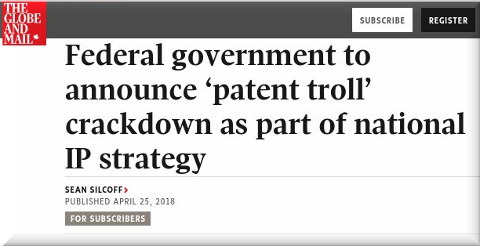 Summary: In response to new rhetoric if not action from the government of Canada the patent 'industry' (notably patent law firms) meddles in national media
W
ITH the exception of China, software patents are difficult to get and then
successfully
assert (e.g. in courts) around the world. The rules have become a lot tougher; the
USPTO
became stricter, the
EPO
went totally out of control, and SIPO (China) seems to be granting patents on just about
anything
(they need to create and maintain an illusion of being originators so as to resist trade war pressures).
"These articles -- not too shockingly at all -- came from patent maximalists, notably law firms."What about Canada? Like Russia, Canada is a very large country, but most of it is too cold to be livable so the overall population size is 'underwhelming' and the same goes for the number of patents. These two countries aren't so relevant to WIPO and they aren't even in IP5 (a small country like South Korea actually is).

Over the past week we've seen some more articles about CIPO/Canada, shortly after the Canadian government bemoaned the impact of patent trolls. These articles -- not too shockingly at all -- came from patent maximalists, notably law firms. They make a lot of money from patent trolls.

Yesterday, for example, Bruce Berman at Watchtroll cited the US Trade Representative (USTR), which is a malicious and imperialistic front group. He kept dropping propaganda terms like "IP", which the headline contained even twice ("New Canadian IP strategy includes money for IP tools and literacy"). Watch how he attempt to discredit TechDirt and Torrent Freak:


Earlier this year, the UK IP Office (UK IPO) introduced a copyright awareness program with a series of educational animations for students seven to eleven-years-old. "Nancy and the Meercats," under the Cracking Ideas initiative, met with nasty opposition from the likes of Techdirt and Torrent Freak. They believe that helping children to understand IP right from wrong is little more than brainwashing, which is predictable given the bias in these publications. Techdirt and Torrent Freak often have an IP axe to grind and believe that content and code should be broadly shared, and that piracy is not theft. Concepts foreign to those who actually create.
We have seen similar smears directed at the EFF, typically from patent trolls and occasionally from Watchtroll.
"It always came from law firms."Canadian media, much to our regret, carried similar propaganda. It always came from law firms. They do not represent Canadian companies. In this particular case it's Gavin N. Manning, partner at Vancouver's Oyen Wiggs Green & Mutala LLP. He seems to be giving very bad advice as software patents are bunk, or at least pretty much worthless in courts (both in Canada and the United States). Another new rant about Alice, this time under a headline with buzzwords like "Fintech"? To quote:


In the late 1990s and early 2000s, it was common for broad software patents to be granted. That changed after some notable U.S Supreme Court cases. One is known informally as "Alice."

In 2007, the Australia-based Alice Corporation held U.S. patents for financial-trading systems in which a third party held funds in escrow to mitigate the risk of non-payment. CLS Bank launched its own similar service and Alice accused CLS of patent infringement. CLS sued, alleging that Alice's patents were invalid.

In 2014 the U.S. Supreme Court sided with CLS, maintaining that a patent must deliver more than an abstract idea to be valid.

In Canada, "laws of nature, mere scientific theories or abstract algorithms," including the use of a computer to perform otherwise un-patentable methods, are not patentable.

After Alice, the number of rejected software patent applications soared.

"With the Alice decision and various court decisions that followed, there was a severe effect of limiting the availability of patents, particularly in certain areas, like financial technology," Manning says.
So stop pursuing it. Problem solved. Another Canadian, Osler Hoskin & Harcourt LLP's Nathaniel Lipkus, published
this nonsense
with "IP" in the headline along with "innovators" (another buzzword). We first chose to ignore this, but he has just reposted it in another site, this time a site of patent maximalists (not the first time). It's that same old nonsense that's pushing for software patents by evoking "World IP Day" and "Trump", along with names of Canadian trolls or troll feeders. Here's what it says on software patents:
Winners in the last decade's software boom have abided by the misconception that software cannot be patented. Rare is the Canadian business guru who espouses the importance of IP.
It's not really a misconception and that has nothing to do with "IP" -- whatever that even means (not patent law). All in all, what we're seeing here is a bunch of patent profiteers from Canada trying to interject software patents into the national agenda, seeing that their government has begun asking some tough questions about trolls.
⬆