Campinos says he wants to further increase so-called 'production' (beyond already-absurd [1, 2] levels)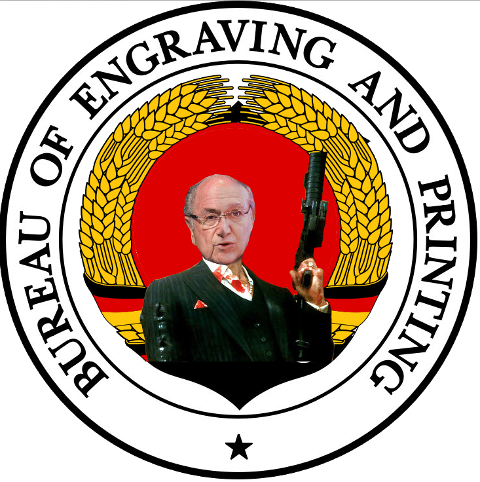 Reference: Bureau of Engraving and Printing
Summary: Exploiting its immunity, the EPO continues to break the law and ignore court orders, rules, examination guidelines and even the EPC because the sole goal nowadays is granting as many patents as possible (even though examiners rightly object to that, citing relevant laws and public interest)
T
HE management of the
EPO
-- like the management of the
USPTO
-- strives to grant as many patents as possible. The
reasons are selfish and purely economic
(at the public's expense). The law restricts its ability to do so, but the EPO famously disregards the law, e.g. when it comes to
software patents in Europe
(the original/early complaint we had about the EPO).
Have things improved under
António Campinos
? Of course not. We didn't expect them to, either.
Here's Jacobacci & Partners (Italy)
lobbying for software patents in Europe
(not quite legal)
under the guise of "AI"
-- the guise facilitated/promoted by the EPO. IAM wrote the following a few days ago: "The patentability of artificial intelligence (AI) is a hot topic, mainly due to the tremendous expectations around this emerging, disruptive and pervasive technology. On 30 May 2018 the EPO held an international conference on patenting AI in Munich to explore this topic in detail. The EPO has recently published material and videos of the conference on the e-courses section of its website." So the EPO is basically saying, "call your software "AI" and then we'll probably accept a patent on it." The same goes for terms like "4IR" and several others. Over the past week alone the EPO wrote about half a dozen tweets to that effect.
One might then ask, "so has Campinos actually improved the climate?" (given that patent scope/quality remains a problem)
The answer appears to be no. SUEPO has just linked to a new article (behind paywall) about SUEPO and the new EPO President, Mr. Campinos. This was
published
[PDF]
in SUEPO's Web site just before the weekend. SUEPO seems to be
growing impatient
and as the article puts it: "Campinos's insistence on maintaining the exhausting pace of patent grants while at the same time boosting patent quality is not a good sign. Campinos had one chance to make a good first impression but missed it by circumventing elected staff representatives and meeting directly with employees, a source close to the Staff Union of the EPO (SUEPO) said in an interview. Contrary to what Campinos trumpeted online, it does not appear to be a priority for him to work on the social agenda, said the source."
So has anything
at all
improved under Campinos and his pretty much identical (to Battistelli's) leadership? From what we can gather, things quieted down because the EPO isn't saying much. But "quiet before the storm" comes to mind. And without a storm there's no potential for any improvement/change.
A few days ago we
learned
about this company called Physna ("Physna is short for physical DNA," it says) and saw
this press release about "Cell and Gene Therapies" patents
. Then came another press release, this one about
RNA-related patents at the EPO
. To quote:
RXi Pharmaceuticals Corporation (NASDAQ: RXII) a biotechnology company developing the next generation of immuno-oncology therapeutics based on its proprietary self-delivering RNAi (sd-rxRNA) therapeutic platform, announced today that the European Patent Office (EPO) and Japan Patent Office (JPO) have granted patents for the Company's novel self-delivering RNAi (sd-rxRNA®) therapeutic platform. The EPO Patent #: 2949752 B1 and JPO Patent #: 620309 cover composition of matter, specifically structural and chemical attributes of sd-rxRNA. These patents will be set to expire in 2029.
So it certainly sounds as though the EPO still grants what we colloquially refer to as "patents on life". Does it not matter that European authorities repeatedly say no to such patents? Does the EPO follow the law at all? Considering failure to obey court rulings (
even by Campinos
), this does not shock us.
Incidentally, a high European court (CJEU) -- not just the political 'pillar' -- has just
weighed in
on a related subject. To quote:
Last week, the CJEU ruled that organisms obtained by mutagenesis are genetically modified organisms (GMOs) and are, in principle, subject to the obligations laid down by the GMO Directive. The implication of this decision is that products produced by gene-editing techniques, such as CRISPR/Cas-9, will be subject to the same regulations as transgenic organisms. The Agritech industry has met the CJEU decision with dismay, arguing that it will further stifle agribiotech innovation in the EU. [...]



In a dramatic turn-around, on 25th July 2018, the CJEU ruled that organisms obtained by mutagenesis are GMOs and are subject to the obligations laid down by the GMO Directive. The CJEU also particularly ruled that GMO Directive applies to organisms obtained by mutagenesis techniques that have been developed since adoption of the GMO Directive, reasoning that these techniques can now be used to produce organisms similar, from a risk perspective, to those that can be produced using transgenic methods.

In answer to the specific referred question as to whether organisms obtained by mutagenesis are excluded from the GMO Directive by Annex IB, the CJEU first noted that, under EU law, the GMO Directive should be interpreted by consideration of not only its wording "but also the context in which it occurs and the objectives". The Court noted that the objective of the wording of Annex IB was to exclude organisms that are "obtained through certain techniques of genetic modification which have conventionally been used in a number of applications and have a long safety record".

[...] Gene editing technologies are immensely valuable from a research perspective. The relatively permissive regulatory environment for the cultivation of gene edited organisms in the EU also provided a clear commercial advantage to the technologies over transgenics. The CJEU decision has been so far met with dismay by the industry, with the outcry that "classification of genome-edited organisms as falling under the GMO Directive could slam the door shut on this revolutionary technology" (source: Rothamsted Research). Are we likely to see a falling-off in European patent filings directed at gene edited organisms? At the very least, we may expect the urgency to specifically claim a gene edited form of GMO products to lessen.

Following the EPO decision last year in Tomatoes II G 2/12 and Broccoli-II G 2/13, together with the latest CJEU decision, the agritech industry faces ongoing challenges to the development of new plant products in the EU. On the one hand, plants and plant products produced by "natural" breeding methods cannot be protected under the patent system, whilst plants and plant products produced by transgenic, and now gene editing, techniques, are subject to crippling legislation. The EPO and EU must of course balance the promotion of innovation with ethical concerns regarding genetic modification, but has the right balance been struck?
A bunch of comments have been posted there since then, notably those dealing with health implications, including in the case below (potentially) ISDS:
In those matters the precautionary principle should prevail, and I am inclined to find the decision very wise.

I have read some reports that the famous CRISPR/Cas-9 techniques are by far not as precise as it was made us to believe. In this respect, the decision is fully justified.

The safety of the methods themselves, be it for transgenic or mutagenetic modifications, and their impact on our environment has by no means be demonstrated.

The safety regulators are still too much influenced by large lobby groups, when they do not simply put their name on documents provided by industry.

People in Europe are not ready to swallow everything which is put in their dishes, and it is good so.

When looking at the latest blog published on Kluwer Patent blog,

http://patentblog.kluweriplaw.com/2018/08/01/international-investment-arbitration-extraordinary-remedy-concerning-decisions-european-patent-office-future-unified-patent-court/

I would not be surprised if firms engaged in these techniques will not end up with bringing States before arbitration chambers, the legality and usefulness of which has still to be demonstrated.
Notice how UPC is being exploited by patent maximalists before it even exists (it will never exist). A timely reminder of the agenda of EPO management, which exploits its immunity to ignore the law, disregard the courts and basically grant patents on just about anything.
We'll deal with the UPC in our next post.
⬆