Fee increases merely caused a spike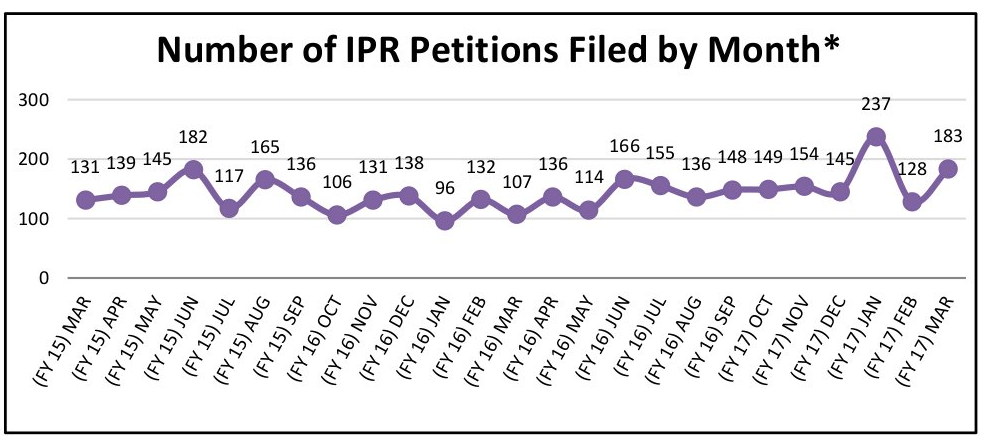 Source: Patent Trial and Appeal Board Statistics [PDF]
Summary: A gradual increase in the number of inter partes reviews (IPRs) in spite of fee hikes; the anti-PTAB lobby is still latching onto anything it can in search of scandals, trying to discourage filers
HAVING failed as a company, RPX was recently put on sale and taken over for a symbolic sum of money. Seeing the effect of Section 101 on patent trolls (whose patents were no longer of much use), RPX began exploring the legal terrain in China. The USPTO isn't the world's most lenient patent office anymore; SIPO took this 'crown' of shame.
RPX occasionally uses inter partes reviews (IPRs) to tackle US patents at the Patent Trial and Appeal Board (PTAB); this means that anti-PTAB 'reporters' and IAM lobbyists like Richard Lloyd
feel compelled to intervene
. When do reporters become just paid propagandists and what can be done about it?
This is what it's about; it's related to the
Federal Circuit
(CAFC) case we've mentioned here several times lately:
The recent Court of Appeals for the Federal Circuit's ruling in Applications in Internet Time v RPX has presented a headache for third party IPR filers everywhere, but arguably none quite as serious as for Unified Patents. Since it was founded in 2012 Unified Patents has made its name as one of the most frequent filers of inter partes reviews, challenging patents of what it claims are of questionable quality that pose a threat to their members in specific zones such as auto, cloud computing and retail.
Unified Patents helps stop some patent trolls (a success story was last heralded
3 days ago
), so no wonder IAM does whatever it can to oppose it. The latest from Unified Patents is this:
On August 3, 2018, the Board issued an order terminating IPR2017-02195 pursuant to a joint request filed by Kaldren LLC (an IP Edge entity) and Unified Patents. U.S. Patent 6,820,807, the subject of the IPR petition, relates to formatting digital data into an encoded pattern (such as a QR code).
Alluding to that same RPX case, Michael Loney makes it sound as though PTAB is on the demise by only comparing this past month to other months in the same year (it's summer!) rather than past years. Misleading or what? This is
what he said
:
July included 127 petitions filed, the Federal Circuit making it harder for RPX and Unified Patents to file IPRs, and two noteworthy decisions on public accessibility

July had the second fewest petitions filed at the Patent Trial and Appeal Board (PTAB) this calendar year.

The 127 petitions consisted of 118 inter partes review (IPR), three covered business method (CBM) and five post-grant review (PGR) petitions.
The improper comparison above does make us wonder what he had in mind; patent lawyers and spinners don't like to be fact-checked; they make their living out of spinning things to make it seem as though they're honest while in fact they're mostly lying.
From what we can gather, PRAB filings do not fall but have actually increased each year. They're increasingly being leveraged to tackle bad patents. Here's what David Hricik (former CAFC)
had to say about
Fujinomaki v Google, LLC
the other day: "In a recent case where Google sought to shift fees onto a patentee who lost his patent in an IPR, Google relied on the fact that a former employee of the patentee told Google's counsel that the pre-suit investigation had been inadequate."
That would further discourage pursuit of bad patents -- something which certainly terrifies the likes of Watchtroll. 3 days ago Chris Bruno and Arun Mohan
published Watchtroll's latest PTAB rant
:
In 2012, Congress enacted the America Invents Act (AIA), which included, among many reforms, the creation of the now-familiar inter partes review (IPR) process. An IPR petitioner may challenge a patent's claims as wrongly issued based on the availability of certain prior art. If the Patent Trial and Appeal Board (PTAB) decides to institute on a petition, it allows for additional briefing, presentation of limited evidence, and a hearing. Ultimately, the Board issues a final written decision that determines whether the challenged claims are patentable or cancelled. As part of that process, the AIA provides patent owners the right to "file 1 motion to amend the patent" to propose a "reasonable number of substitute claims." 35 U.S.C. ۤ 316(d). The statute also provides that "the petitioner shall have the burden of proving a proposition of unpatentability by a preponderance of the evidence." ۤ 316(e). The en banc question was how those two subsections interact, and more specifically, whether the patent owner or petitioner bears the underlying substantive burden on a motion to amend.
Another en banc was covered by Robert Schaffer and Joseph Robinson
two days later
.
Frank DeLucia also
used Watchtroll
to boost
NYIPLA's anti-PTAB rhetoric
, which we
last mentioned a fortnight ago
. As we'll show later, the anti-PTAB lobby
keeps lobbying Iancu
; they hope to convince him to scuttle or slow down PTAB. That's pretty revealing. But it's up to the courts, not to Iancu.
⬆