Why Does Jim Zemlin Publicly Congratulate Microsoft?
Dr. Roy Schestowitz

2019-07-19 05:42:44 UTC
Modified: 2019-07-19 05:42:44 UTC
A "spectacular move" by Microsoft and former Microsoft manager promoted to deputy at the Linux Foundation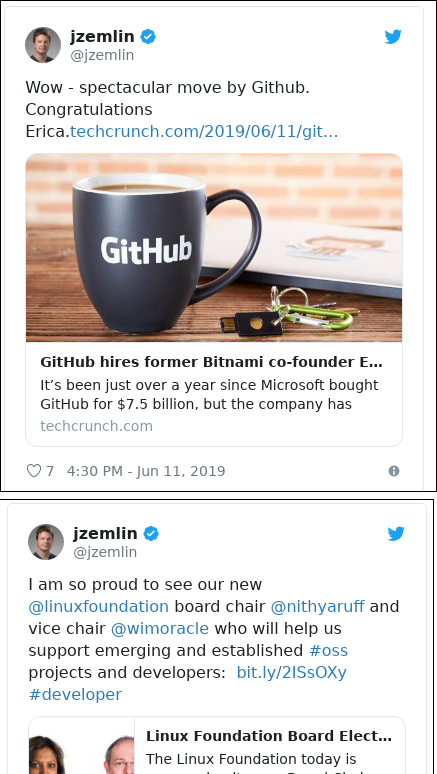 Summary: The signs aren't particularly encouraging when one considers that the leadership of the Linux Foundation is a fan of Microsoft and sometimes connected to Microsoft
LINUX.COM has just stopped hiding its sole author's name (previously it was only visible through the username in the RSS feeds). Story selection is still rather awful. It boils down to openwashing of proprietary software from SAP (Salesforce did a very similar publicity stunt some weeks back), some links to the Linux Foundation's press releases and other fluff. Nothing about desktop obviously. Never! Very few people in this Foundation actually use GNU/Linux (we're guessing maybe a handful among 2-3 dozen).
"The "Linux" Foundation works a lot more for Microsoft's interests than it does for GNU/Linux, especially as a desktop platform."Linux.com also links to this new example of openwashing by the Foundation in a sector that usually relies on greenwashing to 'seem' or 'feel' "ethical". Jim Zemlin is very much a part of it; watch this other tweet of his about openwashing surveillance capitalism at the Foundation.

The "Linux" Foundation works a lot more for Microsoft's interests than it does for GNU/Linux, especially as a desktop platform. That's a verifiable fact. There are those who might tell Torvalds inane things like, "trust the plan!" (whose?)

We're really unhappy about what we've seen so far this year. Not looking good. Worse than ever before! And it seems like Microsoft is already in third E (as in "extinguish"). The Foundation is now cheering for Microsoft's GitHub, which is the first and second E ("embrace" and "extend"). See the tweets at the top. ⬆