Why Wouldn't an Office That Grants Monopolies Support Microsoft Monopoly?
Dr. Roy Schestowitz

2019-12-30 08:29:25 UTC
Modified: 2019-12-30 08:29:25 UTC
Paths crossed before
:
Andrei Iancu
(Irell & Manella LLP), Microsoft, and Immersion Corporation (where
Iancu's deputy comes from
amid
ruinous changes by the Trump administration
)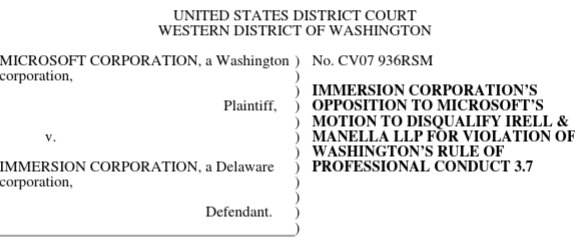 Microsoft Corporation v. Immersion Corporation, No. 2:2007cv00936 - Document 30 (W.D. Wash. 2008)
Summary: The media continues to report on the suggestion that people who reject OOXML will be financially penalised (additional fees)
THE U.S. Patent and Trademark Office (USPTO) is still run by Trump appointees who believe that they can disregard the law in the name of profits. 35 U.S.C. § 101 is one example among several and there's also that OOXML outrage, which we previously covered in:
Earlier this month I saw mainstream media
continuing
to report along those lines; the USPTO now tries to make proprietary OOXML the 'standard'
internationally
(PCT), having already witnessed what
Microsoft did to ISO
.
"This perpetuates the idea that the USPTO is a 'Windows shop' in an age when Windows no longer has majority market share (Android took the lead about half a decade ago)."To us, as eyewitnesses or online 'alibis' to loads of corruption associated with the process (we were also the only ones to leak OOXML itself one decade ago), what the USPTO does is beyond inexplicable. This perpetuates the idea that the USPTO is a 'Windows shop' in an age when Windows no longer has majority market share (Android took the lead about half a decade ago). ⬆