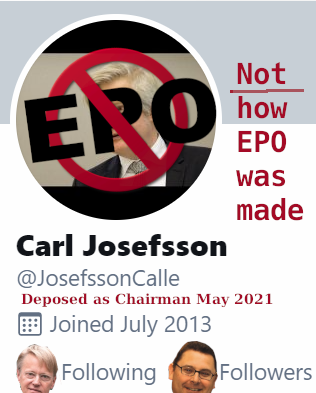 Two kangaroos gone astray
Summary: The Boards of Appeal are trying to get their act together; Josefsson has been removed from case/referral G 1/21 and Ingo Beckedorf is rumoured to have also been replaced
"Breaking news from the EPO," EPO insiders told us, citing this concrete document [PDF] dated 3 days ago (warning: epo.org link).
"An intermediate decision (so-called "interlocutory decision") has just been published in case G 1/21," we learned. "According to this decision, Josefsson has been deposed as Chairman of the panel due to well-founded suspicions of partiality. One other internal member has also been replaced. It is rumoured that this is
Ingo Beckedorf
who is said to have been involved in drafting the disputed regulation allowing hearing to be held by video-conference without the consent of the parties."
It's not impossible that our ongoing series played a role in this. "It seems that the other members of the Enlarged Board had enough of the way Josefsson was conducting the procedure and have staged a minor 'palace revolt'," insiders alleged. "The decision is a major slap in the face for Josefsson who should have recused himself of his own volition rather than waiting to be forced to step down by the Enlarged Board. Further updates to follow as more information becomes available."
This latest development in case no. G 1/21 means that the current series has now been "superseded by reality" as the saying goes...
"However," as insiders noted, "despite the change in the factual circumstances (i.e. the replacement of two members of the panel) most of the material and observations are still relevant. The interlocutory decision of 17 May just means that Josefsson has been deposed (along with one other member, rumoured to be Beckedorf). The hearing seems likely to continue as scheduled on 28 May with the panel in a new composition, including a new chairman."
As a side note, we have correction to make. Referring to
"Calle's Strange Metamorphosis"
(
Part 7
), we have been notified that we wrongly assumed Jürgen Habermas had died. We apologise for this. The summary read as follows:
"Sources believe the "legal anarchy" that EPOnia became notorious for, especially when it comes to handling referrals at the EPO's BoA, will become a dark legacy — a legacy that would, if he was alive, disappoint even Josefsson's source of inspiration.
"
Josefsson's source of inspiration is still alive to witness the appalling metamorphosis of young "Calle", who has just suffered a form of humiliation among his peers. "The wording suggests that Jürgen Habermas is no longer in the land of the living," said a reader. But that was wrong, a regretful assumption had been made. "As a matter of fact," the reader said, "Habermas is still alive and resides in Starnberg, near Munich. Although he is at a very advanced age - approaching 92 in June - he made the headlines in Germany earlier this month when he turned down an award from the United Arab Emirates worth over € 200,000."
Talking of principles...
Our reader said: "Habermas had been in line for a Sheikh Zayed Book Award under the category "Cultural Personality of the Year." Winners of the cultural personality award receive not only a medal but also a lucrative cash prize of 1 million UAE dirhams (approx. € 226,498). The awards are named after Sheikh Zayed bin Sultan Al Nahyan, the first president of the UAE who ruled Abu Dhabi for over 30 years. Habermas had initially decided to accept the award, but then changed his mind saying it was the wrong decision."
Shades of Jesper Kongstad and his political allies in Denmark with
their Rolex scandals
(taking a very expensive watch from the Saudi king).
In a statement shared with the German Spiegel Online news website, Habermas said "I declared my willingness to accept this year's Sheikh Zayed Book Award. That was a wrong decision, which I correct hereby".
"I didn't sufficiently make clear to myself the very close connection of the institution, which awards these prizes in Abu Dhabi, with the existing political system there," he added.
To quote our reader: "The German public service broadcaster
Deutsche Welle
reported on the affair in the following articles [
1
,
2
] and
Deutsche Welle
had previously published articles on Habermas to
mark his 80th
and
85th birthdays
.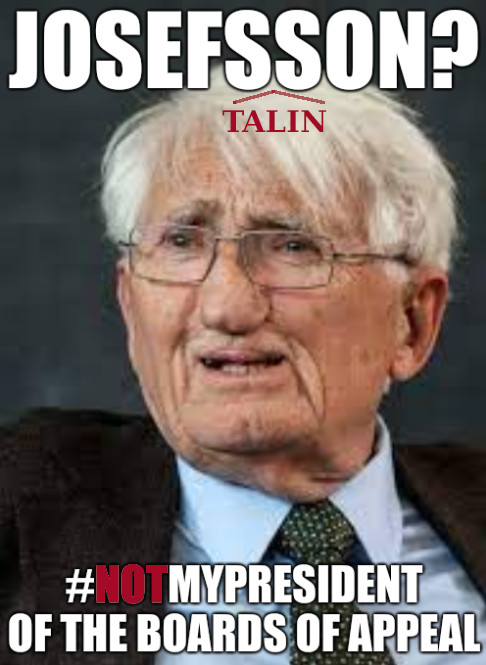 Will Josefsson last until the end of his (already-extended, nearly 2 years ahead of time!) term in 2027? Will he be sacked prematurely like Kongstad? The perception of the independence of the Boards of Appeal has long been problematic, even by admission of its members! Removing Josefsson and replacing him with someone that António Campinos doesn't have in his back pocket would perhaps revive AMBA after a long hiatus. Maybe that would even put a smile on Habermas's face. ⬆