As Twitter Activity Decreases (Twitter Channels the Remaining Traffic Into Fewer Accounts for 'Engagement''), Notifications Transition Into ICYMI Mode (SPAM)
Dr. Roy Schestowitz

2022-03-31 11:55:30 UTC
Modified: 2022-03-31 11:55:30 UTC
Summary: When I left Twitter a month ago (account still online, but it'll never be active again) it felt like the platform had become a provocation machine, prioritising emotional reaction (e.g. clickbait) instead of substance one actually subscribed for ("followed"); it has gotten even worse since
T
he number of
active
users in social control media (even Free/decentralised/federated) is
decreasing
and the quality of such sites goes down the drain; they
provoke or mess with emotions for more activity
.
The other day, or the last/latest time I checked Twitter for notifications,
I highlighted something that was likely new
, unless it just "kicks in" for user retention purposes (panic mode; Facebook has its own notorious ways with emotional blackmail and time-delayed account closure). Today I see almost half a dozen in a row: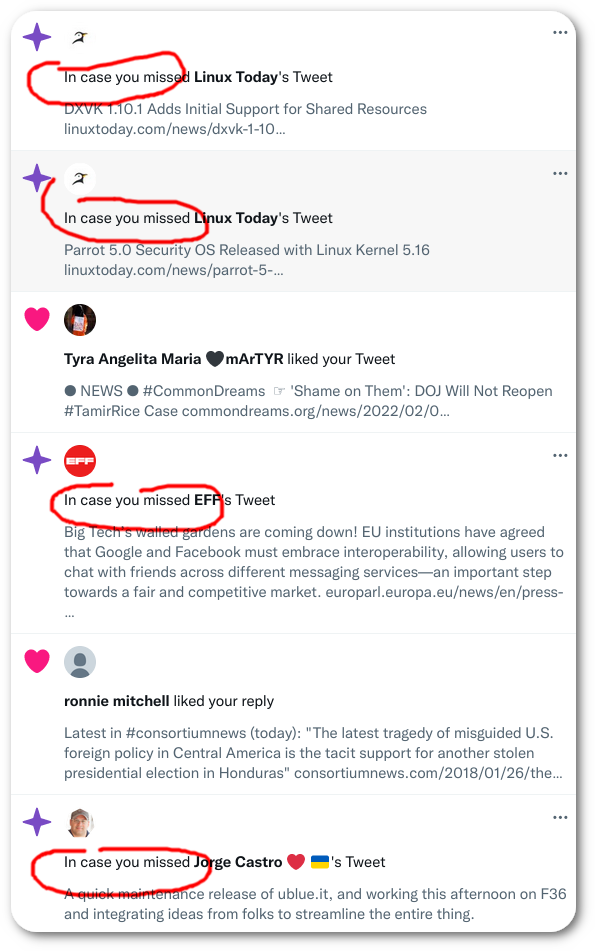 Believe it or not, this is my notifications bar; these aren't even accounts that I follow
It's bad enough that Twitter 'curates' (stuffs) into timelines things that I didn't ask for and had nothing to do with me. Now it does the same to
notifications
. It's basically becoming a noise machine, rapidly turning into a form of advertising, not a tool of communication. It's part
of a broader trend
, which I think should compel more people to leave for good. It's becoming more about indoctrination/propaganda than
anything
else.
⬆