IBM Has Killed OpenSource.com, Rejecting the Open Source Way
Dr. Roy Schestowitz

2023-05-15 12:28:53 UTC
Modified: 2023-05-15 12:28:53 UTC
Summary: IBM seems to have shut down OpenSource.com (it's online but inactive; nobody works on it anymore). The Linux Foundation did the same to Linux.com in 2019 and then trashed it (because it doesn't care about Linux, except as a brand to milk).
T
HIS does not shock us, but it certainly saddens us. IBM doesn't seem to mind the fact that Red Hat revenue is growing, according to IBM. Red Hat is suffering layoffs and too little information is provided about what or who is impacted.
It has been sad to see this as we've noted both
the layoffs
and
the fate of opensource.com
. Now it is becoming increasingly confirmed that
IBM
does to "Open Source" what it did to CentOS a couple of years ago.
"Wikipedia says that in December last year IBM had 288,300 employees."To explain our allegation quite succinctly, bear in mind opensource.com (where Ben Cotton played a prominent role) has not been active for quite some time, which is extremely unusual. The timing gave a clue because of the announcement of layoffs. Days ago Ben Cotton wrote a blog post saying he was among those who had been deemed "redundant" (that's absurd as he's a very essential worker).


"No activity since April 23, i.e. the layoffs."My wife has been reading opensource.com every day for nearly a decade and Cotton is one of the first people who came to her mind in relation to this site because he used to be very active there (a lot less in recent years). She says she loved his articles, so it's a tragic loss for IBM. Could they find nothing else at their oversized company to 'cut'? Wikipedia says that in December last year IBM had 288,300 employees. So why give Ben Cotton the pink slip? He too is baffled by this.

Yesterday Phoronix also mentions Ben Cotton being laid off (50 or more comments there, but we'd rather not link to Phoronix).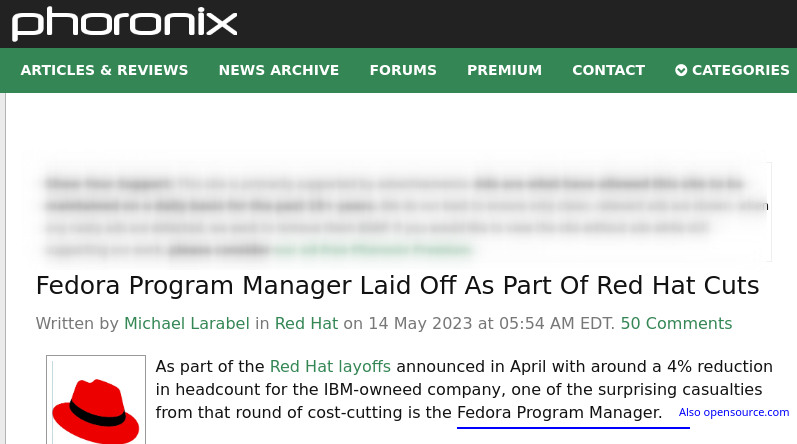 He's the only one (so far) that we saw speaking about this in public. Did IBM offer them some severance package that mandates silence (other opensource.com people probably also lost their job)?

Seeing that the opensource.com Web site has not been active for quite some time, we're taken a look at the Twitter account, which is stale.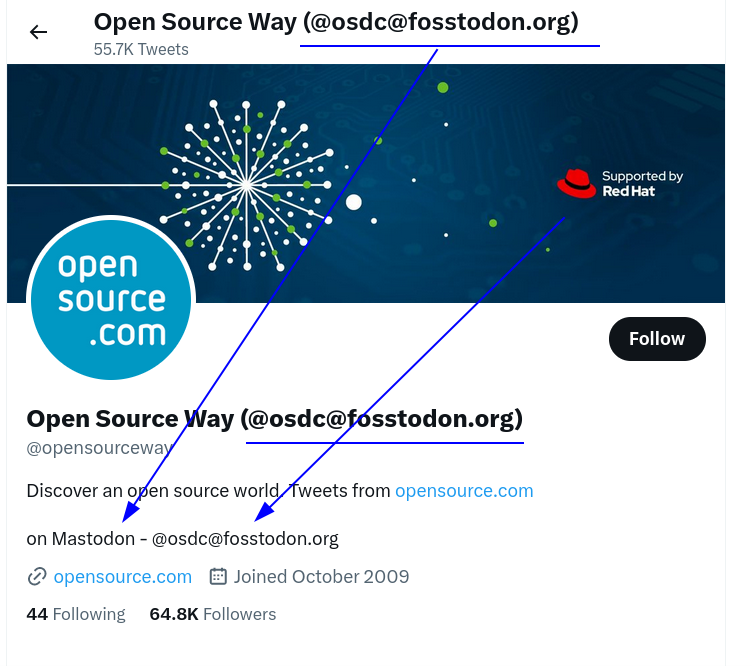 And they only link to old articles, nothing new. Even a bot could do this. They post only about one "tweet" per day and the stuff isn't new. Notice that the profile links to a Mastodon instance.




Mind the dates. Yes, that's right. No activity since April 23, i.e. the layoffs. So we've checked if they reply to someone, e.g. question/s about site stoppage, but no replies can be found in either Twitter or the Fediverse. No response to anybody. That does not look too good. ⬆