Microsoft Layoffs Continue: Workers Given Notice on Friday of Long (Holiday) Weekend, This Time Nuance
Dr. Roy Schestowitz

2023-05-21 01:59:21 UTC
Modified: 2023-05-21 02:05:00 UTC
Didn't Microsoft say repeatedly and insist that chatbots are the future? The
layoffs pattern does not match the hype pattern
.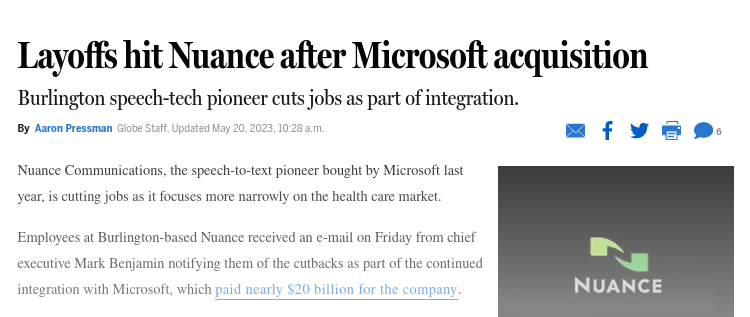 Summary: Published earlier today was this sole report (it's weekend and reporters are away, some on holiday); talk about bad timing to announce layoffs unless the whole point is brushing the news under a rug (there were also loads of Microsoft layoffs last week, but the media barely mentioned this; Microsoft changed the subject to "salaries")
Text behind the paywall
: (the only publicly available information at this point)
Nuance Communications, the speech-to-text pioneer bought by Microsoft last year, is cutting jobs as it focuses more narrowly on the health care market.

Employees at Burlington-based Nuance received an e-mail on Friday from chief executive Mark Benjamin notifying them of the cutbacks as part of the continued integration with Microsoft, which paid nearly $20 billion for the company.

"We continue to see macroeconomic pressures affect our industries, as well as market shifts that are evolving our customers' needs," Benjamin wrote in the e-mail, which was obtained by the Globe. "It is critically important that we maintain our ability to make key investments in our businesses so that we can deliver on our current plans and are able to capitalize on the future opportunities we have ahead of us. In order to do this, we made the difficult decision this week to eliminate some positions across the company."

Benjamin did not detail the scope of the layoffs at Nuance, which had about 7,000 employees when the Microsoft deal was announced in 2021. The company did not immediately respond to a request for comment on Saturday.

Nuance has a long and winding history in developing image-processing and speech-recognition software and applications. The company started in 1994 as a spinoff from SRI International, the research center formerly known as the Stanford Research Institute. In 2005, Nuance merged with ScanSoft, a Xerox imaging spinoff that had roots with Ray Kurzweil and had also acquired speech technology of Lernout & Hauspie. The company's voice recognition technology later was incorporated into Apple's Siri digital assistant.

In 2019, Nuance decided to narrow its focus and spun off its automotive division as Cerence.

This is a developing story and will be updated.