09.23.08
Gemini version available ♊︎
"Intellectual property is the next software."
–Nathan Myhrvold, Microsoft patent troll
The main battleground at the moment is Europe, where Microsoft's lobbyists are seen very busy trying to sabotage the acceptance of Free software.
Microsoft recycles its lobby platform "Voices for Innovation" to lobby against Open Source software in the European Parliament systems. Over the past few weeks radical elements in the open source community have intensified their efforts in the European Parliament.
This is far from the only Microsoft lobby of this kind [1, 2] and it's hugely important to keep track of that. The BSA, ACT and a few other bodies that are funded by Microsoft try to plague the system with software patents, even inside standards (RAND).
Fortunately, EPO has them face resistance. Not only are software patents drawing complaints; poor (and broad) patents lead to a similar outcome. Here is a containment of the video of the recent protest [1, 2].
"Alison demission" shouts EPO examiners in Brussels

EPO examiners were asking for the demission of the President of the EPO, Alison Brimelow. Very vew examiners believes she is doing something to tackle quality problems of the EPO. EPO does not stand anymore for quality patents, but for progress (bars) and profit.
Here is the video.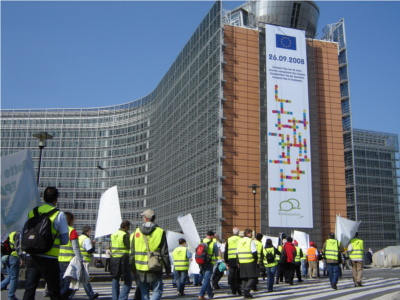 Also extracted from the Stop Software Patents Web site is this interesting bit of statistics.
Dr Flocke: "50% of the applications are made by only 3% of the applicants

Half of the patent applications are filed by only 3% of the applicants. Which means that at least half of the patent applications are filed by large corporations.
It seems abundantly clear that small businesses lose their voices to large ones. Sometimes it is Microsoft-hired people who hijack the collective voice of small businesses in the EU.
Telecoms Package
Although it is not directly related to this Web site, now is the time to raise awareness of a similar situation where 'small people' loses their voice (and their valued law) to large foreign monopolies. Now is the time to act. Glyn Moody calls it urgent.
Back in July I urged you to write to your MEPs about the Telecoms Package. Well, I'm at it again: the main vote was postponed, and will now take place on Wednesday 24 September, so there's still time to write to your MEPs and ask them to support some amendments that should help (more details from Open Rights Group.)
A reader has sent us some thoughts about it: "tomorrow the TORPEDO AMENDMENTS inside the so called "telecom package" are going to be voted in the European Parliament, this is a most serious Issue, jeopardizing net neutrality, net privacy, and anonymous free speech, which includes non-for-profit file-sharing (P2P), which is LEGAL in many countries like Spain in which we pay a compensating tax "canon" on every blank digital media sold in the country that goes to the pockets of the cinema/record and editorial industries' lobby (SGAE) as a "tax" they managed to obtain from the government since they consider every computer user as a potential "pirate"…"
Here are some accompanying links:
http://www.lawgazette.co.uk/opinion/comment/a-suspect-package
http://www.openrightsgroup.org/2008/09/20/to-do-this-weekend-ask-your-mep…
Telecom Package fever: Guardans: "no justice", Toubon: "all pedonazi". No comment.
And more here.
The 'telecoms package' is a potentially dangerous piece of legislation that will lead to many users losing internet access.

The 'telecoms package' is winging its way through the European Parliament under the watchful eye of French president Nicolas Sarkozy.
We wrote about related issues before [1, 2]. People lose control of their own law and most basic rights. Mega corporation attempt to modify the way trade is done. They see business as a right, not an opportunity. They see investment as a guarantee, not a risk. █
Permalink

Send this to a friend