10.23.09
Gemini version available ♊︎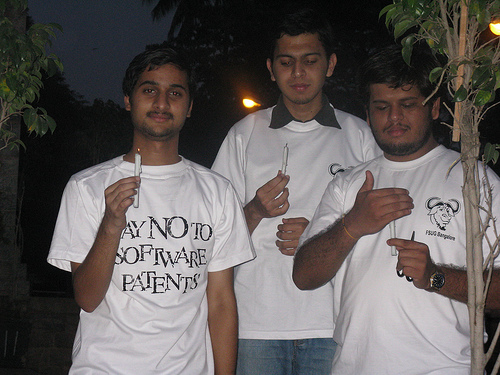 Summary: Open Core proponent compares the FSF to religion as means of daemonisation and Jason Perlow does this by showing a humourous photo from Linus Torvalds, then throwing in another insult at Richard Stallman
THE OTHER day we wrote about the "Open Core movement", of which Mono seems to have become a part. James Dixon, the CTO of Pentaho, slams the "Free Software movement", sometimes by playing the usual card which is to compare them to a "religion" [1, 2, 3]. The Open Core advocates are generally unhappy with the critical views of the SFLC.
"To resist freedom-hostile software is not an intolerant action; it is responsive and defensive…"Jason Perlow, a self-admitted opponent of the FSF's values [1, 2], is now using a photo of Linus Torvalds (captured in Tokyo the other day) to smear the FSF. He conveniently 'forgets' that the FSF has nothing to do with Microsoft and it's not a response to Microsoft, either. The GNU project was started in the early eighties.
It seems safe to say that pro-GNU/Linux people who are also strongly pro-Apple are those who basically go for "anything but Microsoft" and are therefore the real so-called "Microsoft haters", as opposed to genuine proponents of Free software. They basically view Microsoft — not proprietary software, software patents, and unethical business conduct — as the single problem. It's like targeting a boogeyman rather than behaviour; like targeting "terrorists" rather than addressing the cause of terrorism.
If it's a case of just wanting to eradicate Microsoft and not elimination of users' and developers' rights as a whole, what gives? And who would then wonder the tendency to accept DRM, TPM and TiVoisation in Linux, for example? To resist freedom-hostile software is not an intolerant action; it is responsive and defensive due to gradual erosion of control. Software used to be free before proprietary 'zealots' came along. And it's getting worse all the time, surveillance-, permission-, and ownership-wise. █
"FSF did some anti-Apple campaigns too. Personally I worry more about Apple because they have user loyalty; Microsoft doesn't."
–Bradley M. Kuhn (SFLC)
Permalink

Send this to a friend