08.04.10
Gemini version available ♊︎
"If all I say is "I'm in favor of freedom", I have not really tackled the difficult issue, because it's very easy to say: "I stand for freedom", even Bush says he stands for freedom, and Bush doesn't even recognize freedom after he's crushed it."
–Richard Stallman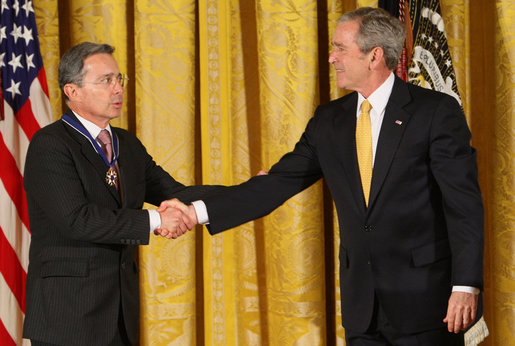 Summary: Microsoft's anti-GNU/Linux executive is made the Communications Minister in Colombia; Microsoft's GNU/Linux attack dog (from SCO) a keynote speaker at LinuxCon Brasil
Jorge E. Gómez has kindly informed us that a "Senior MSFT VP to be appointed Communications Minister in Colombia. http://www.cmi.com.co/?nt=49255"
We previously wrote about Colombia in the context of Microsoft corruption. We also mentioned how Microsoft had suppressed GNU/Linux adoption in Colombia and showed leaked evidence. The article from yesterday is roughly translated into "Bill Gates gave the go ahead. Your world will be the new vice minister of Communications in Colombia"
From the original:
Uno de los colombianos mejor posicionados en el mundo de las comunicaciones es el bogotano Orlando Ayala. Poco conocido aquí, consagrado en el exterior.

Está al frente de una de las vicepresidencias de la gigantesca Microsoft y es uno de los siete asesores más cercanos a Bill Gates.
Orlando Ayala is Microsoft's anti-GNU/Linux executive [1, 2]. Even quite recently Ayala was touring countries that had approached GNU/Linux, e.g. Kazakhstan. So the appointment in Colombia could not come at a better time. Just see articles from recent years, such as:
• TED follows Negroponte to Colombia to deliver GNU/Linux XO laptops
TED followed Nicholas Negroponte into Colombia to deliver 650 GNU/Linux-powered OLPC XO laptops to kids there. Interesting story with deployment numbers scattered all over.The video also addresses other areas in the world and ends with a Give 1 Get 1 plug.
• Free software conference in Colombia
The first International Conference on Free Software, Technological Literacy and Solidarity Economy took place in Bogotá (Colombia) from 13th to 15th of November. More than 80 speakers and 600 assistants attended at the the Tequendama Hotel, a traditional meeting point in the city.
• Colombian man pleads guilty to computer fraud
A Colombian man pleaded guilty Wednesday to a 16-county indictment involving an identity theft scheme in which he installed keylogging software on hotel business center computers and Internet lounges in order to steal passwords, account data and other personal information, the U.S. Department of Justice announced.
Earlier today we also learned that Microsoft continues its attacks on GNU/Linux in Brazil. The details are here in the comments, but just to summarise, Microsoft will give a keynote speech at LinuxCon Brasil and its speaker will be Sandy Gupta, the guy who previously attacked GNU/Linux from SCO's Microsoft-funded camp. Groklaw wrote about him many times over the years. The Linux Foundation ought not to repeat OSCON's mistake (the foundation previously made room for Sam Ramji too). █
"Under NO circumstances lose against Linux before ensuring we have used this program [EDGI] actively and in a smart way."
Permalink

Send this to a friend