10.08.10
Gemini version available ♊︎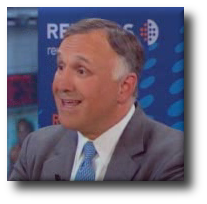 Summary: Novell continues to fail financially while the Hovsepian family is hoarding tens of millions of dollars for a job poorly done (selling out to Microsoft)
MR. HOVSEPIAN is a very well paid CEO. He is also quite good at finding excuses for poor performance. According to this new report from Boston, Hovsepian continues to receive a lot of money, despite the fact that the company he runs loses money and employees.
And Novell Inc. CEO Ronald W. Hovsepian earned a $1.3 million performance award. The software company has lost money for three straight years. Novell declined to comment.
To quote another new article:
Novell Inc. reported that chief executive Ronald W. Hovsepian's $3.4 million stock and options package was 10 percent below what he got in 2008. But that was only because Novell's stock price was so much lower. The company gave Hovsepian 170,192 more shares in 2009, and 241,681 more stock options than it did in 2008. Novell's stock price has since increased by two-thirds, making it possible that the 2009 package could be worth more than his 2008 one.
What has Hovsepian done that's so commendable?
It is hard to forget how Hovsepian lays off many people whose combined wages make up his bonus [1, 2]. He helps shows where today's capitalism has gone slightly over the edge (widening the gap between rich and poor) and his employees are hopefully paying attention to it. In general, many of the skilled employees have already left and gone to work somewhere more ethical. It's no wonder that Novell suffers a brain drain and in New Zealand, for example, even managers are missing right now:
Novell aims to fill two key local roles – a country lead/partner executive and a commercial and government sales representative, by the end of October.
Novell has suffered somewhat of an exodus this year and last year. Given that Novell is bound to be sold soon, not many people will pursue employment there. Perhaps those massive bonuses Hovsepian receives are — as we suggested before — intended to just keep him from leaving (which would leave the company in complete disarray). █
Permalink

Send this to a friend