04.06.11
Gemini version available ♊︎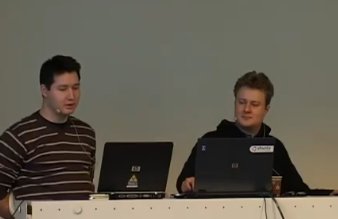 Summary: Elements of the FFII, notably Benjamin Henrion (left), encourage Google to use its financial power to abolish — not acquire — software patents
THOSE who want to get rid of software patents need not compromise at the level of accepting them as an interim solution just as activists against nuclear weapons must not encourage more nations to acquire or develop nuclear weapons as a "deterrent". The whole argument around deterrence is a weak one, it's propaganda. The opinions of the president of the FFII are quite similar to ours, unlike others in the FFII who adopt a more "diplomatic" (arguably cowardly) approach. This division within the FFII is a subject we alluded to before and it is not of much relevance to this post (see Andre's opening remarks in the video below for a better idea).
"There is not so much consent around the attitude of the OSI, the Linux Foundation, and OIN."In any event and at any rate, there seems to be growing popularity and intensity for the argument that we must get rid of all software patents. There is not so much consent around the attitude of the OSI, the Linux Foundation, and OIN. The president of the FFII points to this older post and notes that EPO Judges argued "[c]omputer-implemented inventions and their protection in the US and under the EPC was the next agenda point" (why do they discuss it in the first place?). He also links to this post and notes this patent: "Downloader: A computer that retrieves web pages and embedded objects from the internet. 6,864,904 "
Suffice to say, the cited item is a lawyers' blog, so it has nothing to do with technology. These people who are not engineers. They are in fact patent lawyers who sue for a living and extort using pieces of paper (patent watchtroll in this case), so they worship patents as a whole and also defend patent number 6,411,947. They insult those who actually write code and understand the subject matter (pun not intended). My critics too should know that I wrote about 3,000 lines of code last month.
The president of the FFII then addresses the Google situation, notably the Nortel bid, by saying:
it'd be better if Google were pouring that $900 million into lobbying to get rid of software patents altogether http://ur1.ca/3s2px
Wishful thinking? No patents would be Utopian to Google, but this would not be beneficial to just Google (it's like promoting the brand "Linux"), so how can this be justified to shareholders? Moreover, Google's lawyers wish to justify their existence within the company. "Google not really against software patents," concludes the president of the FFII who links to other critics of intellectual monopolies. This strategy which Google adopts does not help against trolls, but some would play along with Google and call it "patent armoury". It's not. Patents are like nuclear weapons; they are used for litigation, not so much for negotiation. We are better off without any of them. Just watch Sun's "defensive" patents and what Oracle did to Android with them. ZFS, which is now owned by Oracle, is a famous victim of patents and we wrote about this for years. Patents change hands and with this change of "ownership" comes change in patent strategy, too.
IDG says that "Google gets serious about software patents" and here are some more details in niche sites:
Nortel will pay Google $25 million in break up fees, and a further $4 million to cover expenses if another party wins the auction, Bloomberg reports. Bids will go up in increments of at least $5 million, and bidding has been pegged to hit a minimum of $1 billion.
The numbers/sum most-widely quotes is $900 million for 6,000 patents.
From Mercury News:
Today: Texas Instruments intends to buy NatSemi for $6.5 billion. Plus: Watch out for email "phishing" schemes. And: Google (GOOG), Pandora, Silicon Valley tech stocks.

$6.5 billion NatSemi deal

Texas Instruments intends to buy Santa Clara chip giant National Semiconductor in a cash deal worth $25 a share, or $6.5 billion, the two companies announced this afternoon.

[...]

Google would be the "stalking horse" bid, but other companies also could make offers for the patents. Google is trying to buy the patents even as it argues for changes to the system, arguing that some software patents are stifling innovation rather than encouraging it.
Well, software patents are indeed stifling innovation rather than encouraging it. So what example is Google setting by its actions?
Here is a new article which suggests that universities should forget about patents:
Open source software licenses already offer university software creators an alternative to the university's patent+license commercialization model. Open source hardware licenses are next. University intellectual property strategies will need to learn to peaceably learn to co-exist with open sourced hardware licenses. A centralized, enforcement-flavored intellectual property strategy is not going to work. Nor will university policies that blindly favor hardware patents at the expense of alternative methods of sharing design information.
Here is a new press release from some company which thinks it's acceptable to get a thought monopoly on a product:
Tentatively called The Trade Marketplace, this patent-pending software was recently revealed in beta form to a group of Cleveland-area job shop owners, who said they would welcome a convenient, time-efficient means to quote new business, especially one that spotlights their core competencies, reduces the expense of processing an RFQ or an RFP and increases the opportunity to win new business.
It is not about winning new business but about obstructing rivals, as this new story about Mosaid Technologies helps remind us. Companies which do not abolish software patents and part of the problem; conformism is not an excuse. Aim high, achieve much. Aim low, achieve nothing. █
24C3: NO OOXML – A 12 euros campaign
Permalink

Send this to a friend