04.06.13
Gemini version available ♊︎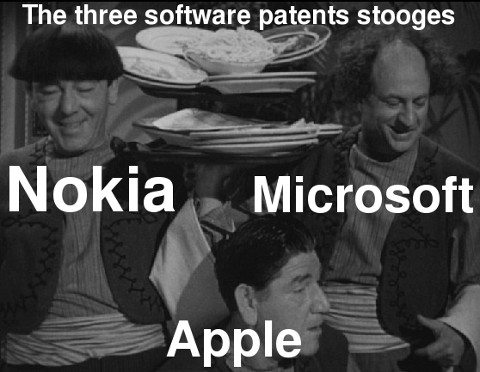 Summary: A roundup of posts about patent aggression and patent aggregation against mobile market players, Android in particular
Apple enjoys a marriage of convenience with governments and with other concentrations of power. Apple has been engaging in idealogical and political censorship for quite some time now. It is part of the company's policy and philosophy. It's about control. Apple is now censoring books, based on reports that won't help Apple's reputation at all.
Meanwhile, says the press amid a collapse in Apple's secret case against Android (there was an attempt to keep journalists out), Apple struggles to keep litigation going. "Unfortunately," tells us one reader, the press is "quoting paid shill Mueller again." He shows this allegation from anti-FOSS lobbyist Florian Müller. This lobbyist, or mass mailers for hire (Mr. Müller acts like a PR agent), is often being used as merely a mouthpiece of corporations that pay him for it, e.g. Oracle and Microsoft.
"Judge Lucy Koh has ruled on the Apple and Samsung motions, and the only thing finally decided so far is that Apple loses on its desire for an early case management conference on April 3," says Pamela Jones, who adds: "Not so much these days for Apple, huh? The trouble with declaring that you intend thermonuclear destruction of a competitor is, they get to hit you back. And the fact that Apple now has to try to undo the USPTO's devastating decision means that Apple indeed is not currently holding the winning hand with any certainty, despite any brave assertions that it will bounce back on the bounce back patent. On the other hand, the same is true for Apple's "win" at the jury trial. It's getting whittled back and whittled back, and it's surely true that it ain't over 'til it's over in patent litigation, and that means after the final appeal is over. That's why investing in litigation is for fools, in my view."
Ask Nokia how it's working out. After it had been abducted by Microsoft it started attacking Android with patents. Two years later Nokia is almost a dead company, a brand with only patents (some passed to trolls with Microsoft's assistance) and a glorified past legacy. In a new essay by Joel Spolsky, who used to be a manager at Microsoft, the strategy mastered here is described as a protection racket. This is an apt description:
The Patent Protection Racket

The fastest growing industry in the US right now, even during this time of slow economic growth, is probably the patent troll protection racket industry. Lawsuits surrounding software patents have more than tripled since 1999.

It's a great business model.

Step one: buy a software patent. There are millions of them, and they're all quite vague and impossible to understand.

Step two: FedEx a carefully crafted letter to a few thousand small software companies, iPhone app developers, and Internet startups. This is where it gets a tiny bit tricky, because the recipients of the letter need to think that it's a threat to sue if they don't pay up, but in court, the letter has to look like an invitation to license some exciting new technology. In other words it has to be just on this side of extortion.

Step three: wait patiently while a few thousand small software companies call their lawyers, and learn that it's probably better just to pay off the troll, because even beginning to fight the thing using the legal system is going to cost a million dollars.

Step four: Profit!

What does this sound like? Yes, it's a textbook case of a protection racket. It is organized crime, plain and simple. It is an abuse of the legal system, an abuse of the patent system, and a moral affront.
Companies like Microsoft, Apple and Nokia increasingly rely on proxies which are patent trolls to do the damage in the mobile market. In a later post we'll show how Nokia does the dirty laundry. █
Permalink

Send this to a friend