05.20.18
Gemini version available ♊︎
Merely damages the credibility of the USPTO if anything…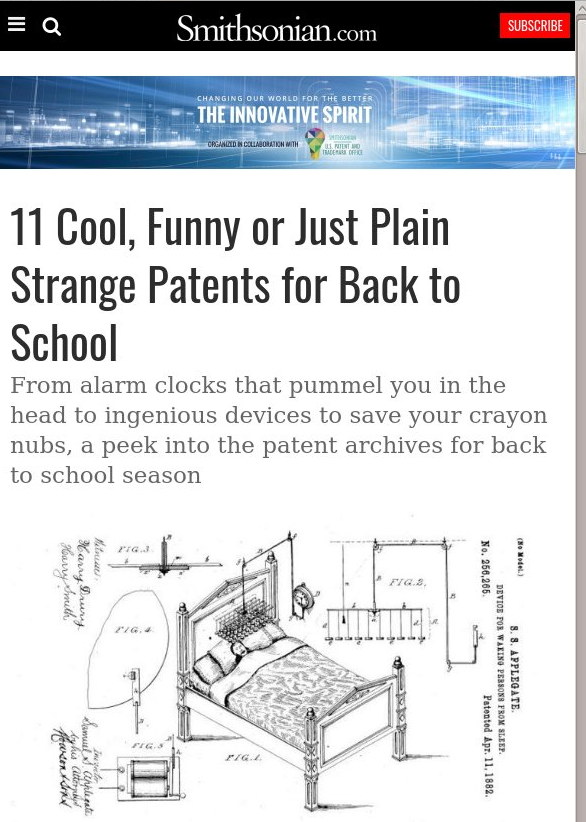 Reference: 11 Cool, Funny or Just Plain Strange Patents for Back to School
Summary: A roundup of news about Apple and its patent cases (especially Apple v Samsung), including Intel's role trying to intervene in Qualcomm v Apple
HERE in this Web site we prefer to focus on topics/angles which ought to be covered by mainstream media but never/rarely are. The Apple v Samsung trial is generally being covered quite a lot by big publishers, e.g. "Apple v Samsung Poses Threat Beyond Just Tech" and other new headlines/reports [1, 2, 3, 4, 5, 6]. It is already being mentioned quite heavily in social control media, probably because Apple is involved. Not many patent cases manage to attract quite as much public interest. We remarked on it a few times earlier this month. As Wall Street media put it last week, "Apple Wants $1 Billion From Samsung at Smartphone Retrial" (retrial after nearly a decade of fighting).
Apple has taken patent maximalism/lunacy to new heights in California. It's seeking billions in 'damages' over a simple shape of something. To quote one report:
Apple Inc. is seeking about $1 billion from Samsung Electronics Co. in another go-round stemming from a long-running smartphone patent-infringement dispute.

Jurors at the retrial before before U.S. District Judge Lucy Koh in San Jose, California, learned at the outset that the South Korean company infringed three of Apple's design patents and two utility patents. Their sole job, Apple lawyer Bill Lee said, is to determine what damages Apple can collect.
Damages? What damages? As Josh Landau (CCIA) put it 5 days ago:
The design patent total profits rule of § 289 was created in an era when awards of profits were common and where complex multi-component products like we have today were uncommon. (Obviously, the concept of a computing device with an ecosystem of third-party app developers wasn't even within the realm of imagination when § 289 was written.)

In fact, § 289 was created as a reaction to a decision about carpet decorations. A customer might seek out and buy a carpet just because of the design. But for most products today, that simply isn't the case.

In order to avoid the kind of perverse results I've described, the article of manufacture for an icon or GUI should be interpreted as the software, not the device it runs on. And even if that change were made, Congress should still consider revisiting the total profits rule. A single infringing icon that's a small part of a complex operating system shouldn't entitle a patent owner to the total profits on the whole operating system—no matter how iconic it might be.
Patents on designs are a clear misfit; copyright and trademark laws cover designs. There's this new blog post at IP Kat about industrial designs in Mexico with subheadings like "New concepts for industrial design examination" and "New regime for the validity of designs" (they aren't talking about patents!).
Going back to Landau, the following day he published "Smartphones, Diapers, and Design Patents" — a post in which he mentioned Microsoft v Corel analysis by Sarah Burstein. She is a proponent of such patents. She wrote about it years ago.
Landau alludes to diapers and says:
Apple v. Samsung is obviously about high tech smartphones. Other recent design patent cases have focused on high tech products as well—both the Nikola v. Tesla case Patent Progress covered recently and the Microsoft v. Corel case that Prof. Sarah Burstein described over on Patently-O deal with high tech products.

[...]

Similarly, in a design patent case involving diapers, you have a printed outside layer—and then all the technology on the inside. Is the article of manufacture the entire diaper, or the printed outside layer? And how do you distinguish that from the Apple v. Samsung case?
The truth of the matter is — as we have been arguing for a number of years — patents on designs are too bizarre a concept. Watchtroll now promotes the nuisance patent litigation against Tesla (over mere shape/curves of a truck). Patent maximalists typically like any patents, irrespective of how broad they are. That just means more litigation, hence more business for them.
"The truth of the matter is — as we have been arguing for a number of years — patents on designs are too bizarre a concept."There is another patent battle going on which involves Apple. But it's not about design patents and it has nothing whatsoever to do with Samsung. As Florian Müller put it the other day: "While waiting for a tire change, I get to watch another #Qualcomm v. #Apple #patent infringement hearing at the Munich I Regional Court. Some chipset in some Apple products allegedly infringes on a manufacturing patent. Intel joined Apple in challenging the patent. More to follow […] Breaking News: Qualcomm employee just told the Munich I Regional Court today (at a #patent infringement hearing relating to the A10 chip) that Apple recently canceled a settlement meeting on short notice. Next meeting not scheduled yet."
Müller then wrote a blog post about it:
While Apple is seeking north of $1 billion in damages from Samsung in the ongoing jury re-retrial in the Northern District of California, its earth-spanning dispute with Qualcomm continued today in the Munich I Regional Court with a first hearing (the primary objective of which is roughly comparable to that of a Markman hearing in a U.S. patent infringement case). Qualcomm alleges that the iPhone 7 and 7 Plus infringe its EP1199750 on a "post[-]passivation interconnection scheme on top of [an] IC chip."

I'll start with the most interesting piece of information I gleaned there. A Qualcomm employee–presumably an in-house lawyer, but I don't know his name and title–responded to Presiding Judge Dr. Zigann's question about the state of settlement discussions. According to Qualcomm, the parties had scheduled a meeting that would have taken place recently, but Apple canceled on short notice, and no new meeting has been agreed upon yet.
Qualcomm has long exploited SEP to tax pretty much every large company that sells chips (or products with chips inside them) — a subject which does not seem to bother Delrahim, unlike a long list or big bunch of "former government officials and professors" as Müller put it (Dennis Crouch covered this around the same time).
"Patent maximalists typically like any patents, irrespective of how broad they are. That just means more litigation, hence more business for them."It's worth noting that Intel sides with Apple here; Intel also lobbies for software patents and days ago Michael Proksch from Intel Standards Group was quoted as saying that they they invest $100 million annually in a 50,000-strong patent portfolio.
Intel has in fact filed/fired another patent missile:
Intel has filed for a declaratory judgment of non-infringement against small semiconductor licensing business Tela Innovations, in another dispute that shows how assertion activity is continuing to pick up in the chip sector. This spat has a particularly interesting edge to it given that Intel was an early investor in Tela and the two companies have a covenant not to sue (CNTS) dating back to May 2007. That covenant is still in effect and according to Intel's filing "covers Tela patents claiming priority during the term of the CNTS"
A CNTS has all sorts of other names associated with it. Tela is actually new to us. It seems to be rather obscure, more or less like many patent trolls, but its Web site does not come across as that. There's more to them than their patents.
"Imagine lots of patent lawsuits over shapes of cars or components around/inside the car."Where does this all end up? Where do such large companies (Intel, Qualcomm, Apple and Samsung) position themselves in the market? Who will pay for the legal battles if not customers that nowadays pay about $1,000 for a phone? The shape of things — pardon the pun — ain't so great.
According to yesterday's latest update from Müller, Homer Simpson may sway the big trial, which is a jury trial:
It would have been preferable to give the Apple v. Samsung design patent damages re-retrial jury in San Jose (Northern District of California) a chance to render a verdict before the weekend. In that case, jurors might have put an end to this disruption of their lives. But the way things worked out, they're now going to think about what position to take on Monday morning when official deliberations begin. In the meantime, they're not allowed to talk to anyone about the case or to take a look at any media reports (whether some jurors do so anyway is another question, but they're not supposed to).

As in the previous trials in this case, and as I mentioned a few days ago, Apple's lawyers portrayed Samsung as an intentional infringer, an unrepentant copyist, with Samsung being barred from presenting some evidence that could have shed a different kind of light on that question.

The holdings that (i) Samsung infringed those three design patents (a long time ago) and (ii) that those patents are valid are "law of the case" and the re-retrial jury must presume both to be the case. It is worth noting, however, that courts in other jurisdictions looked at international equivalents of those intellectual property rights (and at devices from the same generation of Android-based Samsung products) and reached rather different conclusions. But things are the way they are for the purposes of this U.S. case, so the focus is just on damages, and the single most important question in this regard is what "article of manufacture" a disgorgement of Samsung's profits should be based on: the entire device (which was considered a foregone conclusion in previous trials, but the Supreme Court and, previously, the United States Department of Justice disagreed with Judge Koh, the United States Court of Appeals for the Federal Circuit, and Judge Lucy H. Koh) or one or more components?

[...]

The world outside that San Jose courtroom overwhelmingly prefers a component-based damages determination. This InsideSources article on the problems that an excessive damages amount in the Apple v. Samsung case could cause tech and non-tech companies alike is a good example. But jurors won't have the benefit of such information on the wider ramifications of what they're required to decide.
"What has patent maximalism wrought?"We have always argued that jury trials, especially for technical matters, are inadequate. It is rather odd that such trials are even being considered in this domain. If Apple gets its way, a lot of industries will be impacted. Imagine lots of patent lawsuits over shapes of cars or components around/inside the car.
What has patent maximalism wrought? █
Permalink

Send this to a friend