Quick Mention: GPLv3 Adoption Continues at Its Regular Good Pace
Dr. Roy Schestowitz

2007-12-23 22:36:09 UTC
Modified: 2007-12-24 00:05:04 UTC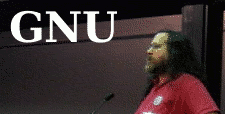 It has truly been a while since we last mentioned the GNU GPLv3. The licence appears to have passed a mental barrier quite a long time ago. Its pace of adoption can no longer be stopped or slowed down. Microsoft tried very hard to prevent the network effect by paying its lobbying arms, hired 'researchers', friendly journalists, etc. We have extensive covered all of this here and provided evidence. GPLv3 incompatibilities are sometimes being criticised, but the more projects get converted/upgraded, the smaller an issue this become.

Here is the latest report from Palamida, in case you wish to see a graph that is unaffected by season trends.


We would like to wish everyone happy holidays and start a wonderful new year next week. The year is coming to an end and the GPL v3 adoption has made it past 1300 GPL v3 projects.
PolishLinux has just published a decent article about Microsoft's attempt to use fear and legal action to stifle adoption of GNU/Linux. As it rightly argues, all Microsoft can ever do
is slow adoption down
.
What can Microsoft really do?

In short - it can delay the domination of GNU/Linux on the market and nothing more. I have no idea how much time will that take. Five, fifteen, fifty years? Microsoft's "actions" are bothersome, however, it does not change the fact that GNU/Linux is generally favored by the Big Business. Have a look around: supercomputers, film industry, academic circles, WWW servers, embedded systems, Dell, Lenovo or IBM's actions. GNU/Linux (I am referring here more to the phenomenon rather than to a particular product) is ubiquitous and used commonly by companies which could paradoxically afford a commercial solution (Google for example).
No matter what happens, Free software survives and therefore thrives. It only need to protects its freedom and ensure it isn't
devolving through misuse
and loopholes (e.g.
Tivoization
). To say more on the question of inevitability, consider this bunch of references: