Man Bites Dog and Microsoft Fights 'Piracy'
Dr. Roy Schestowitz

2010-06-28 09:12:09 UTC
Modified: 2010-06-28 09:12:09 UTC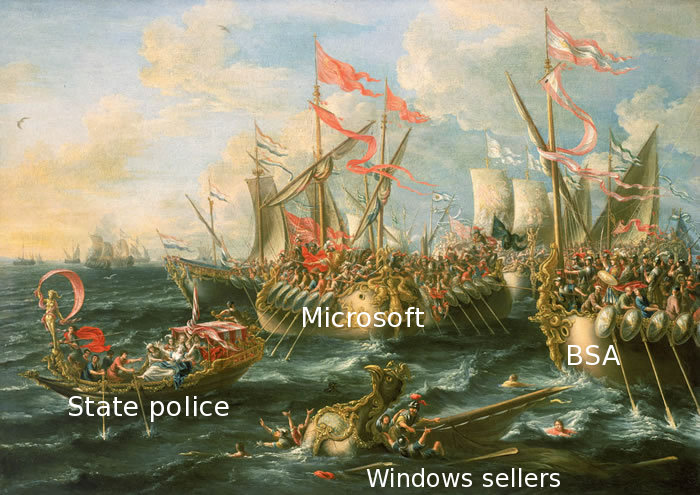 Summary: Microsoft is attacking sellers of Windows in the UAE, the United States, and Australia
IN China, the real 'pirates' are Microsoft [1, 2, 3, 4], so it's always interesting when Microsoft claims to fight so-called 'piracy' (counterfeiting), which Microsoft also admits benefiting from.
"They'll get sort of addicted, and then we'll somehow figure out how to collect sometime in the next decade."
Over in the Middle East, Microsoft has decided that it's time to "collect". It's not the first time this year that Microsoft does it in the Middle East, but the
example from last week's news
says that
"Microsoft intensifies action against sale of illegal software"
[in the Middle East specifically]. Here is
the latest news from UAE
, where
Microsoft uses MOUs
and
actions against shops that don't pay Microsoft
:
Authorities in the UAE have conducted three more raids against resellers accused of selling pirated software.

[..]

The raids were part of an ongoing campaign against software piracy in the region, led by Microsoft, which works closely with governments, industry partners and educational organisations on IPR enforcement.
This article almost conceals the role played by Microsoft. It tends to hide itself behind fronts like the BSA (an equivalent of MPAA/RIAA for companies like Sony) and it uses armed policemen and state authority to assist its business strategy and make the billionaires from Washington even richer. A critical analysis of this ought to lead to a reform. Many of those sellers are just doing what other sellers have been doing for decades and Microsoft never had a problem with their practices, as long as they ensured that all computer users in the UAE (even those who are unable to afford the software) used Windows.
Microsoft behaves in this ruthless manner also in the United States. Last week we found a lot of
coverage about QuickTEQ Computers
:
National software giant Microsoft is suing a Lincoln company, QuickTEQ Computers, alleging that it has been selling reproductions, copies or imitations of Microsoft's copyrighted materials.
There is more in [
1
,
2
,
3
,
4
] and in AP [
1
,
2
].
Microsoft Corp. says a Nebraska computer store has been infringing on its copyrights for Windows software.
Quoted for the wording. From
Omaha
:
Microsoft says in the lawsuit that it sent a letter to QuickTeq in March 2009 warning the company that it was infringing on Microsoft's copyrights.
At least it says "copyright infringements" and not "piracy" or "theft". It would be nice if Microsoft was accused of endorsing copyright infringements when it better suited its goals. Microsoft's Windows profits
decline over the years
, so Microsoft is
killing the goose
and starts "collecting" (to use Gates' word).
There is another
new case in Australia
:
AN Australian eBay trader who admitted to selling Microsoft software illegally has paid $125,000 in compensation to the computer giant.
Well, usually Microsoft turns a blind eye, satisfied that someone who is unwilling to buy Windows is at least using it. But not anymore. Microsoft is
having a hard time
.
⬆