Siemens is Bad for Industry, Partly Due to Microsoft
Dr. Roy Schestowitz

2010-07-21 18:51:10 UTC
Modified: 2010-07-21 18:51:10 UTC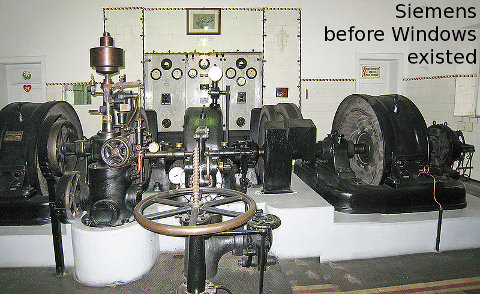 Summary: Siemens gives another reason for its products and its policies to be distrusted as it gets "OWNED" by Windows Trojans
Siemens, the company partly responsible for pushing software patents into Germany (and the EU at large [1, 2], although Microsoft helped), has been close enough to Microsoft to lose its brains and put Windows in mission-critical settings. The result? Here is how Reuters put it:
Hackers have built a computer virus that attacks Siemens AG's widely used industrial control systems, creating malicious software that analysts said can be used for espionage and sabotage.

The German company said the malware is a Trojan worm dubbed Stuxnet that spreads via infected USB thumb drives, exploiting a yet-to-be-patched vulnerability in Microsoft Corp's Windows operating system.

"Just viewing the contents of the USB stick can activate the Trojan," said Siemens spokesman Alexander Machowetz. "Siemens recommends avoiding the use of a USB stick."

Siemens first learned of the problem on July 14, he said.
Bonus points to
Reuters
for naming Windows as a culprit. More news networks ought to
call Out Windows
.
The moral of the story: Windows may be suitable for testing some things, not for final products. The LSE (London Stock Exchange) would know [
1
,
2
,
3
,
4
]. It eventually GotTheFactsâ"¢.
⬆
"Gates had never been involved in any of the architectural design of Windows, nor had he ever been personally involved in writing such large amounts of code. Now, very late in the game, he was throwing out knee-jerk requests based on the competition. And he seemed totally oblivious to the fact that every such feature change radically screwed up Windows's stability, testing, and ship date."
--Barbarians Led by Bill Gates, a book composed
by the daughter of Microsoft's PR mogul