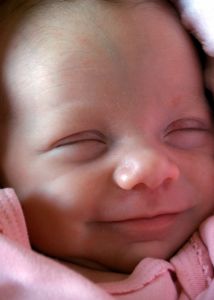 Imagine being charged for a pension of any newly-born baby
Summary: Criticism of the actions of the European Commission, which did not go far enough when it comes to making competition fair in Europe
SO, now that we caught up with IRC logs and learned that there might be class action coming to battle against Windows bundling, it is worth recalling action from the European Commission. The officers should have taken the FSF's advice by ensuring that computers with GNU/Linux or no operating system at all are made available in Europe. Instead, a rather spineless attitude was taken and it was simply assumed that it's okay for all computers to come with Windows as long as a second Web browser was at least offered as a choice (Internet Explorer 8 (IE8) would still be preinstalled and bundled with all new PCs). We wrote about this tirelessly in posts such as:
"Browser Ballot Screen Early Feedback Shows Little Impact on Market Share"
says this one report (well, IE is a mandatory option regardless of the ballot) and it says: "According to StatCounter reports, Microsoft's European share has dropped from 44.9 percent in January to around 39.8 percent today, but it's almost impossible to tell if the browser ballot screen is to blame. Experts argue that the decline curve seen in the EU matches losses in other markets, with much of the lost IE business moving over to Google Chrome. Google's share of the European market has doubled to 11.9 percent over the past twelve months, and they even managed to pick up 5.8 percent during the same period in which IE shed 5.1 percent. Is this the result of the browser ballot screen? Or just Google making a more compelling product?"
The European Commission has not yet looked into the absurdity of Windows bundling with hardware. It probably ought to. It has become easier to contact Neelie Kroes now that she has a blog (powered by Free software) and a Twitter account, so people can raise the issue politely. She does read the feedback.
"Microsoft Deal in Europe Barely Affects Browser Market,"
says this headline from
The New York Times
. This too should be shown to the Commissioner. They did not go far enough, despite all of Microsoft's whining (through lobbying groups like CompTIA and ACT).
Most of the decline has come amid gains by Google, which introduced Chrome in September 2008. Google's share of the European market doubled this year, to 11.9 percent in October from 5.8 percent in January.
Many articles have been referencing
Statcounter
and claiming that Internet Explorer market share fell below 50%. We do not take these numbers seriously (as absolute values) because nothing is said about the distribution of the sampled population in the dataset. What matters here is the trend and it indicates that despite newer versions of IE coming out, erosion carries on. IE9 performance issues and the likes of that ought to ensure that it will change nothing for the better [
1
,
2
,
3
]. In fact, last night we posted a link to another set of benchmarks which puts IE9 almost last for its performance. The results are consistent, but truthfully it's not a final version of IE9.
Microsoft's booster Marius Oiaga is being a little amusing this month. Not only does he resort to IE9 raves (the product is not even out yet) but he also
leaps ahead
to
Vista 8
vapourware in the context of "Antitrust Authorities" (damn! Those evil, evil regulators!) and he speaks about those non-existent products, making them look good based on mere promises which Microsoft is incapable of delivering on (IE9 performance being one example of false promises):


The information provided reveals that the Redmond company's next iterations of IE and Windows are being evaluated.

"The State Plaintiffs and the TC (technical Committee) are currently testing beta versions of upcoming Internet Explorer 9 and Windows 7 Service Pack 1 releases for compliance with the Final Judgments," the report indicates.
The technical committee should look at other operating systems (notably GNU/Linux and BSD) to learn how Microsoft impedes and restricts their availability. OEMs can do a wonderful job preparing those for almost any user, correcting market distortion by being given the leeway.
Here is
another new example
that we found of Vista 8 vapourware (almost purely speculative), which means that Microsoft is rather nervous and has no compelling products to show to OEMs at present (OEMs are Microsoft's real clients as they buy about 80% of the licences). And no,
Vista 7
ain't
it
. It
does not even sell well
.
⬆
"In the face of strong competition, Evangelism's focus may shift immediately to the next version of the same technology, however. Indeed, Phase 1 (Evangelism Starts) for version x+1 may start as soon as this Final Release of version X."
--Microsoft, internal document [PDF]