Why Microsoft's Guy Miguel de Icaza Pushes for C# at Apple, Which is Not Successful
Dr. Roy Schestowitz

2011-03-29 23:45:02 UTC
Modified: 2011-03-29 23:45:02 UTC
"The best way to prepare is to write programs, and to study great programs that other people have written. In my case, I went to the garbage cans at the Computer Science Center and I fished out listings of their operating systems."
--Bill Gates
"We've always been shameless about stealing great ideas."
Summary: Continued Mono lobby in Apple's platforms; The empires of ripoff show their continued exploitation of freely-shareable and free/open source-implemented ideas
WHEN MICROSOFT MVP Miguel de Icaza is not praising Microsoft software like Silver Lie and Moon Lie (he is still at it, delivering on Microsoft's contract/agreement with his employer) he is also promoting hypePad like it's a badge of honour. He wants to popularise Microsoft's C# (Java ripoff) on Apple products. That's what he does. He promotes C# under the guise of 'open source' (Mono) and he is still boosting Monospace, which was organised by fellow Microsoft MVPs. It is clear what they are up to. It's a case of assimilation (to Microsoft), which they also have a go at when it comes to Linux-powered platforms (making mobile Linux more C#-dependent). Aside from that, in Twitter (de Icaza snubs Identi.ca), he apparently defends Apple's side and mocks GPLv3 in light of this news:
The upcoming release of Mac OS X 10.7 Lion Server will remove the formerly bundled open source Samba software and replace it with Apple's own tools for Windows file sharing and network directory services.
One thing that Apple and Microsoft have in common is that they dislike GPLv3 and that says a lot. GPLv3 defangs software patents lovers, so those who dislike GPLv3 are often pushing for patent monopolies and software riddled with patent traps (such as Mono).
As an aside, regarding Apple, Robert Pogson explains
why Apple is not a success
based on grounds measured by the GNU/Linux world (freedom for example) and even market share.
Less than 2% MacOS usage in Asia, Africa and South America… Is that success?
Ballmer's own slide shows this: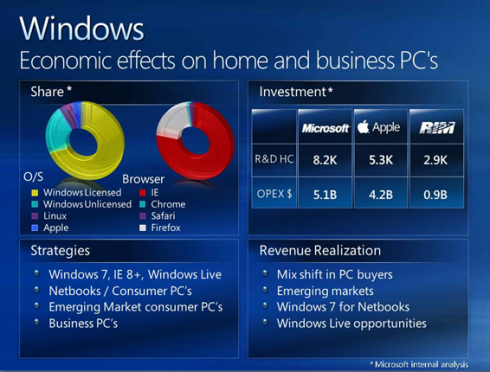 Apple may be popular in some Western countries, but that's about it. Linux is a major rival to Apple, especially in phones, tablets, portable gadgets, etc. Sooner or later people realise that Apple is just a badge and that Apple's staff
cannot even deal with DST properly (not even in 2011!)
. To quote the MSBBC:
Some iPhone owners were heading in to work late on Monday after a glitch caused their alarms to malfunction.

Users found their wake-up alert coming one hour late, one hour early or not at all.

The problem, related to the clocks going forward for British Summer Time, does not appear to have affected everyone.

Apple has yet to comment on what caused it, but similar problems have previously hit iPhones in the US.
Maybe Apple is not reusing enough Free software. A lot of Apple's code is derived from code it merely exploited and contributed almost nothing to (Apple's version is proprietary). Who would wish to support such a company by rewarding it for these deeds?
⬆