Battistelli and His Bodyguards: Paranoia, Megalomania, or Both? Are China-Style 'Suicide Nets' Next on the EPO's Agenda?
Dr. Roy Schestowitz

2016-01-29 16:22:29 UTC
Modified: 2016-01-31 09:15:30 UTC
Battistelli's vision of the EPO is extremely grim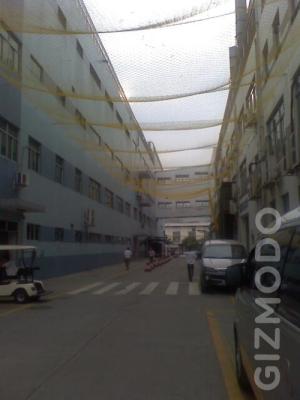 Photo credit: Gizmodo
Summary: A look back (about a dozen years) to the days of Benoît Battistelli walking around with bodyguards whilst only a French officer at INPI
THERE are a lot of things that EPO staff does not know. The flow of information is impeded by an atmosphere of terror, which is a top-down thing (imposed from the above, i.e. from the management).
"I noticed some references to Battistelli's bodyguards in your articles on TechRights," one reader told us. "It seems that Battistelli's penchant for bodyguards pre-dates his current job at the EPO."
Battistelli had every window frame in EPO buildings screwed shut."
--AnonymousOur reader continued: "I recently came across a humourous French blog post from 2004 which reports on Battistelli's public debut as Director-General of the French Institut Nationale de la Propriété Industrielle (INPI) at the "Enjeux Press Preview" which took place on Monday, July 5, 2004. At the end of the report, it is mentioned that on that occasion Battistelli was accompanied by two bodyguards.

"The French blog post by Jean-Bernard Condat [from Paris] can be found here. I add an English translation [PDF] which attempts to capture the whimsical humour of the original. Feel free to share it with your readers!"

Under Battistelli, the EPO looks rather reminiscent of a war zone. He even uses war-type language to keep the staff under control, as if he is fighting a large legion of terrorists with weapons of mass destruction. His staff's representatives he simply called "Mafia". Well, it sure seems like if there's a combative element inside the EPO, this is something that Battistelli brought into the EPO rather than inherited from Brimelow, his predecessor. This isn't leadership; it's monarchy; it's repressive. To quote parts of the PDF (which incorporates pictures and more):


Benoît Battistelli, the new Director-General of the INPI, makes his public debut



[...]

BATTISTELLI remains unperturbed and replies that "he is not personally an ayatollah of IP rights for SMEs".

[...]

BATTISTELLI rises to depart and his two bodyguards follow him. The concert is over.
"Battistelli had every window frame in EPO buildings screwed shut," one person told us recently. "That is how he "prevents" further on-site suicides. No more jumping out of windows. But colleagues mutilate themselves in their offices now. Battistelli dislikes the bloody mess they leave behind. He decided to silence them by starting an investigation procedure against them. Once the procedure started, employees do not have the right to talk about any detail. He must know better - this is a time bomb."
It's like
those anti-suicide nets in Foxconn (China)
. "They are not actually solving the issue," as my wife put it when I asked her about it, they're just "implementing a workaround."
⬆
"Never murder a man who is committing suicide."
--Woodrow Wilson