If it looks like a coup, then...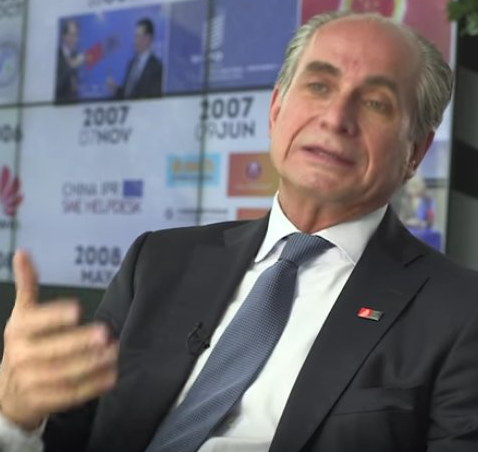 Source: Interview from last summer
Summary: Updated Inner Circle for the European Patent Office, where more people who are connected to Battistelli enjoy an extraordinary leap to top positions, cementing the coup d'etat
Le président de l'OEB, Benoît Battistelli, is not letting go and not stepping down. The longer he stays, the worse things get (there's a strike this week).
Sources tell us that things exacerbate further under Battistelli's iron-fisted reign. The circle is expanding, so the entanglement only gets harder to untangle (some time in the future). For a summary of Bergot's unbelievably fast rise to top management, see
part one
,
part two
,
part three
, and
part four
of an old series of articles (there are spousal aspects to it). Also recall Lefèvre [
1
,
2
,
3
] with her amazing series of promotions; she was
tasked with or assigned the incredible challenge of making the staff appear happy
when clearly enough
the exact opposite is true
. That's far greater a challenge than trying to make Afghans look grateful after their country was brutally invaded because of more than a dozen Saudi hijackers.
"So the tribe elder, Battistelli, keeps surrounding himself by more familiar faces."Anyway, let's cut to the chase. Here is an update on Battistelli's inner circle.

"On the Inner Circle 2.0 [PDF], Nadia Lefèvre and Raffaella de Greiff appear close to Elodie Bergot," one reader told us. "Recently Nadia Lefèvre became director. On April 1, Raffaella de Greiff also became director, which corresponds to grade A5. Another rocket career it seems. She entered the EPO in grade A2 in 2011, and worked as advisor to Željko Topić."

So the tribe's elder, Battistelli, keeps surrounding himself by more familiar faces. It's an echo chamber wherein nobody will tell him the truth (like the Naked Emperor) and instead tell him only what he wishes to hear. He is already acting like someone who needs to be in a mental asylum and considering his age (retirement) maybe this diagnostics isn't so far off (some people openly challenge his mental state). Consider the following observations:


SENIOR management



The EPO Service Regulation stipulate that "A permanent employee shall be retired automatically on the last day of the month during which he reaches the age of sixty-five years" (Art. 54(1)(a)). A prolongation until 68 is, however, possible "if the appointing authority considers it justified in the interest of the service." We have the impression that requests from ordinary staff members to continue working beyond 65 are almost systematically refused. But for higher management other rules apparently apply. At the end of his mandate, the President will be only two weeks short of his 68th birthday. Mr Minnoye will be 70 years old when his contract ends in December 2018.

The interesting question is: didn't the Council know his age when it decided on the prolongation, or are the delegates lenient because some of them are still vying for a job in the EPO despite their relatively advanced age?
Battistelli is not only a megalomaniac; he's also a paranoid and it turns out to be truly wasteful (a budget drain). He has been walking around with
several private bodyguards for over a decade
and apparently Bergot (the supposed overachiever) too. Consider the following little scoop:
Where is the danger?

Mr Battistelli recently confirmed that he has body-guards. Rumor has it that the same is true for Ms Bergot. Mr Battistelli claims this is due to recent security risks in France.

The following link seems to suggest otherwise: http://condat.blogspot.com/2004/07/premier-show-public-de-m-benot.html

"BATTISTELLI se lève, ses deux gardes du corps le suivent. Le concert est fini. L'invité nous a montré qu'il était capable de parler brilliamment d'un sujet qu'il connaissait depuis 53 jours. Note d'ensemble: 4/20."
Even if Battistelli ever resigned or got sacked,
a lot of work remains to be done restoring the EPO's HR integrity
. What a mess! Then there's the issue of obeying law.
"Even if Battistelli ever resigned or got sacked, a lot of work remains to be done restoring the EPO's HR integrity."As one new comment put it earlier tonight: "The solution of the EPO-problem seems to me very simple. Battistelli should start to sign the The European Convention on Human Rights (ECHR) (formally the Convention for the Protection of Human Rights and Fundamental Freedoms).That is an international treaty to protect human rights and fundamental freedoms in Europe. Drafted in 1950 by the then newly formed Council of Europe,[1] the convention entered into force on 3 September 1953. All Council of Europe member states are party to the Convention and new members are expected to ratify the convention at the earliest opportunity.[2] . The right in the EPO should be equal to the right in European countries. Can Battistelli tell us why not??

"The Convention established the European Court of Human Rights (ECtHR). Any person who feels his or her rights have been violated under the Convention by a state party can take a case to the Court. Judgments finding violations are binding on the States concerned and they are obliged to execute them. The Committee of Ministers of the Council of Europe monitors the execution of judgements, particularly to ensure payment of the amounts awarded by the Court to the applicants in compensation for the damage they have sustained.[3] The establishment of a Court to protect individuals from human rights violations is an innovative feature for an international convention on human rights, as it gives the individual an active role on the international arena (traditionally, only states are considered actors in international law). The European Convention is still the only international human rights agreement providing such a high degree of individual protection. State parties can also take cases against other state parties to the Court, although this power is rarely used."


"By extension, as a matter of fact, Battistelli has had a damaging effect (discrediting effect) on the European Union, hence he did a lot to harm "Community" and "unity" (UPC is a misleading name, just like "Community patent", where the community best served is a community of billionaires with countless tax havens)."Red Hat's Jan Wildeboer ‏wrote (as the current government/ruling party turned out to be the real pirate, hiding money in tax haven): "So should there be a new election in #Iceland after #Panamaleaks it is quite clear we will have the first country run by the Pirate Party." (the country's leading party in polls)

The FFII's President (the FFII is historically close to Wildeboer) wrote in response: "Iceland the first to leave the EPOrg?" Well, if Battistelli stays, his lack of credibility might lead to it. Battistelli damages the EPO more than anybody else these days. Nobody likes relying on a crook for political/trade/bureaucratic purposes. By extension, as a matter of fact, Battistelli has had a damaging effect (discrediting effect) on the European Union, hence he did a lot to harm "Community" and "unity" (UPC is a misleading name, just like "Community patent", where the community best served is a community of billionaires with countless tax havens). ⬆