CAFC Meddling in PTAB Affairs; Unified Patents Fights a Good Fight by Invalidating Software Patents
Dr. Roy Schestowitz

2016-07-27 22:55:43 UTC
Modified: 2016-07-27 22:55:43 UTC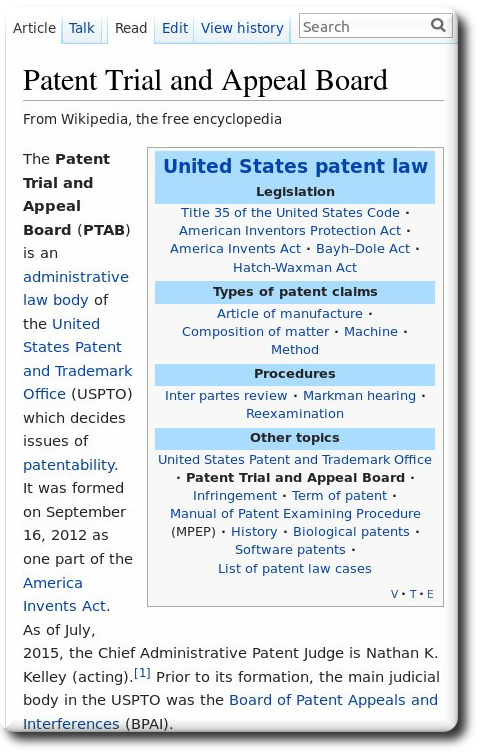 Summary: A look at how the AIA's Patent Trial and Appeal Board is invalidating software patents post-Alice, with or without involvement of patent courts
PATENT QUALITY at the USPTO seems to be improving as more courts rule against patents, PTAB challenges the USPTO's examiners, and even examiners are growingly worried because of those first two group (courts and PTAB), so they are cautious in granting patents, thus rejecting more of them, especially when these are abstract.
Michael Loney, writing for MIP from New York,
says
that the
Court of Appeals for the Federal Circuit (CAFC)
, originator of software patents, has just "ruled that the burden of proof does not shift to the patent owner on institution of an inter partes review (IPR) trial, in In re Magnum Tools International. It reversed the Patent Trial and Appeal Board (PTAB)'s determination that the challenged claims were invalid for obviousness."
"This means that, regardless of CAFC's notorious past, it has become somewhat of a solution to the software patents epidemic."One may be tempted to say that this is just typical of CAFC, but actually, judging by the numbers, CAFC very often rules against software patents these days. Hugo Roy from the Free Software Foundation Europe has just "updated https://hroy.eu/posts/patentFacts/ … listing some interesting facts about #patents. (Check the invalidation rate in the US! 91%)"

The 91% figure refers to CAFC and here is the relevant part from the updated page: "In the US, patents challenged on the basis of the US Supreme Court Alice v. CLS Bank decision are invalidated by Federal Circuit courts in 91.9% of cases (66.5% for all courts)."

This means that, regardless of CAFC's notorious past, it has become somewhat of a solution to the software patents epidemic. It has no choice after Alice at a superior level (SCOTUS). In another article, one which Michael Loney found and shared, an inter partes review (the way PTAB slays software patents) is mentioned as follows: "On July 25, 2016, Unified Patents Inc. filed a petition for inter partes review of all claims 1-15 of U.S. Patent 6,415,207. In IPR2016-01465, Unified challenged a patent directed to automated tracking, one that Shipping and Transit has asserted against more than 90 small businesses."

It's no coincidence that small businesses are targeted; small businesses cannot afford or don't have the incentive to take this to court. Imagine what UPC would do to European SMEs if it ever became a reality. This would help patent trolls at the expense of small businesses (in particular the smallest ones). ⬆