Photos
: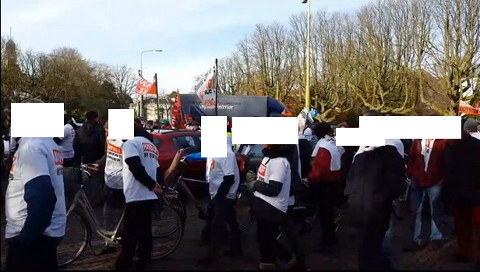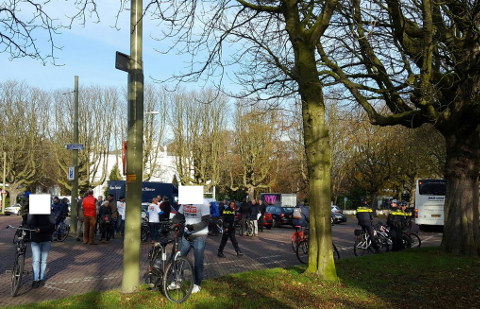 Videos
:
https://twitter.com/petrakramer/status/801820251264532480
https://twitter.com/petrakramer/status/801820323352104960
Summary: An outline and translations of press coverage regarding today's protest, which ended four hours ago
As expected, people who work for the EPO marched in protest at midday. This action was, notably, supported by FNV. "Strong Solidarity Message From FNV," SUEPO wrote today/yesterday, "The Biggest Dutch Union (1 million members!)."
"The FNV published on 23 November 2016 an article entitled "Medewerkers European Patent Office in actie tegen angstcultuur" [and] Translation is available in English" (
local copy
) "Omroep West feedback about EPO demo 24-11-2016," one reader told us about early coverage from today's protest, as early as
a few hours after it
(there is certainly more on the way). Petra Kramer has translated this for us and
noted
that "[t]he video is the only newsworthy part imo [in my opinion], the rest is yesterday's press statement again." (regarding FNV, as
posted here yesterday in English
along with
other coverage
)
Here is Kramer's translation:
Hundreds of European Patent Office workers take action against 'tyranny' director



THE HAGUE - More than four hundred employees of the European Patent Office (EPO) in Rijswijk demonstrated against their director Benoît Battistelli at Square 1813 in The Hague on Thursday. The reason for the demonstration is the poor relationship between the staff and the director.

According to the employees the have been suffering under "the yoke" of their director. ""Battistelli rules with an iron fist and tolerates no participation or contradiction. He dismisses people at will, demotes them, and unilaterally implements changes to working conditions and demotivates if the entire organization," said union FNV.

The demonstration on Square 1813 call employees Secretary Martijn van Dam (Economic Affairs) to take action against Battistelli.


Source
:
Honderden werknemers Europees Octrooibureau in actie tegen 'tirannie' directeur
Video
:
Honderden werknemers Europees Octrooibureau in actie tegen 'tirannie' directeur
WIPR
, which is based in the UK,
wrote about this as well
and it gave background as follows:
Staff members at the European Patent Office (EPO) are holding a demonstration today in the centre of The Hague in support of dismissed workers.

According to a statement from the Staff Union of the European Patent Office (SUEPO), the demonstration is being held to show solidarity with "dismissed, downgraded and targeted staff representatives and SUEPO officials".

A source close to SUEPO said that they would "truly prefer not to have to hit the streets again to publicly complain" about the EPO management.

Earlier this month, Laurent Prunier, elected member of the central staff committee and secretary of SUEPO in The Hague, was sacked.
No coverage from IAM (as usual) and only a mere tweet from MIP about it. We intend to monitor press coverage about this. The Dutch Parliament too is increasingly interested in the subject, so there is an opportunity for reprieve.
⬆