The European Patent Office is continuing and expanding its abuses, having already become Europe's greatest source of shame (akin to the most primitive countries in the world)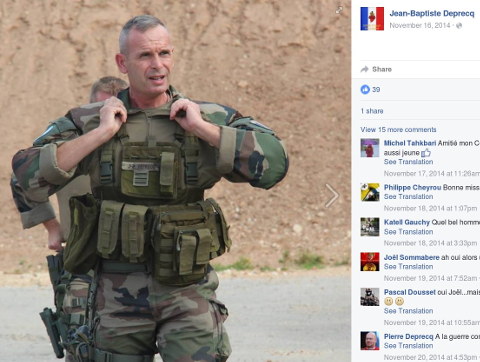 Like an occupying force from another country
Summary: Growing anger towards the European Patent Office (EPO) and in particular its rogue management, as well as further union-busting moves, which are bound to cause the EPO to implode even faster
THE EPO scandals continue to deepen, even if SUEPO is quiet (due to fear of retribution) and Merpel is totally silent at IP Kat, more so after the site got sanctioned with a ban. Today, for a change, IP Kat does an advertisement for the EPO (for free!). This kind of appalling media (and even blog) "blackout" is particularly dangerous because it means Battistelli and his thugs can make a killing, almost literally too (their illegal, as per national law, behaviour already contributes to suicides).
"This kind of appalling media (and even blog) "blackout" is particularly dangerous because it means Battistelli and his thugs can make a killing, almost literally too..."Based on today's new article from Juve (in German, translations welcome), EPO stakeholders urgently want to drain the Battistelli swamp. They too realise that the reputation of the Office, if not the Office as a whole, is in a state of collapse; it's not just a swamp but a sea of nepotism and corruption. This cannot go on like this... Europe's reputation (as a whole, as a continent) is already being severely harmed by the EPO. Battistelli, based on this new report from the British media, keeps changing the rules to basically ban/punish anything that challenges his horrible autocracy. Can only a coup toss him out? As we shall show in the next post, he takes great pride in being above the law.


"In the banana republic known as Eponia you can get away with anything, probably even with rape, as long as you are in management..."Today's European Patent Office, in my personal opinion, is one of Europe's (if not the world's) most corrupt organisations, but many people don't know it, at least not yet. Never before have I seen an institution so crooked -- crooked enough to threaten bloggers to shut them up. As we showed in our previous post, Battistelli's EPO has just given yet another payrise for Battistelli's buddies. In the banana republic known as Eponia you can get away with anything, probably even with rape, as long as you are in management (some people have gone as far as comparing Battistelli to Dominique Strauss-Kahn). Remember that the EPO's management can (and does) refuse authorities -- police included -- on-site access, even when people die. The latest news is this:
King Battistelli tries again to break Euro Patent Office union



The president of the European Patent Office has embarked on yet another effort to undermine his organization's staff union.

In confidential documents seen by The Register, the president's team has drafted changes to the organization's articles that would effectively give him veto power over the election of union representatives, as well as limit what those representatives could do.

[...] Although Battistelli's stubborn persistence and gradual rewriting of rules to grant himself increasing power over the organization appears to be working, it is coming at a high cost.

In December, a Parliamentarian told the French National Assembly that his fellow countryman was "a disgrace to France." In response, the French trade minister made it clear he did not support Battistelli and noted that his actions had been "the subject of convictions by the courts of the Netherlands, by the ILO [International Labour Organization] bodies and the Board of Directors of the agency."

The EPO staff union has appealed no fewer than three times to its Administrative Council to fire Battistelli. And other international staff unions, including from the European Organization for Nuclear Research (CERN), have been fierce in their criticism. Media outlets across Europe and ranging from mainstream to patent-industry-specific publications have been increasingly vocal about the failure of the EPO's management team to handle the crisis.

But perhaps most damagingly, the EPO's customers have started taking note. In a recent survey carried out by news service Juve, over 170 heads of patent departments at large corporations and industrial groups in Germany – who represent the bulk of the EPO's applicants and hence customers – gave a damning assessment of the EPO and its current president.

As with an internal survey last year, the independent external survey of EPO clients gave Battistelli a zero per cent confidence rating.
Comments already compare Battistelli and his thugs (some are facing criminal charges) to Trump and Bannon, who tells the media to "shut up" -- almost as bad as the EPO which sends threatening legal letters to the media. One person
wrote
: "..sacking people that disagree with him. Appointing yes men to high places. Forcing his views across regardless of what those say around him. This is all sounding very familiar." Another person wrote: "What will it take to get rid of this guy? Surprised no mention was made of the incident with the brakes on his bike."
The very fact that it has become joking material shows just how desperate people have become to remove him. One response to it says: "Probably a Kickstarter raising enough to hire an assassin. I don't see anything else working..."
Well, there was crowdfunding for a Battistelli exit party.
"More worrying," explained one person is this:
Is the number of respondents to the survey who DIDN'T think that he should resign.

This suggests that they support his general approach. Much like the body who can remove him but won't.
Rumours with some solid basis
suggest that Battistelli is simply 'buying' votes
.
Comparing Battistelli to Trump is probably an insult to Trump, not to Battistelli. One person asked: "Is the Trumpster getting pointers from this guy?"
"This is bound to end in a serious shake up," said another person and here is why:
The longer this saga drags on the more I feel this can only end in a complete overhaul of the structure. Once its constituent members have had enough and start to apply real pressure that will be inevitable.

Making it an EU institution with associated membership for non-EU members such as Turkey and Albania and with parliamentary oversight by the European Parliament sounds like a logical conclusion.


"What do you mean 'once' they do," another person remarked. "Surely they have been for some time, still shows no sign of budging."
The final comment for now is this:
What I don't understand is

Why is he doing this at all?

If he suddenly got full dictatorial unaccountable control of a diplomatically immune organisation, what does he plan to do with it?

What's in it for him to make himself the second most unpopular leader in Europe?


Notice that not a single person is sympathetic towards Battistelli. How on Earth does he keep his job? What does that say about the EPO?
⬆