The Netherlands With Its Bizarre Decision to Let the EPO Violate Dutch Law, Now in English
Dr. Roy Schestowitz

2017-02-01 12:43:23 UTC
Modified: 2017-02-01 12:43:23 UTC
Holland fights to market itself as safe haven for unaccountable (and often abusive) organisations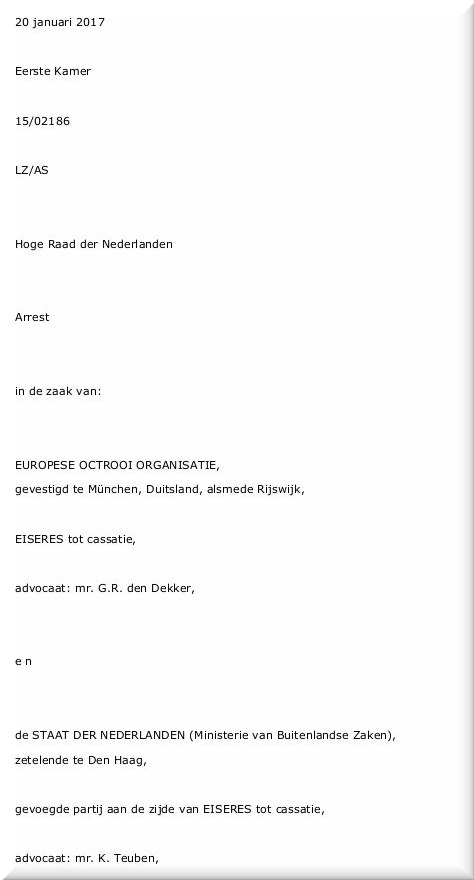 Summary: A recent decision on the EPO (from a high Dutch court) is now available for reading in English
O
UR previous coverage on this subject, namely
EPO
management getting away with
anything
on Dutch territory, pretty much said everything that needed to be said. Here are 5 articles about it (there are more):
Yesterday afternoon we found
this update in SUEPO's Web site
. It said the following:
Judgment of the Dutch Court of Cassation issued on 20 January 2017



JUDGMENT OF THE DUTCH COURT OF CASSATION IN SUEPO v EPO ISSUED ON 20 JANUARY 2017 Dutch courts have no jurisdiction in European Patent Organisation dispute The European Patent Organisation can invoke jurisdiction immunity in a dispute with trade unions. That is the ruling issued by the Supreme Court 5 today, and means the Dutch courts have no jurisdiction to examine disputes brought before them between the European Patent Organisation (EPOrg) and two trade unions: the Trade Union of the European Patent Office (VEOB) and the Staff Union of the European Patent Office (SUEPO). Previous rulings by the court in preliminary relief proceedings and the Court of Appeal in The Hague 10 have been set aside by the Supreme Court.

Original judgment text is in Dutch. English translation is available.
We have
local
[PDF]
copies of
both
[PDF]
English translations. We have uploaded these PDFs for long-term preservation (as SUEPO is under attack and sometimes pressured to censor itself).
⬆