"There is Still No Sufficient Control Over the Despotism of the EPO President, Benoît Battistelli"
Dr. Roy Schestowitz

2017-04-10 03:00:24 UTC
Modified: 2017-04-10 03:00:24 UTC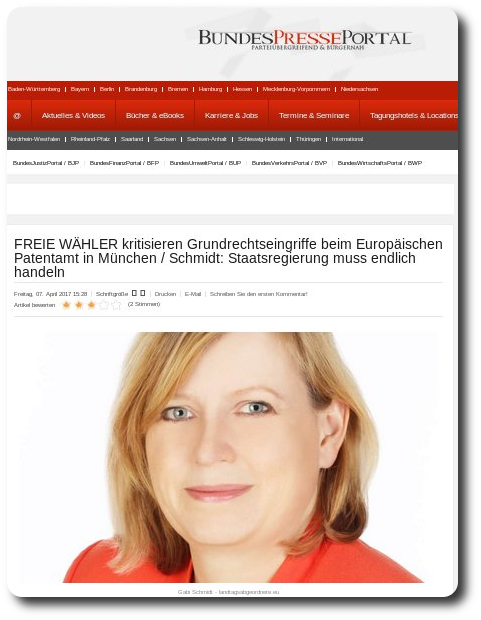 Summary: Deepening concerns about human rights abuses "in the middle of the capital of Bavaria."
EARLIER on in the day we mentioned a report in German (for a change) about the EPO. It was made before the parliamentary session, not afterwards. As promised, here is the English translation, prepared by a reader of ours:
THE FREIE WÄHLER (FREE VOTERS) CRITICISE ENCROACHEMENTS ON FUNDAMENTAL RIGHTS AT THE EUROPEAN PATENT OFFICE IN MUNICH. The Freie Wähler are, once more, severely criticising senior management of the European Patent Office in Munich. According to Gabi Schmidt, Member of the Bavarian Parliament, and on the European Committee of the Bavarian Parliament, many members of staff have been complaining for years about harassment and intimidation. "There is still no sufficient control over the despotism of the EPO President, Benoît Battistelli. Since the EPO is an extra-state institution, German employment law is not valid there. However, we can no longer accept that the basic rights of staff are being trampled underfoot – and that it is happening in the middle of the capital of Bavaria." On Thursday, in a plenary session of the Bavarian Parliament, Schmidt will invite the Bavarian government to act, within the scope of its powers, against the harassment of staff. "We can no longer merely observe as 3700 employees are at the mercy of the despotism of the man at the top." Schmidt criticises how the President had set up an investigation unit without legal basis, how employees are restricted when sick, and how office management had attacked the basic function of the staff union. "EPO management should actually be controlled by the Administrative Council. Germany has, after all, a vote and the EU Commission anyway enjoys observer status," criticises Schmidt. However, until now there have been no measurable improvements. "The Administrative Council declared last December that its instructions to the management about the social situation had not been followed at all – but still nothing has happened." Today the Bavarian MP from Uehlfeld will request in the plenary session that the Bavarian government supports the staff at both national and European levels.
If anyone has any input about what happened
during
the session, please
get in touch
. The more people know, the more likely redemption becomes. Battistelli has distaste for information and a sweet tooth for lies. Facts are habitually being suppressed by intimidation and retaliation (
recall an example from just weeks ago
).
⬆