Boris Teksler keeps hopping from one troll to another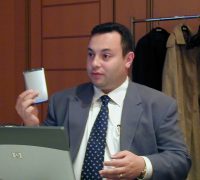 Credit: Japanese media
Summary: Patent trolls are still being watched -- as they ought to be -- even though some of them shy away, hide from the media, engage in dirty tricks, and file more lawsuits
THIS coming week we intend to start publishing a long series about the EPO. We therefore lack time to thoroughly write about each and every single patent thing in the US. This post is a quick outline of patent trolls of interest, all of which are based in the US.
We start this with McKool Smith, a law firm that's notorious for helping patent trolls. We have mentioned it a lot over the years and
this new post
says that it got caught in a violation, this time when it represented Eolas (also covered here many times before). To quote:
This one is fun for me, since I teach civil procedure, patents, and ethics, and have written about prosecution bars way too much.

Prosecution bars are used when a court concludes that, although the usual rule is that lawyers will abide by provisions in a protective order that say "don't use information disclosed in this suit for any other purpose," there's a risk that a lawyer will, perhaps even inadvertently, misuse the opposing party's information disclosed in discovery because of work the lawyer does for his client. Here, in a case Eolas (represented by McKool) filed for its client against Amazon (and others), it seems that as part of the protective order, McKool agreed that its lawyers were in such a position — they were prosecuting patents for Eolas in similar technologies, presumably, to what was involved in the suit — and so the protective order provided that no McKool lawyer who received certain categories of confidential information from Amazon would prosecute patents for Eolas in those fields, for a time.

And there is the issue: how long? The protective order stated (in part — I'd want to see the entire thing to really understand this), that the bar expired "one (1) year following the entry of a final non-appealable judgment…"

Eolas lost at trial, and the Federal Circuit affirmed and entered judgment on July 22, 2013.

If the one year date runs from there — which I so far think it does — then it expired on July 22, 2014. And it was only after that date that McKool lawyers allegedly violated the prosecution bar.
In other news,
this time about Conversant
(used to be known as
MOSAID
, weaponised and emboldened by Microsoft), this is what IAM wrote a few days ago:
Patent pools in the wireless space have not enjoyed much success but the recent news that Lenovo, Verizon and Conversant have signed up as licensors in Via's LTE pool suggests that, at the very least, this licensing collective for fourth generation mobile technology needs to be taken seriously. The three new members join a list of patent owners that already includes AT&T, China Mobile Communications Corporation, Google and NTT DOCOMO.

[...]

Teksler, who left his position as CEO of Unwired Planet in 2016 after it was acquired by Optis UP and was an adviser to Via prior to joining Conversant, identified increased transparency and predictability in the licensing process as one motivation for joining the LTE pool. He also claimed that, "historically, pools worked well with various audio and video standards and it is time that they were made to work again".
Boris Teksler's move was
mentioned here before
. What this article fails to say is that Conversant is a patent troll -- one of the worst of its kind.
Next up we have Leigh Rothschild. On September 11
th
, a rather special day in the US, Leigh Rothschild, who is
a patent troll we wrote about before
,
sued yet another real (producing) company called GoSpotCheck
. It's a small company from Denver. To quote the report from 3 days ago:
GoSpotCheck this week got a nod usually bestowed on tech giants like Oracle and Apple.

The distinction? All three have been sued by Leigh Rothschild.

In a federal court case filed this week, Rothschild, via his company Rothschild Digital Confirmation, claims that GoSpotCheck, which makes software used by field reps, violated a 2008 patent for attaching a timestamp and location data to an image.

GoSpotCheck "has directly infringed" Rothschild's patent, the lawsuit alleges, and "will continue to do so unless enjoined by this court." Rothschild says the company "has suffered monetary damages and is entitled to a monetary judgment" as a result.

GoSpotCheck CEO Matt Talbot said he had no knowledge of Rothschild's patent, and called the complaint baseless.
Last but not least, the EFF is taking on/challenging more patent trolls, having recently defeated others. Here the introduction to
the latest target
:
Since 1992, Fairytale Brownies has sold delicious brownies based on a secret family recipe. It's a small business founded by two childhood friends who were quick to see the potential of the Internet and registered the domain www.brownies.com in 1995. Fairytale Brownies became an e-commerce website before the first dot-com boom and has remained in business ever since.

But earlier this year, Fairytale Brownies received a surprising letter. The letter said its e-commerce website infringes U.S. Patent No. 9,373,261 ("the '261 patent"). The '261 patent is owned by Electronic Communication Technologies, LLC ("ECT"), a company that was previously known as Eclipse IP. We have written about it many times before.

What is the technology claimed by the patent?

Generally, ECT states that it patented "unique solutions to minimize hacker's impacts when mimicking order confirmations and shipment notification emails." From what we can tell, it claims to have invented sending an automated email in response to an online order, that contains personally identifiable information ("PII"). ECT claims that including PII allows customers to know that the email is not a "phishing" email or "part of an email fraud system," and as a consequence customers will know to trust the links in the email.
Alice
will probably squash this one easily. All it takes is money (which the EFF has). Will it put an end to this racket?
⬆