A 'master' troll, Boris Teksler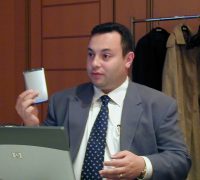 Credit: Japanese media
Summary: Leadership shuffled in ever-changing (morphing) patent satellites that typically prey on Linux/Android
EARLIER THIS MONTH we wrote about patent trolls of Microsoft and Ericsson "trying to tax everything, especially Linux devices."
Watch who's in the news again after a rename, which is a common practice among notorious patent trolls that are a front for someone else (usually a large company). It's Ericsson's patent troll that
already operates in Europe (London) as well
, thanks to the
EPO
which repeats the
USPTO
's errors.
IAM is
writing about this patent troll
that paid IAM (without disclosure in the article). This is the second time in about a month (without disclosure) and the latest blog post says that "former boss of Unwired Planet, Boris Teksler, has been appointed the new CEO of Conversant, in a move that sees the Candian NPE's current head John Lindgren step down after more than nine years in charge."
Conversant is the new name of
MOSAID
, which Microsoft passed many of
Nokia
's patents to. We also wrote a great deal about Unwired Planet, back when it was known as Openwave. "Openwave has changed its name to Unwired Planet," as
Wikipedia puts it
.
Speaking of Linux-hostile trolls, IAM
writes about more of them today
. To quote one relevant part:
Whether it's Microsoft's link-up with Xiaomi or Huawei's surprising partnership with InterDigital, licensing deals with value-added components were the major theme of 2016.
InterDigital is an anti-Android troll (we have many articles about that) and Xiaomi did not have a "link-up" with Microsoft.
It was more like patent extortion, as we explained at the time
.
The shell game of patent trolls is extremely important to keep abreast of. Names keep changing; the same goes for Microsoft front groups that lobby on patent law, e.g.
Association for Competitive Technology
, which goes (and went) by several other names (ATL or stuff with "App" and "FRAND" in it).
⬆