"Legal and Administrative Rules at the EPO Are Similar to Those at SIPO" (China)
Dr. Roy Schestowitz

2017-11-27 04:20:32 UTC
Modified: 2017-11-27 04:20:32 UTC
Patent quality and human rights alike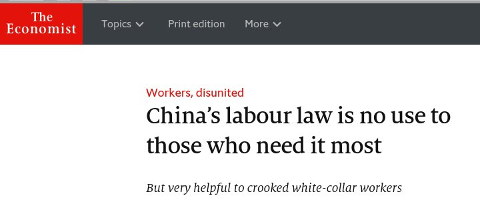 Also see: Workers' rights activists sentenced in China
Summary: Battistelli's emulation of the Chinese model (so-called 'production' at the expense of economic rationale and human factors) as covered by Chinese state media and the latest lies about the Unitary Patent (UPC)
THE EPO has quickly morphed or devolved into what we called "SIPO Europe" about a year ago. Patent quality and human rights matter no more. It's all about 'producing' as many patents as possible, as quickly as possible. It's the very antithesis of patent systems.
"It's all about 'producing' as many patents as possible, as quickly as possible."The "legal and administrative rules at the EPO are similar to those at SIPO," says Li Yahui in the official media of China today (Official China News Service in English, also known as ECNS).

So far, only two English-speaking sites (based in Britain) were disseminating EPO 'press releases' with 'prepared' Battistelli quotes about this. Now China does the same thing and Battistelli ends with a lie about UPC, insisting it will start next year. To quote:


With more than 30 years of development, the cooperation between China's State Intellectual Property Office and the European Patent Office has evolved from a technical partnership to a strategic one, EPO President Benoit Battistelli said in a recent news conference in Beijing.

The two sides signed a new comprehensive strategic partnership agreement on Nov 23 with the aim of strengthening cooperation between the two offices and providing better services for global intellectual property users and contributing to improvements in the world's IP system.

"SIPO and the EPO are equal partners sharing similar views and objectives for the development of the global IP system," said Battistelli.

[...]

He said the Unitary Patent system will be applied next year, which is an improvement on the current European patent system, as it will make it possible to get patent protections in 26 European Union members by submitting a single request to the EPO. It will not only simplify patent granting procedures, but also cut the application costs by 70 percent.
That last part is a lie. As we
said some days ago
, the Constitutional Court (CC) case may not be decided before 2020. A
source close to the action has just said
that "if German CC holds hearing [then] judgement before 2020 is unlikely."
"Yes, don't expect the UPC to get anywhere. But at the time time vigilance is needed because Team UPC is very manipulative and mischievous."It was said in response to David Pearce‏ (former 'Kat'), who had stressed again: "As I've said before, the #UPC is dead. Start again, and do it properly this time please."

Yes, don't expect the UPC to get anywhere. But at the time time vigilance is needed because Team UPC is very manipulative and mischievous. The EPO is lobbying in Brussels (we covered this a couple of years back) and Team UPC too now boasts about expanding to Brussels. [via]

The EPO and Team UPC are trying to make it all political. They cannot make it lawful, so they attempt to bypass the law. ⬆