From celebrating PTAB overturning examiners' rejections (which are rare) to celebrating opinions that are more like appendices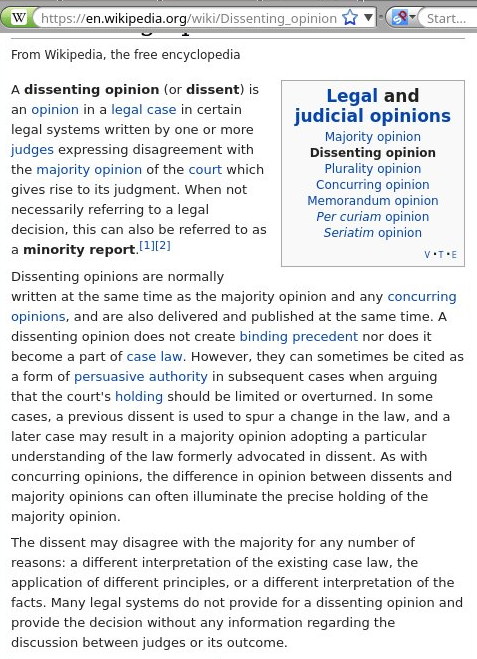 Reference: Dissenting opinion
Summary: Patent maximalists have run out of substantial things to celebrate, seeing that PTAB and CAFC aren't too interested in looking more deeply at abstract patents, such as software patents
THE Patent Trial and Appeal Board's (PTAB) inter partes reviews (IPRs) help review/reassess patents granted by the USPTO. In other words, they're a quality assurance mechanism. Why would anyone object to high quality?
The firm Unified Patents typically files IPRs on behalf of multiple parties that are on the receiving end of patent lawsuits, usually but not always filed by patent trolls (because they pick on many targets, that's their business model). Here is PTAB weighing in on the patent troll Iron Oak, which we
mentioned here before
. The
outcome so far
is more of the usual:
On July 17, 2018, the Patent Trial and Appeal Board (PTAB) instituted trial on all challenged claims in an IPR filed by Unified against U.S. Patent 5,966,658 owned and asserted by Iron Oak Technologies, LLC, a well-known NPE. The '658 patent, generally directed to mobile communications (and more particularly to the automated selection of a communication path), has been asserted in 23 district court cases against such companies as Samsung, Lenovo, Huawei, and Dell. At the time of this decision, the '658 was at issue in 11 active district court cases.
CAFC typically affirms, so if PTAB says no to a patent it will typically be the final word (no overturning on appeal). In many cases CAFC declines to review a decision without even issuing an opinion (as it would not scale).
"CAFC typically affirms, so if PTAB says no to a patent it will typically be the final word (no overturning on appeal)."Patent maximalist Richard Lloyd says that the Federal Circuit (CAFC) deals with an IPR filed by RPX, mentioning Unified Patents along the way too:


The ability of the likes of RPX and Unified Patents to file inter partes reviews (IPRs) against patents that have been asserted against their members in district court has been called into question by a recent decision from the Court of Appeals for the Federal Circuit (CAFC). In the case, RPX filed an IPR against two patents owned by the NPE Applications in Internet Time. Those grants were part of ongoing infringement litigation between AIT and the defendant Salesforce, which is an RPX member. RPX filed the three IPRs more than a year after AIT filed its suit against Salesforce.
Patent maximalists generally dislike PTAB and hope that CAFC will magically put an end to it, seeing that
SCOTUS
was overwhelmingly supportive in
Oil States
. The cherry-picking thus continues. Yesterday, citing a CAFC opinion (not decision),
Mr. Gross
went into all caps mode
: "CAN I GET AMEN #PATENT ATTORNEY BROTHERS! "The 'abstract ideas' idea, when used for denying a claimed invention's patent eligibility either before or after a patent is issued, cannot thus function as a valid rule of law. [
...
] Plager: "With the rise of software and business method patents, the 'abstract idea' became a weapon of choice for summary execution of what many decried as 'bad' patents. The problem is that it does not distinguish good from ill in any coherent sense" http://www.cafc.uscourts.gov/sites/default/files/opinions-orders/16-2502.Opinion.7-20-2018.pdf …"
"Are these people cherry-picking opinions rather than decisions now?"As Judith Szepesi rightly pointed out: "Sadly just Judge Plager's opinion, not the majority. It indeed is an "incoherent body of doctrine." What's abstract about displaying data on two screens? That seems pretty concrete, doesn't it? Maybe not novel, but certainly not "a mathematical function" or its equivalent."

Henrion then said, "it is just abstract computer program giving instructions to a programmable apparatus."

"I can implement in hardware," said the response. "Does that make it non-abstract? Or do you just not believe in patents?"

Loaded statement. There's a difference between opposing software patents and opposing patents as a whole/in general.

"IP" people need to study computer science before commenting on software patents as applying software to "device" (e.g. screen) does not change the fact that it's merely an algorithm.


"About a year ago these patent boosters were obsessing over relatively rare cases wherein PTAB was vetoing examiner rejections based upon Section 101; they now obsess over non-binding opinions.""So, so sad that that is in a dissent," another "IP" person wrote.

Remember the dissent from CAFC Judge Pauline Newman, who sides with Microsoft in a PTAB IPR. Are these people cherry-picking opinions rather than decisions now? Speaking of Microsoft, there's this update; it's the latest in a patent case of HoloTouch, Inc. v Microsoft Corporation. "The court denied the parties' stipulated motion to vacate an earlier order partially granting defendant's motion to dismiss for failure to state a claim even though the parties' settlement was contingent on vacatur," Docket Navigator said just before the weekend.

Anyway, the bottom line seems clear to us. About a year ago these patent boosters were obsessing over relatively rare cases wherein PTAB was vetoing examiner rejections based upon Section 101; they now obsess over non-binding opinions. How about next year? Will they obsess over what some examiner said to a colleague? What really matters is what SCOTUS, CAFC, District Courts, PTAB, USPTO officials and examiners say in their line of duty (and in that order). As things stand, Section 101 is strong, patent litigation is down sharply and so on. ⬆