Battistelli Trashed 223 Millions (of Stakeholders' Euros) on a System That Destroyed the European Patent Office and Made Few Private Corporations a Lot Richer
Dr. Roy Schestowitz

2019-02-20 01:54:14 UTC
Modified: 2019-02-20 01:54:14 UTC
...Before, on his final weeks on the job, passing millions of euros to his other employer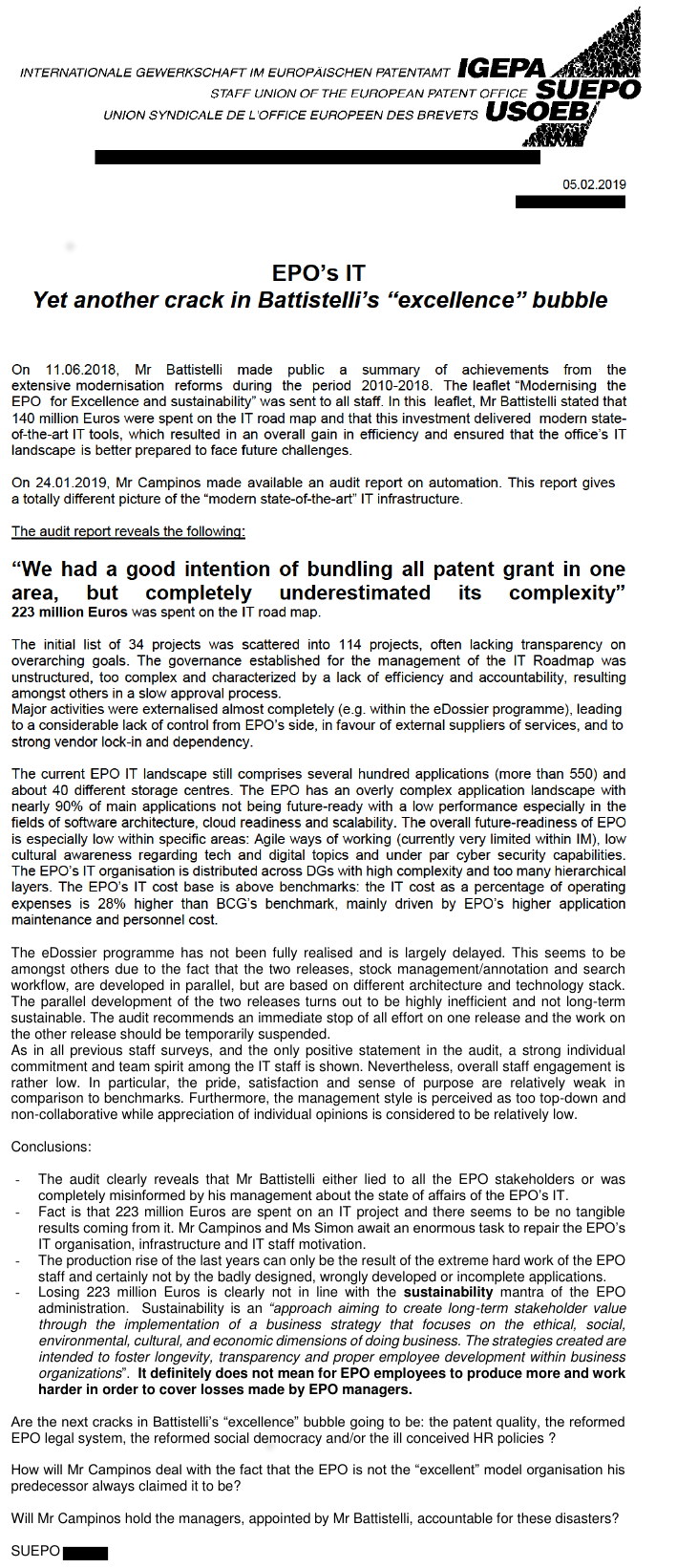 Summary: A quarter of a billion euros later the EPO finally admits in private that this was a massive failure
READERS can find above "EPO's IT - Yet another crack in Battistelli's "excellence" bubble"." Sources tell us this appeared in SUEPO's site (non-public), having been published a fortnight ago, on 05/02/2019. As we showed yesterday, there's less than a fortnight left before key components of this system get abandoned. What a waste of money.
As SUEPO put it: "Will Mr Campinos hold the managers, appointed by Mr Battistelli, accountable for these disasters?"
Of course not. From the above:
The eDossier programme has not been fully realised and is largely delayed. This seems to be amongst others due to the fact that the two releases, stock management/annotation and search workflow, are developed in parallel, but are based on different architecture and technology stack. The parallel development of the two releases turns out to be highly inefficient and not long-term sustainable. The audit recommends an immediate stop of all effort on one release and the work on the other release should be temporarily suspended. As in all previous staff surveys, and the only positive statement in the audit, a strong individual commitment and team spirit among the IT staff is shown. Nevertheless, overall staff engagement is rather low. In particular, the pride, satisfaction and sense of purpose are relatively weak in comparison to benchmarks. Furthermore, the management style is perceived as too top-down and non-collaborative while appreciation of individual opinions is considered to be relatively low.

Conclusions:

- The audit clearly reveals that Mr Battistelli either lied to all the EPO stakeholders or was completely misinformed by his management about the state of affairs of the EPO's IT. - Fact is that 223 million Euros are spent on an IT project and there seems to be no tangible results coming from it. Mr Campinos and Ms Simon await an enormous task to repair the EPO's IT organisation, infrastructure and IT staff motivation. - The production rise of the last years can only be the result of the extreme hard work of the EPO staff and certainly not by the badly designed, wrongly developed or incomplete applications. - Losing 223 million Euros is clearly not in line with the sustainability mantra of the EPO administration. Sustainability is an "approach aiming to create long-term stakeholder value through the implementation of a business strategy that focuses on the ethical, social, environmental, cultural, and economic dimensions of doing business. The strategies created are intended to foster longevity, transparency and proper employee development within business organizations". It definitely does not mean for EPO employees to produce more and work harder in order to cover losses made by EPO managers.

Are the next cracks in Battistelli's "excellence" bubble going to be: the patent quality, the reformed EPO legal system, the reformed social democracy and/or the ill conceived HR policies ?

How will Mr Campinos deal with the fact that the EPO is not the "excellent" model organisation his predecessor always claimed it to be?

Will Mr Campinos hold the managers, appointed by Mr Battistelli, accountable for these disasters?

SUEPO
We now live in a Europe with lots of dubious European Patents. In
Lexology
, for instance, Weickmann & Weickmann's Stephan Jellbauer has just
written about
those fruity EPO patents that are laughable satires. See
how Battistelli attempted to justify these
. FRKelly has meanwhile
written
in the same site on "Patent enforcement through the courts in the European Union"; it should increasingly be accepted and broadly realised that many courts do not (not often anyway) tolerate patents granted by EPO. In order to fake numbers Battistelli allowed a lot of bogus patents to be granted; it may take
decades
before these go away (expiry). Who pays? The public.
⬆