Microsoft Caught Committing Yet More Bribery Crimes, But Nobody Gets Arrested
Dr. Roy Schestowitz

2019-07-25 05:00:05 UTC
Modified: 2019-07-25 05:00:05 UTC
Same company it was under Ballmer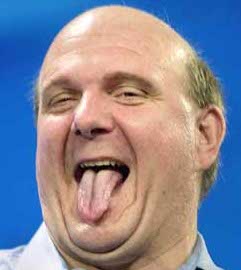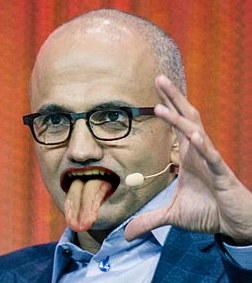 Summary: Microsoft crimes continue and they pay off; it doesn't look like the law is in any way applicable to Microsoft executives who resort to criminal activities to deny competitors 'breathing space'
AT THE European Patent Office (EPO) we've already seen how people like Battistelli can commit as many crimes as they want without even risk of arrest. He's still being protected by António Campinos, to whom he gave his job. Sadly we live in a world where crime pays and crime pays off.
"...Microsoft is trying to get its critics fired from their jobs (we provided several actual examples this year)."A reader has just sent us this article about Microsoft 'settling' over its crimes. "The settlement," it says, "in which Microsoft did not admit or deny wrongdoing, comes after a 2018 Wall Street Journal report that the U.S. Justice Department and the Securities and Exchange Commission were investigating whether Microsoft sold discounted software to Hungarian middlemen who sold it to the country's government at inflated prices from 2013-2015. Said middlemen fueled the scheme by spending part of their ill-earned gains on kickbacks and bribes to government staff involved in the procurement process."

Microsoft does the same thing in many other countries. It prevents its competition from gaining ground this way. A $26 million in settlement isn't a slap on the wrist. It barely even counts as a slap on the finger and it shows that Microsoft can get away with crimes. It rarely ends up being investigated and if they happens it'll just shell out some money.

This is so very typical. And this is why we're here -- to hold criminals accountable. "There are several reasons I invest time in Techrights," one reader said publicly this week, "but let's take a quick look at how such a website came into existence..."


The first thing to consider is the origins. As far as I can tell, TR [Techrights] is heavily influenced by the existence and demise of Groklaw, a valuable website covering efforts by Microsoft and others to defeat free software with patent aggression. If you're not well-acquainted with the leaked memos from Redmond on this and related subjects, Microsoft acknowledged FLOSS as a serious threat as early as 1998 (also the year OSI was founded) and has since spun idea after idea to attack it, generally through proxies. Techrights started as BoycottNovell, as Novel was one of the proxies Microsoft was using to destroy (among other things) Sun Microsystems and Java.

Java of course, is not destroyed. It is so general-purpose that killing it in several areas has left it extremely useful in others. But Sun is no more. Obviously, a good part of that is the fault of Sun. GKH worked for Novell when it was getting Microsoft money, whether there is any connection there (none that I know of) he is far less sympathetic to the causes Linux has helped and when Linus steps down, things are going to be very different with GKH at the helm.

Speaking of which, the Linux trademark is now controlled by a foundation run by a Windows user, and they have put someone from Microsoft in close to where Zemlin is. This has also happened at Apache, and it happened prior to part of Nokia being gutted by someone who left MSFT, joined Nokia, gutted it and returned to MSFT who were then able to get it more cheaply. How that is even legal is boggling. I personally predicted that Red Hat would be purchased "next" a few months prior to it happening, though thankfully my favourite person there has since resigned. The purchase of GitHub really SHOULD make people paranoid, but the main thing that's going to happen is it's going to be used to funnel awareness (marketing) of Non-free software over the free software titles that relied on it before the merger.

Watching a 20-year-long game of corporate chess is boring to many people, but that is the game TR has covered since 2006. The lead writer is several things: 1. a medical researcher with a doctorate whose company works with the NHS, 2. a software developer 3. an avid football fan, and wild speculation in sports about players and teams and ref calls is common.

However, the industry people who used to leak to Groklaw did not merely disappear when Groklaw folded. Microsoft and Apple treat shill journalists at shill outlets just like the OEMs-- the two-tier system for press releases keeps most people obedient and less critical, while those with a penchant for actual journalism are denied access and generally let go by companies who want to report on these companies easily and routinely.

A lot of what goes onto the website is gleaned from public articles that are quickly forgotten in the endless churn of marketing and noise-- while a fair amount of the "paranoia" is simply reporting from the "inside" that the monopolies are working to silence with new laws and lobbying.

So, I mean, dismiss him if you like. But even if you find the stories (many of which are only readily accessible to people in the industries mentioned, in terms of style and content-- though an increasing number are easy for users and free sw developers to relate to) a bit frayed at the edges, if you find a string and tug on it for long enough, you'll find the sum to be thickly and tightly woven.

One of the deciding factors in my evaluation wasn't first impressions, but finding out just who takes TR seriously. As for the topics and corruption that led to the founding of the website, you used to (under a slightly different board of directors) find more critiques and rants like his, from the likes of OSI presidents recent and founding-- and even the OSI website itself. The OSI board has swept much of that away, at a time when Microsoft is giving is more and more money.

"Everyone has a price," fluffrabbit says. Not everyone, but an increasing number of key people-- I intend to stay informed about these chess moves as much as possible-- I consider the future (and present) of GNU/Linux at stake. I've spent the past 5 years doing my own research about it. I sometimes contribute to Techrights myself. Of course I don't expect to change your mind, I thought I'd mention it anyway.
To a lot of those people who have been conditioned to think (indoctrination) that "Microsoft loves Linux" the opinions expressed here may seem 'unusual'; Microsoft has of course gone out of its way to frame such views as marginal, extreme, irrational. If Microsoft can afford millions in bribery money, why not PR and demonisation money? Heck, Microsoft is trying to get its critics fired from their jobs (we provided
several actual examples this year
).
⬆