SUEPO Protest Tomorrow. All EPO Staff in Munich Ought to Attend and Prepare to Strike Too.
Dr. Roy Schestowitz

2019-10-22 06:56:37 UTC
Modified: 2019-10-22 06:56:37 UTC
There was a call for strike earlier this year [1, 2, 3]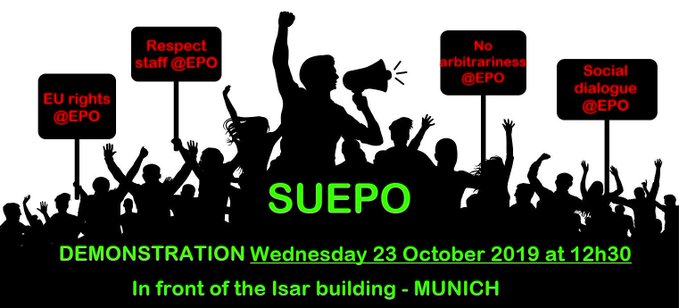 Image source
Summary: Tomorrow's planned protest should be a bridge towards a full strike, which takes more time to plan for and get authorisation for (because of increasingly strict restrictions)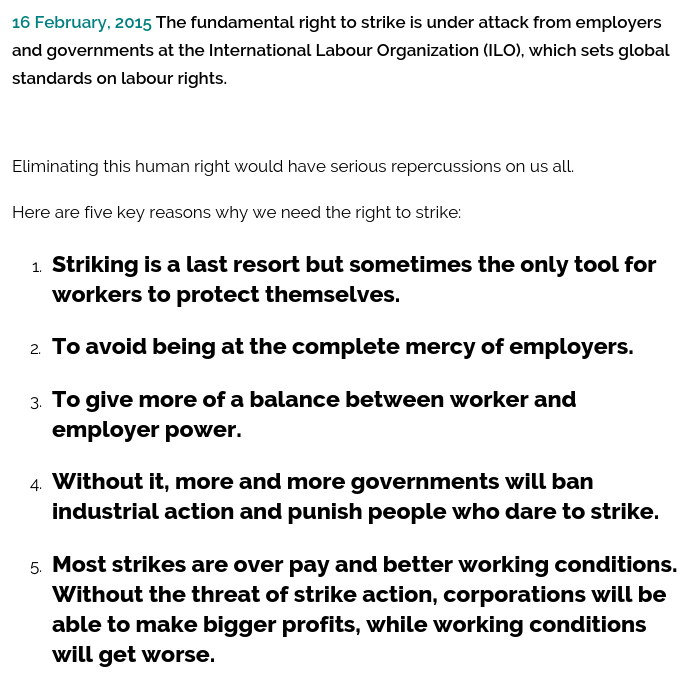 "Those taking strike action have inevitably lost money and have had to confront their own feelings about breaking the normal patterns of working life. That takes a lot of energy and courage, and often involves questioning norms that are taken for granted about workplace bargains and compromises."
--
Melanie Simms, Professor of Work and Employment at University of Glasgow
Recent Techrights' Posts
Reprinted with permission from Ryan Farmer
yesterday's posts
Reprinted with permission from Ryan Farmer
IRC logs for Tuesday, October 03, 2023
Reprinted with permission from Ryan Farmer
Red Hat is not into Free software
This past weekend he gave two talks in the Czech Republic
we estimate that Microsoft cut about 30,000 so far this year, having cut many more jobs last year
Links for the day
This coming week we'll publish many articles about GNU/Linux and technical means of/for user empowerment
IRC logs for Monday, October 02, 2023
It merely gives an illusion of volume and instead of giving readers more stuff to read it wastes people's time
Today we finish testing IRC logs and their upload to Gemini, not just to IPFS
yesterday's posts
GNU/Linux, at its roots, was all about Software Freedom
Links for the day
We'll probably get back to regularly writing about the EPO in the near future
For those who want videos and podcasts, here are today's latest additions from other sites
M.J.G. tried hard to take our Web site offline, based on lies and repeated threats
The revolution won't be televised
Press outlets mostly failed to report that Bing is collapsing
KATE is great
No, not Android. KDE.
Is this what we envisioned in the 1980s and 90s?
We remain devoted to the aforementioned goal of posting more original material
2 days' worth
LLMs aren't truly intelligent and cannot quite grasp what they spew out
Alphabet Agency (Google) sees the future of video as a "skinnerbox" (running Android) that indoctrinates you like TikTok does
It should be noted that Microsoft is, in general, no longer prominent or dominant in news headlines
At the end we'll end up with something a lot better than before and latency should be massively reduced
Links for the day
IRC logs for Sunday, October 01, 2023