EPO and Microsoft Collude to Break the Law -- Part I (Intro): A Fresh Data Protection Scandal Brewing at the EPO?
Dr. Roy Schestowitz

2021-03-11 16:45:55 UTC
Modified: 2021-03-11 16:45:55 UTC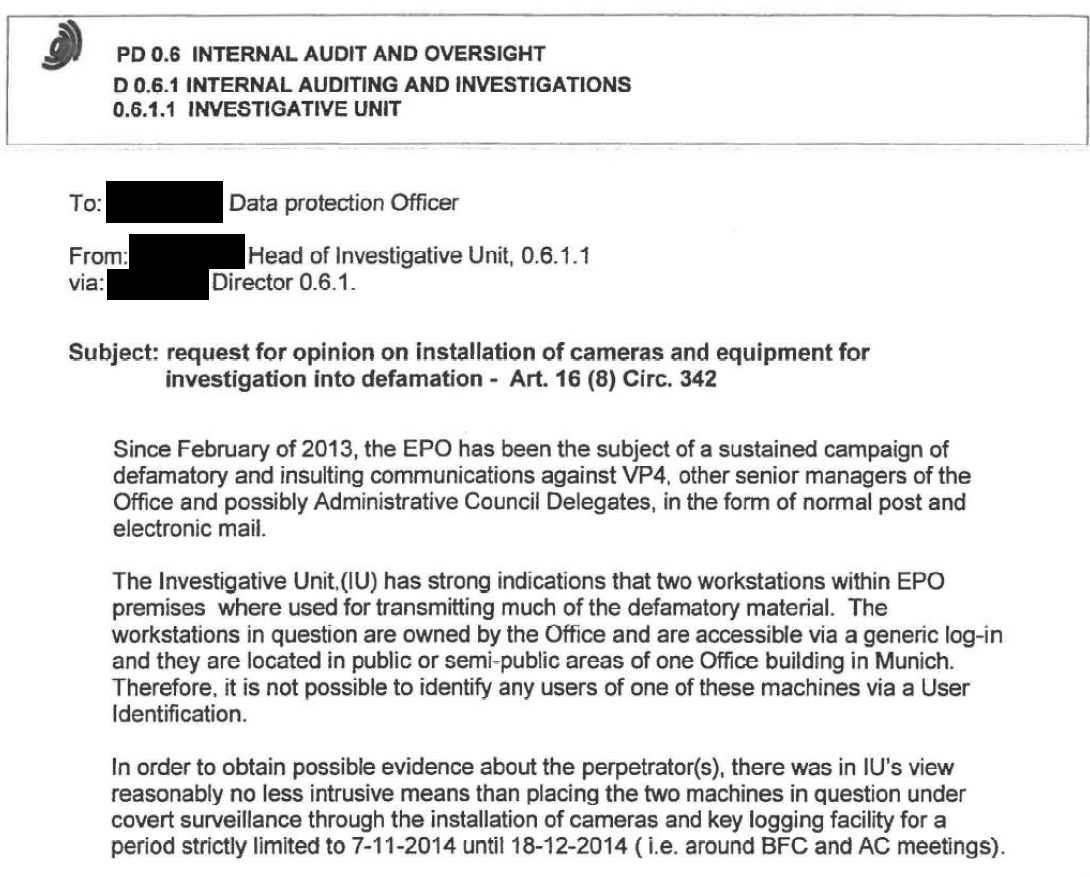 Covert surveillance at the EPO in 2014 made headlines in June 2015
Summary: "In the real world outside of the EPO "bubble", exposure of the illicit use of such techniques generally causes a political backlash and can even lead to the fall of governments."
Back in June 2015 the EPO made the headlines in Germany for all the wrong reasons following revelations about covert surveillance conducted by the EPO's notorious Investigative Unit which was reported to have deployed hidden cameras and key loggers in a manner that would have been illegal under EU and German data protection law.
"In the real world outside of the EPO "bubble", exposure of the illicit use of such techniques generally causes a political backlash and can even lead to the fall of governments."The "EPOgate" computer tapping controversy was reported on widely by the German press in June 2015 and was picked up by Internet channels such as Techrights, FOSS Patents and IPKat which back in the day still had enough backbone to report on EPO issues in a critical manner.

Covert surveillance is - quite rightly - a very sensitive matter which is carefully regulated in countries which claim to operate according to the rule of law.

In the real world outside of the EPO "bubble", exposure of the illicit use of such techniques generally causes a political backlash and can even lead to the fall of governments.

For example, a major political crisis was triggered in the EPO member state of Macedonia in 2015 by the discovery of hundreds of thousands of illegally wiretapped communications, which significantly dented the popularity of the country's largest right-wing party – VMRO-DPMNE – and eventually ended its 10-year reign of power.

The Macedonian Administration for Security and Counterintelligence (UBK) and senior government ministers were implicated in illegal telephone surveillance on a massive scale. The targets include journalists, non-government organisations (NGOs) and politicians from all parties. A Special Prosecution Office (SJO) was created at the instigation of the European Union and tasked with examining the involvement of high-profile figures in the illegal surveillance.

Evidence emerged of covert internet surveillance by the government which involved deployment of the highly intrusive spying software FinFisher marketed by Lench IT Solutions plc via a UK-based branch, Gamma International Ltd in Andover, England, and a Germany-based branch, Gamma International GmbH in Munich.

Macedonia's acquisition of surveillance technology appears to be also tainted by corruption. According to the Special Prosecution Office, procurement transactions cost the public purse over €860,000.

However, inside the EPO's bubble of immunity nobody seems to be overly concerned about the potential fallout from such underhand activities.

The covert surveillance "scandal" of June 2015 quickly blew over without any apparent consequences for those involved in implementing Battistelli's "Balkan standards" at the EPO.

Sadly it seems that no lessons were learned from that affair.

Since then, the EPO has continued to muddle along with its hopelessly outdated and seriously deficient data protection framework.

Now it seems that a fresh data protection scandal may be brewing in the bizarre "Wonderland" of EPOnia.

At the centre of these developments is the EPO's increasing reliance on cloud computing services hosted by a well-known - not to say notorious - US-based multinational corporation by the name of Microsoft.

In the upcoming series we plan to take an in-depth critical look at the issues involved and explain why these deserve to be treated as matters of legitimate public concern. ⬆