11.09.08
Gemini version available ♊︎
THIS is part of a series of posts. For context, see:
To repeat what we wrote earlier, it's another laptops giveaway bonanza, designed and intended to seed a media blitz which has Vista 7 reviewed under unrealistic conditions, as well as with the expectation that journalists will repay for this $2,000 gift. According to IDG News Service, literally "several dozen of reviewers and analysts" received this schwag from Microsoft. The company gave it away under the disguise which is "loan" (no obligation to return it). It has been called "permanently loaned" in some places.
Next up we have LaptopMag, which got bribed by Microsoft.
The sample system Microsoft loaned us, a Lenovo ThinkPad X300 with Windows 7 pre-beta installed, boots very quickly, but to see the boot time difference, we're looking forward to trying both Vista and Windows 7 on a few different systems to see how things compare.
Avram Piltch at Laptop Magazine received a $2,000 gift from Microsoft. Expect him to write nice things about Windows (or Vista 7) in the future.
Avram even did some blogging about it. This wasn't a one-shot gig.
It's one thing to sit through lots of demos, but quite another to go hands on with a pre-beta build of Windows 7 on a laptop. This Lenovo ThinkPad X300 came complete with a high-speed SSD and 4GB of RAM. We spent a few hours playing with the new OS so we could offer initial impressions. We also tooka few minutes to do a screen-capture video that shows some of our favorite features.
Since Microsoft is not a laptop manufacturer, it cannot claim to have given its product away as a 'free sample'. That would be the equivalent of a car radio specialist handing out free cars for reviewers of a radio. Ferrari anyone? █
"I've been thinking long and hard about this, and the only conclusion I can come to is that this is ethically indistinguishable from bribery. Even if no quid-pro-quo is formally required, the gift creates a social obligation of reciprocity. This is best explained in Cialdini's book Influence (a summary is here). The blogger will feel some obligation to return the favor to Microsoft."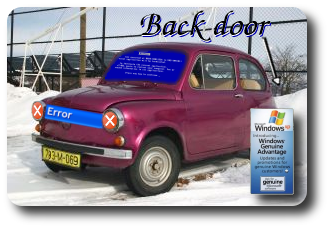 Permalink
Send this to a friend