05.08.10
Gemini version available ♊︎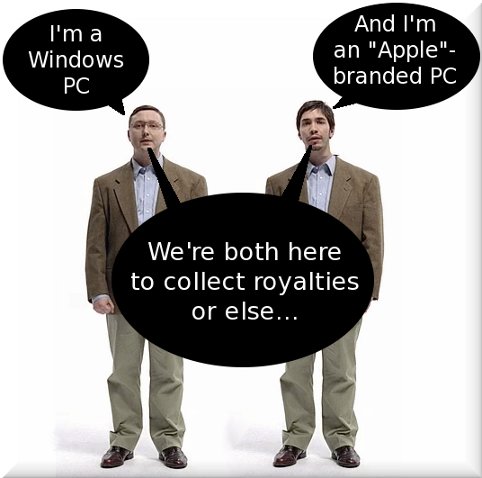 Summary: Why Apple's and Microsoft's talk about "standards" is merely a shameful façade
A FEW years ago ODF was a very hot topic because Microsoft fought against it viciously and Apple helped Microsoft by supporting OOXML (Microsoft only pretends to have embraced ODF [1, 2, 3, 4, 5, 6, 7] after corrupting ISO). As we explained at the time, it's far from the first time that Apple helps Microsoft just like Novell does. Nowadays, these companies also pose a danger to the World Wide Web Consortium, with Apple, Microsoft, and IBM as chairs and a Novell veteran as CEO.
The South African press has published this new article about "online video wars". The summary says "Apple and Microsoft join to fight Opera and Firefox". Therein, Apple's and Microsoft's attack on Ogg Theora gets mentioned.
Apple and Microsoft have both thrown their weight behind H.264. Jobs in his open letter said as much and Microsoft has said that Internet Explorer 9 will only support H.264 video playback.

Microsoft's Dean Hachamovitch, general manager for Internet Explorer, says that H.264 is "an industry standard, with broad and strong hardware support". Jobs says that H.264 is a "more modern format" than Flash.

H.264, however, is a heavily patented and proprietary video codec, despite the impression of "openness" that Jobs tries to portray in his open letter. HTML5 is an open standard but H.264 is far from it with hefty associated licensing fees attached to its use.

Microsoft and Apple are both licensors of the H.264 standard which means that they stand to make money from licensing fees if H.264 is widely adopted.
We also covered this issue in recent posts such as:
So once again, Microsoft is anything but a friend of standards. It's making up its own. Here is a new post which explains "Why Open Digital Standards Matter in Government"; the short story is that governments set an example for others to follow and in Massachusetts we witnessed just how far Microsoft is willing to go in ensuring that governments don't embrace standards.
Just as in the case of ODF, what we see coming from Microsoft (and Apple) is a lot of spin and general deception to depict themselves as compliant with web standards. These are the sorts of friends who pretend to help a victim whom they rob and there is no peace in the HTML5 debate, partly due to Microsoft.
Mozilla, HTML5 editor differ with Microsoft

[...]

Microsoft is agitating for "same markup," described this way: "Web browsers should render the same markup–the same HTML, same CSS, and same script–the same way. That's simply not the case today. Enabling the same markup to work the same across different browsers is as crucial for HTML5′s success as performance."

But today's practice, while messy and plagued with incompatibilities, reflects the notion that it's a good idea to test new technologies in the real world before solidifying them as a real standard.
Google's Tim Bray writes about HTML5* and Slashdot reckons that HTML5 may win at the expense of binaries like Flash (and attempts to boost Microsoft's Silver Lie with Moonlight, under the illusion of "open"). Here is the nightmare scenario:
Here a branding expert demonstrates that the sites of 10 out of 10 leading worldwide brands don't display on the iPad — because they're coded in Flash, of course.
Opera is already criticising Flash, as it probably should.
Adobe's Flash now faces two outspoken critics: First Apple, now Opera — the web browser provider. Apparently, Opera Product Analyst Phillip Grønvold has some concerns about Flash and its influence over the Web. For VARs that are advising customers on Web development and design strategies, this story is too important to ignore.
Opera is also pushing for Ogg, unlike Apple and Microsoft (which would profit from squashing Ogg).
Apple, Microsoft, Opera and now Scribd have all spoken out about Adobe's platform. What does this mean for open source?

[...]

But this isn't quite the open source victory it seems to be. If HTML5 becomes the Web standard, there are plenty of people championing patented, proprietary codecs for video, specifically Apple and Microsoft who have both backed h.264. And while the user will ultimately be able to choose which codec handles video in an HTML5 environment, there is also talk from Jobs himself of pursuing open source video codec Theora for patent infringement.
Those who care about the World Wide Web or about real standards that don't require GNU/Linux users to pay for patents (thanks to Canonical) ought to avoid buying anything from Apple and Microsoft. These companies are enemies of the Web and enemies of culture (as H.264 merely creates a hostage situation using our own memories which are encoded in video). █
____
* Google matters a great deal here because it dominates most of the Web's video.
Permalink
Send this to a friend