06.09.10
Gemini version available ♊︎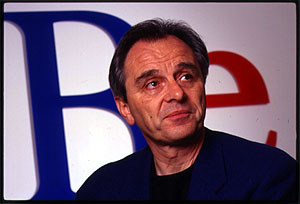 Photo by jeanmarc77
"I once preached peaceful coexistence with Windows. You may laugh at my expense — I deserve it."
Summary: A famous victim of Microsoft's abusive behaviour explains why Microsoft is in a bad position
IT HAS been a while since we last mentioned BeOS, whose main man had come from Apple. He seems to have a blog in some new company and he is criminally under-subscribed because he's quite a superstar in the computing world. In some of his recent posts he explains how the server side puts Microsoft's entire business model in jeopardy.
Last July, I wrote about Google's goal: Sink Microsoft by deploying Cloud-based Google Apps and, as a result, destroy the Microsoft Office money machine. Today, we'll take another look at Google's strategy and at Microsoft's response with its just released Office 2010 which combines desktop and on-line apps.
A couple of weeks later he also wrote about Microsoft's aftermath following the co-called "reorg" (a euphemism):
You know the business lore joke. The departing CEO meets his successor and hands him three envelopes to be opened in the prescribed order when trouble strikes. First crisis, the message in envelope #1 says: Blame your predecessor. Easy enough. Another storm, the the CEO opens the second envelope: Reorganize. Good idea. And when calamity strikes yet again, he reaches for the third: Get three envelope
Reorganising the whole mobile/devices area won't save Microsoft. It'll only complicate an already-complicated division without leadership [1, 2, 3]. Microsoft recognises that the future lies in this area and it admits to have fallen way behind. The impact on Microsoft's stock is telling. It fell almost 20% since the last financial report (falling behind Apple in terms of value).
There is something else to be said about Windows Mobile. Microsoft helps shatter the myth that having a low market share makes one more secure. As evidence we have Microsoft's Windows Mobile malware which we wrote about the other day. Microsoft has well under 10% market share, yet its operating system which is Windows-derived is still a malware magnet. In the words of Brian Prince:
Malware Hidden in Windows Mobile Applications

Attackers are targeting devices running Windows Mobile with malware hidden inside mobile apps. Users with infected phones could end up with hundreds of dollars' worth of unauthorized charges to overseas numbers, warns security company Lookout.
When Microsoft has around 90% market share, it blames "market share" for its security problems. What will it say when security problems hit its platform which has less than 10% market share? Let's face it, Windows is a bad platform which was made ubiquitous because Microsoft broke laws. Windows remained inferior over the years (no incentive to improve when there is monopoly) and this inferiority takes its toll now. It's something for Jean-Louis Gassée to enjoy witnessing, having suffered from Microsoft illegal tactics just over a decade ago. █
"When I want to do something mindless to relax, I install windows 95."
–Be's CEO Jean-Louis Gassée
Permalink
Send this to a friend